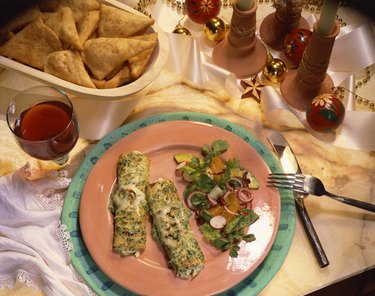 Eating a vegetarian diet can vastly improve the health of some people. Most people can at least benefit from including more vegetarian foods in their diets. Consuming a vegetarian diet is not as complicated as it may seem initially; there are plenty of healthy, easy meals available that do not involve meat. Protein-rich foods such as beans, whole grains and nuts can provide similar textures to meat and also the bulk of calories, while vegetables and fruits contain many key vitamins and minerals.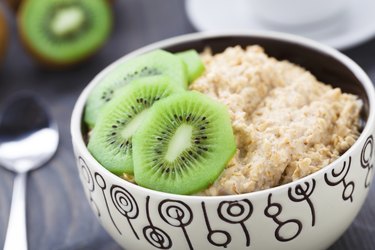 There are a wide variety of breakfast options for vegetarians. Fig and flax oatmeal is one option. It consists of rolled oats, dried figs, flaxseed, skim or soy milk, water and honey. Another healthy option for breakfast is an herbed cheese and tomato bagel. This meal uses a low-fat cottage cheese, chopped chives, chopped parsley, chopped basil, a small, toasted whole-grain bagel and two thick tomato slices.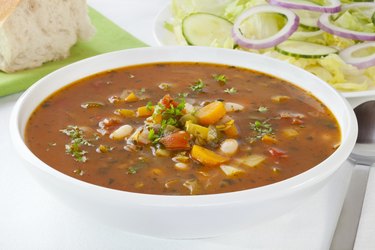 Lunch options for vegetarians vary from hearty soups and salads to sandwiches and burritos. One includes bean tacos with lettuce, tomato and applesauce with cinnamon for dessert. Another option is tofu and spinach spread on whole-wheat toast or crackers, with a side of potato salad and an apple. Yet another choice would be vegan chili with cornbread and homemade coleslaw with crushed pineapple.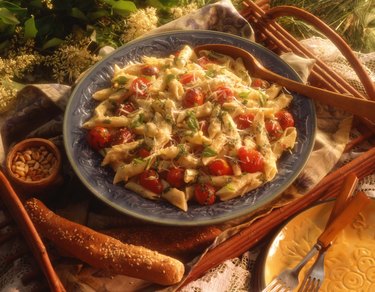 Dinners and lunches can easily be exchanged in a vegetarian diet. Examples of vegetarian dinners from the book, "The Dietitians Guide to Vegetarian Diets" by Reed Mangels include vegetable fajitas with zucchini, carrots, peppers and onions in soft corn tortillas, with a side of black beans, a tossed salad and a fresh fruit cocktail. Another choice would be pasta primavera with broccoli, carrots and pea pods, steamed kale and French bread. Fresh dates with walnuts can be eaten for dessert.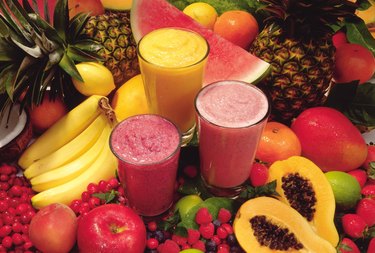 There are a plethora of snacks that are both vegetarian and are healthier than their meat counterparts. Easy veggie snacks include carrots dipped in hummus or an apple with peanut or almond butter. Frankie Avalon Wolfe, in the book, "The Complete Idiot's Guide to Being Vegetarian," also lists smoothies, raw nuts, seeds and dried fruit as options. Leftovers from breakfast, lunch or dinner can also work as good snacks.
Planning and shopping for a week's worth of vegetarian meals is not that much different than planning non-vegetarian menus. You need to ensure that calorie and nutrition needs are met, which is easier to do when you plan in advance. Taking a little extra time before your week starts to plan menus and create a grocery list saves time during the week because you won't have to make any last minute decisions. Grocery shopping with list in hand will prevent unhealthy impulse purchases and can save money.
Make a simple calendar with meals listed for each day and use it to create a grocery list. Real Simple recommends creating meals based on fresh, in-season produce. The cost is less and fresh produce is healthier. Consider whether or not you will be dining out during the week or taking lunches to work. Plan meals based on the type of vegetarian diet you want to follow. Vegans do not eat meat, dairy or eggs. Lacto-vegetarians include dairy products in their diet, while lacto-ovo vegetarians also eat eggs. Create your grocery list with a subheading for each step on the vegetarian food pyramid to ensure you are getting enough of the nutrients you need.
A vegetarian food pyramid produced by the American Dietetic Association recommends six servings of grain and five servings of legumes, nuts or other plant-based proteins per day. Four servings of vegetable, two servings of fruits and two servings of fat round out the daily dietary recommendations. It's important to carefully monitor your diet to ensure you're getting enough calcium, iodine, iron, omega-3 fatty acids, protein, vitamins and minerals. Vegans in particular may want to consider supplements for omega-3 fatty acids, vitamin B12 and vitamin D, which may be difficult to get in adequate amounts from plant foods.
Make sure to consume a diet that includes a wide variety of foods which is the best way for vegetarians to meet nutritional needs. Don't plan on eating the same breakfast every day. Try oatmeal with berries and soy milk one day, and a tofu scramble with vegetables the next. Sandwiches made with whole grain bread, salads and vegetarian soups are easy lunches and provide a good mix of different ingredients. Whole grain pasta dishes, meatless chili and steamed vegetables are good for dinner. Don't forget to factor in snacks. Hummus is a good high-protein snack with raw vegetables and pita chips. Varying your menus will keep meals interesting.
A lacto-ovo vegetarian diet that is also low in fat may lower blood pressure, help prevent heart disease and lower your risk of developing diabetes and certain cancers. Most vegetarian diets contain less fat and cholesterol than non-vegetarian eating plans.