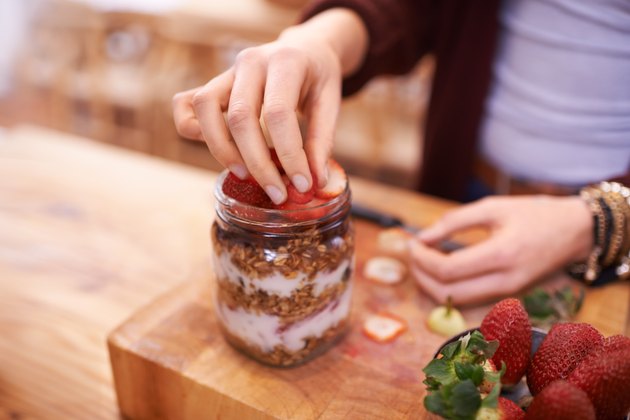 Meal prepping is often associated with office lunches and easy weeknight dinners. But if you consider when you feel most pressured to eat quickly and get going, it might be breakfast time.
When you're in a time crunch, a doughnut on the way to work is awfully tempting, yet doesn't do any favors for your health or your wallet. And that's why meal prepping for breakfast is such a good idea.
"Mornings are hectic, but there are many foods you can prep in advance to ensure you eat a healthy, balanced breakfast before you get out the door," Jessica Levinson, RDN and author of 52-Week Meal Planner, tells LIVESTRONG.com. However, successful meal prepping — at any time of day — requires more than just having an idea of what you might like to eat every morning.
Breakfast Meal Prep Tips
If you've never meal prepped before, the whole process can seem overwhelming. Levinson recommends taking time over the weekend — or whenever you feel like you have a little bit of extra time, which might be on a weeknight that's free from social obligations — to plan out your meals for the week.
"Once you have a menu in place, you can organize your grocery list to fill in the foods that you need," she advises. "Take a look at the menu and break down what can be prepared in advance." Other ways to keep your meal prep from becoming overwhelming include:
Prep ingredients instead of full meals. A major benefit of meal prepping is not having to think about what you're going to eat every day. However, if you're the type that gets bored by the same meals day in and day out, prep ingredients instead of full meals, suggests Hilary Pride, RDN, CPT. For example, you could scramble up a pan of eggs, wash and chop fruit and prepare and portion steel-cut oatmeal. Each day, choose what you'd like from a bevy of single ingredients rather than being married to egg muffins for five days straight.


Take advantage of kitchen tools. If you have a slow cooker, don't take time out of your busy day to do the cooking. Try cooking oatmeal overnight in the slow-cooker, suggests The American Council on Exercise (ACE). In the morning, the ultra-healthy oats will be ready to go. Simply add berries, chia seeds or any other of your favorite healthful toppings.


Invest in quality containers. Once your meals are prepped, you'll need containers in a variety of sizes to store them in. Pick 24-ounce containers for full meals, like smoothie bowls or egg dishes, and half-cup or 1-cup sizes for cut fruit, yogurt or nuts and seeds, suggests the ACE.
What to Shop For
Breakfast is your first opportunity to start your day's meals on the right foot. To make breakfast meal prep easier, stock up on:
Eggs
Steel-cut oatmeal
Plain, low-fat yogurt
Cheese
Leafy greens
Fruits
Chia seeds
Protein powder
Nut butters
Whole-grain bread
What Should I Prepare for Breakfast?
1. Everyday Green Smoothie
"My favorite way to prep for smoothies is to load up reusable containers with my favorite ingredients and keep them in the fridge or freezer to make morning breakfast prep a breeze," Pride says. "All I have to do is add the contents of my container, my favorite milk or juice and a scoop of protein powder to my blender."
2. Cauliflower Crust Quiche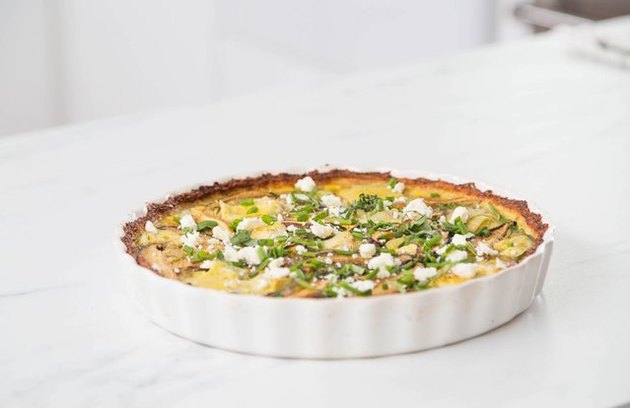 "Americans typically get enough protein in their diet but typically backload it during the day," notes Julie Harrington, RD. "Consuming protein at breakfast increases the release of satiety hormones, helping you feel fuller for longer." Good news: Just one slice of this quiche packs in an impressive 17 grams of protein.
3. Four-Ingredient Banana Pancakes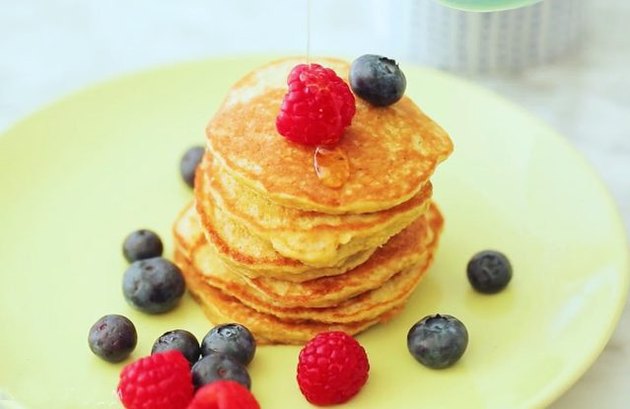 If you're more inclined to eat something sweet than savory in the morning, you'll want to make sure your choice is low in sugar. That's because eating too much sugar in one meal leads to an increase in insulin production, high blood sugar and, eventually, a mid-morning sugar crash, the Cleveland Clinic notes.
Four-ingredient banana pancakes, which can be made on the weekend and frozen in single servings, boast both protein and fiber — thanks to the eggs and oats — with a healthy amount of sweetness from bananas.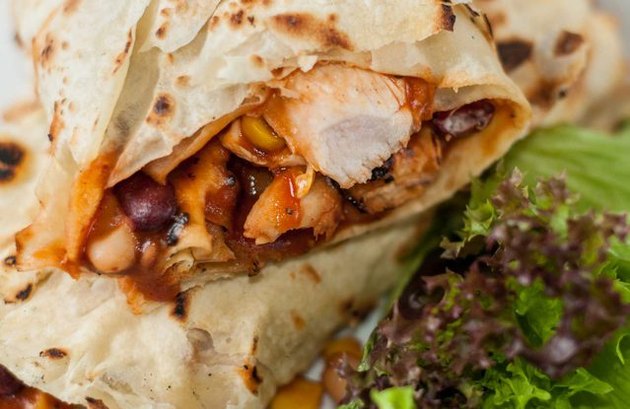 If you're also meal prepping lunches and dinners, schedule in a night of chicken or beef tacos — and then use up the leftover meat after you've prepped that meal to make breakfast burritos. Add in eggs, diced potatoes, tomatoes and cheese in a whole-grain tortilla for a filling, protein-rich breakfast that also happens to freeze beautifully.
Bonus: This meal boasts 29 grams of protein. Breakfasts that pack in 30 to 39 grams of protein helped decrease how much participants ate at lunch, a February 2015 study in Nutrition Journal found. Plus, another 2015 in Hormone Research in Paediatrics concluded that a high-protein breakfast decreased the amount of food eaten later in the day and regulated appetite hormones.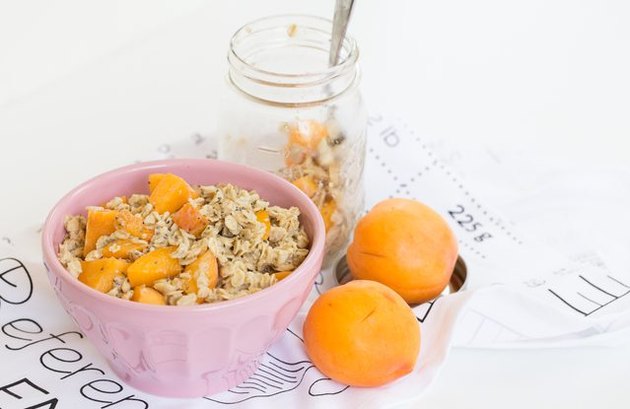 Overnight oats make meal prepping a breeze — all it takes is combining a serving of rolled oats with about a cup and a half of your favorite type of milk. This recipe calls for pea milk, but you can use skim, soy, almond, coconut or another choice. However, don't skip the chia and hemp seeds, both of which are a vital part of what makes these overnight oats so healthy. The omega-3 fats are linked to decreasing the risk of heart disease, according to Harvard T.H. Chan School of Public Health.
Overnight oats are incredibly versatile, too. You can eat them cold or heat them up, add any type of fruit you like and adjust the sweetness yourself. If you prefer, switch the rolled oats in the recipe to steel-cut and cook the breakfast in the slow-cooker instead of soaking overnight.