Meal prepping isn't just for lunch and dinners. Whipping up nutritious snacks in advance is a wise move, especially since snacks make up almost a quarter of most people's daily calories, according to a January 2016 report in the Journal of the Academy of Nutrition and Dietetics.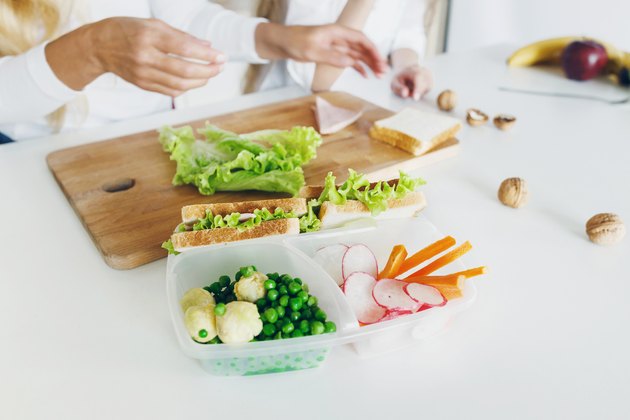 While finding the time to shop, plan for and prepare food in advance can be challenging, for many people, these are the very issues that distract them from eating well. This is where meal prepping your snacks can come to the rescue. Sure, there's still time and effort involved, but there's a major payoff: Prepping can save you money, cut food waste and improve the quality of your diet.
"Meal and snack prepping is a single act that can change the likelihood of making better food choices over the next few meals or days," Moe Schlachter, RDN, CDE and president of Houston Family Nutrition, tells LIVESTRONG.com. Why not give the process a try?
Getting Started: Strategic Snacking
Healthy snacking doesn't have to be hard. Follow these six simple snack-time strategies to make mini-meals count, per Jackie Newgent, RDN.
Have healthful snacks on hand. Doing so will help you steer clear of snack attacks on not-so-healthful choices like empty-calorie munchies at home or overly-processed grab-and-go picks away from home.

Aim to eat something every 5 hours. It'll keep your metabolism revved and keep hunger at bay.

Use snack time to help fill your nutrient shortfalls. So, if you didn't have enough fiber during breakfast, make sure to choose a fiber-rich snack later on in the day.

Pick a snack with a punch of both protein and fiber. The protein and fiber combo will help quell hunger pangs. An easy way to do so? Pair protein with produce.

Take a seat. Enjoy your snack while sitting down at a table with a plate or bowl and using utensils if possible.

Focus on eating. Go for "mindful munchies" rather than "mindless munchies" by making food — not TV or cell phone screens — the focal point at snack time.
Healthy Snack Ideas to Bring to Work
Now that you've got the lowdown on how to snack, make sure your pantry is stocked with the right stuff. "Choose as many minimally processed, whole foods as you can," Malina Malkani, RDN, spokesperson for the Academy of Nutrition and Dietetics and creator of the Wholitarian Lifestyle, tells LIVESTRONG.com. "The closer foods are to their original state when harvested, the fewer nutrients they lose to processing."

Add these healthy snacks to your grocery list:
Fruits like apples, bananas and berries

Vegetables
Nuts and seeds

Roasted chickpeas
Peanut butter
Whole-grain crackers
Cheese sticks
Hummus
Guacamole
Plain yogurt
Jerky
After shopping for your healthy snacks, it's time for the fun part: making them! You can go the simple route and pack a variety of easy-to-make snacks or you can spend more time on prepping and indulge your taste buds a bit more.
For quick and easy snacks, pack some cut-up fruits and vegetables. Buy your favorite in-season produce and change it up each shopping trip to add variety and increase your antioxidant intake. Go for fresh berries, sliced oranges, diced mango, sliced pineapple, cubed melon, sliced apples, fresh cherries or grapes, or stone fruit. You could also try combining them all into a fruit salad!
Slice up your favorite vegetables, such as carrots, red peppers, jicama, cucumber, or celery and serve with a hummus or guacamole dip. Or simply pack some fresh vegetables to munch on, like cauliflower, broccoli, sugar snap peas or baby tomatoes.
Nuts and seeds make nutritious snacks, too, and adding a small handful of these to your fruit and vegetables adds satiety to your mini meal. Despite their fat and calorie content, regularly eating nuts is actually linked to lower body weight, according to a research review published in the February 2016 issue of the Journal of Nutrition and Health Sciences. In addition, whole fruit, including bananas, is associated with weight loss, according to an October 2016 report in Nutrients.
"Peanut butter is great snack option because it travels well and contains an excellent combination of healthy fats, fiber, protein, vitamins and minerals," says Malkani. When you pair it with a carb like whole-grain crackers or a banana, the balance of nutrients gives you sustained energy and helps you feel fuller for longer." Just remember to keep portions in check, since a tablespoon of peanut butter can rack up 100 calories.
But the PB you choose also counts. "I recommend choosing minimally processed peanut butter that contains only peanuts and maybe some salt to avoid unnecessary additives and added sugars."
Easy Recipes to Try
Whether you're itching for something sweet or savory, our recipes below have your cravings covered.
Granola "Bar" Bites: Made with just four ingredients, these date-packed bites are a tasty and nutrient-dense snack that's perfect for vegetarians and meat-eaters alike.
Chia Pudding: With a whopping 9 grams of protein and 8 grams of fiber, this mini meal will keep you satiated well beyond snack time.
Sweet and Spicy Roasted Pumpkin Seeds: Maple syrup and cinnamon marry in this aromatic pepita snack that's packed with healthy fats.
Chili Nuts: Pack these spiced-up nuts in small Ziploc bags to keep portions in check.
Caper Spread: Low-fat cottage cheese lends this pick a solid dose of protein. Pair the spread with whole-grain crackers or sliced cucumbers for some fiber.
Frozen Shelled Edamame: Go for organic edamame for a healthy snack that's easy to prep.
How to Store Your Snacks
As you make plans to start prepping snacks, be sure you have the tools you need. It helps to have some hard containers as well as plastic or reusable sandwich or snack bags on hand. Containers that hold up to 1 cup will work well for most snacks, although you may also want some 1- or 2-ounce containers for dips, nut butter or salad dressing. Small Mason jars may work well for yogurt, chia pudding or fruit.
If you choose plastic containers, be sure to use ones specifically designed for reuse, as the chemicals found in single-use plastics (such as yogurt or sour cream containers) are more likely to break down and seep into food. The Academy of Nutrition and Dietetics recommends checking the resin identification code (RIC), located inside a triangle on the bottom of the container and only go for those labeled with numbers 1, 2, 4 and 5.
As you plan to prep your healthy snacks, take steps to keep your food safe. The U.S. Department of Agriculture (USDA) recommends eating leftovers — or prepped foods — within three to four days to ensure the food is high quality and to reduce the risk of foodborne illness. So it may work best to prep snacks no more than three days in advance — unless the snacks are nonperishable (like nuts, dried fruit or jerky) or if they can be frozen after preparation and defrosted the day before you plan to enjoy them.
Also, avoid eating perishable foods — like yogurt, hard-boiled eggs or cut-up fruit and vegetables — that are stored in the temperature danger zone of 40 to 140°F for two or more hours, as this is when bacterial growth is more likely to occur.
So, keep your perishable snacks in the fridge or add a freezer pack to your insulated lunch bag to keep the food cold. Food spoilage is usually noticeable, but you typically can't smell or see harmful bacterial growth, according to the Academy of Nutrition and Dietetics. Do yourself and your family a favor and toss snacks you're unsure of!