Although salads and fruit are great for you -- and they're worthwhile to add to a weight loss diet -- they shouldn't make up your entire meal plan. You would likely lose weight eating salads and fruit at every meal, but you may also be depriving your body of essential nutrients you need to feel and look your best. If you find yourself gravitating toward highly restrictive weight loss diets -- such as those made up entirely of salad and fruit -- consult a professional to help you find a healthier way to lose weight.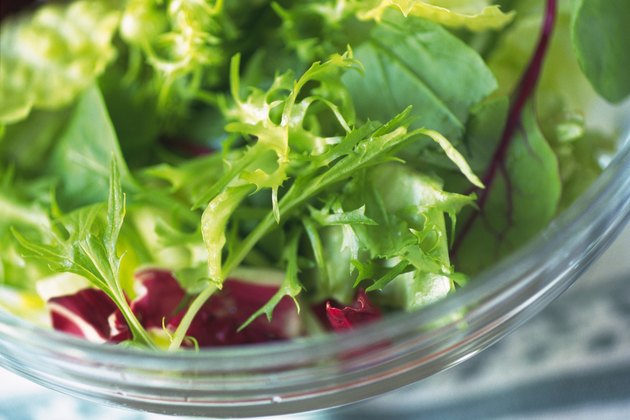 Benefits of Salads and Fruit
Even though salads and fruit shouldn't make up your whole diet, they are great sources for a few essential nutrients. For example, fruits and veggies are packed with vitamin C, an essential nutrient that keeps your hair and skin strong and acts as an antioxidant to protect your cells from oxidative damage. Salads and fruit also contain fiber, which helps you feel satisfied after your meals and helps move food through your system to avoid constipation. Fruits and veggies also provide beneficial potassium -- a heart-healthy mineral -- and orange-red pigments, called carotenoids, which your body turns into vitamin A.
For example, a cup of kale adds about one-third of your daily value for vitamin A and C, and topping your salad with one small chopped red pepper gives you your entire daily value for vitamin C. Snack on an orange and you'll take in 7 percent of your daily value for potassium, plus 12 percent of the daily value for fiber.
Not Enough Protein
Where fruits and leafy green salads fall short on is protein. You need protein in your diet to provide amino acids, which your body uses to maintain healthy tissues, to boost your immune system and to help transport oxygen via your blood. Protein is also good for weight loss -- upping your protein intake can help you lose pounds, according to Harvard Health Publications, which helps you feel fuller after meals and helps regulate your blood sugar. Eating only salads and fruits means you'll miss out on the weight loss benefits associated with a higher protein diet and your body will start breaking down muscle tissue to get the amino acids you would normally get from your diet. Ironically, that can make it more difficult to lose weight; since muscle tissue is so metabolically active, losing muscle tissue reduces number of the calories you burn each day.
Other Missing Nutrients
Relying on salads and fruits as your main source of energy means that you'll also miss out on other nutrients. Such a restrictive meal plan puts you at risk for several deficiencies, deficiencies in omega-3 fatty acids, calcium, vitamin B-12, vitamin D and zinc. These deficiencies can have serious negative effects on your health. A low calcium intake can increase your risk of bone diseases such as osteoporosis, whereas low omega-3 fatty acids can make you feel depressed, which might make it more difficult to be motivated to stay active.
A Better Approach to Losing Weight
Combine salad and fruit with lean proteins and whole grains for the greatest health benefits. Try serving a delicious kale salad with a 3-ounce serving of grilled salmon and a half-cup of brown rice or quinoa, or chop your apple into bite-size pieces and serve it on top of a portion of rolled oats or spelt flakes.
When you're craving salad for your lunch or dinner, add lean protein and healthy fats for a more filling meal. Chopped grilled chicken or turkey breast, low-fat tofu, chickpeas and beans, as all of these offer protein to help fill you up. An ounce of nuts can add fiber and healthy fat, plus a satisfying crunch.
For a personalized eating plan to help you reach your diet goals safely, consult a registered dietitian.