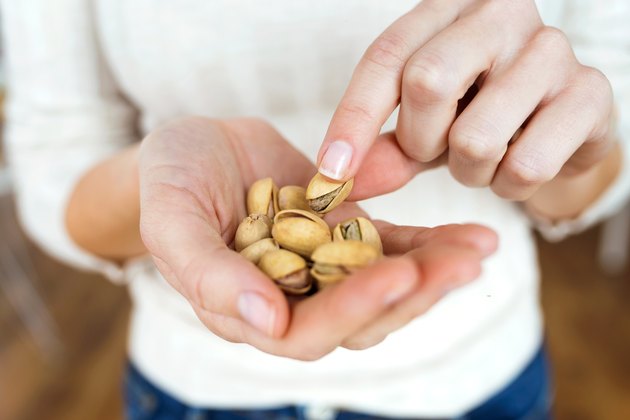 From granola bars to beef jerky to cheese puffs, there's no shortage of snack food options lining grocery store shelves. But how do you choose one that prioritizes your health as well as your taste buds? Here are 10 calorie-smart snack options to keep you energized until your next meal, including both quick assembly snack ideas and grab-and-go options.
1. Edamame
You might think of edamame as a starter to a sushi dinner, but it's also a snack-time superstar. A good source of plant-based protein, soy foods like edamame pack a powerful nutritional punch. One cup of shelled edamame has just about 200 calories and provides 18 grams of protein along with essential nutrients like dietary fiber, potassium, iron and B vitamins.
A 2019 meta-analysis published in the Journal of Nutrition reinforces the heart-health benefits of soy protein, including lowering "bad" (LDL) cholesterol. You can heat up frozen edamame and sprinkle with sea salt or create your own tasty topping, like a drizzle of olive oil and sprinkling of minced garlic and Parmesan cheese.
2. Hard-Boiled Eggs
If you're looking for a cost-effective snack that'll fill you up without a lot of calories, hard-boiled eggs fit the bill. At just 60 calories, one hardboiled egg provides six grams of high-quality protein and 13 different essential vitamins and minerals.
A 2015 study published in the American Journal of Clinical Nutrition found that those who consumed two eggs a day, six days a week over the course of three month reported less hunger and greater satiety than those who consumed less than two eggs a week.
3. Chile Lime Avocado
Need a zesty pick-me-up? Fresh avocado pairs perfectly with the flavors of lime, mild chili peppers and sea salt for a delicious snack that takes just two minutes to prepare. Simply sprinkle lime juice and Tajin spice on slices of avocado.
4. Blueberry Smoothie
For a naturally sweet snack, enjoy a bowl of fresh blueberries or whip up a Chocolate Chunk Blueberry Smoothie with five grams protein and four grams of fiber. One cup of blueberries contains 84 calories and provides essential nutrients, including vitamin C, vitamin K, manganese, dietary fiber and phytonutrients called polyphenols.
Plus, they're good for your heart. A 2019 study in the American Journal of Clinical Nutrition found that eating a cup of blueberries a day significantly improved heart health and levels of "good" (HDL) cholesterol.
5. Hummus and Veggies
The chickpea-based dip that's a staple in many Middle Eastern cuisines has taken off in the U.S. Naturally gluten-free, traditional hummus is made from a blend of garbanzo beans, olive oil, sesame paste (tahini), lemon juice and spices. It offers more vitamins and minerals than most other dips and spreads, while providing healthy fat, protein and fiber to keep you full and satisfied.
A store-bought hummus brand contains around 70 calories for a two-tablespoon portion, while a homemade version has about 50 to 100 calories for the same amount, depending on the recipe. Couple it with cucumber slices, carrot sticks, bell pepper strips or grape tomatoes to boost your daily vegetable intake for even more health benefits.
6. KIND Nut Butter Filled Bar
If you're a peanut butter lover, you'll enjoy KIND Nut Butter Filled Snack Bars. Each 170 calorie bar is made with 100-percent whole grains and filled with real, creamy peanut butter for a healthy and delicious snack. The bars are gluten-free and have no artificial flavors, colors or preservatives. Flavors include Chocolate Peanut Butter and Honey Almond Butter.
7. Green Valley Creamery Cottage Cheese
If you're a fan of yogurt for the protein content, you might be surprised to learn that cottage cheese packs an even stronger protein punch. At 110 calories per serving, one-half cup of Green Valley Creamery cottage cheese provides 12 grams of protein and only two grams of sugar.
In contrast, many flavored yogurts have more sugar than protein. Organic, lactose-free, and FODMAP-friendly, Green Valley Creamery products are a good choice for those wanting clean-ingredient products that are easier for many to digest. Top your creamy cottage cheese with a half cup of mandarin oranges or fresh berries for a touch of sweetness and a boost of vitamin C.
8. Wonderful Pistachios 100-Calorie Snack Packs
Plus, they provide a good source of plant protein and fiber. A gluten-free snack, in-shell pistachios may provide a visual cue reminding snackers to eat more mindfully. For an added kick, look for the Sweet Chili or Salt and Pepper flavors.
9. Bumble Bee Seasoned Tuna Pouches
Tuna pouches are a convenient way to add more seafood to your diet. And Bumble Bee Lemon & Pepper Seasoned Tuna Pouches are so convenient, they even come with a spoon. They're only 60 calories and provides 14 grams of protein, as well as potassium, iron and omega-3 fats.
10. simplyFUEL Protein Balls
Created by sports dietitian Mitzi Dulan, simplyFUEL Protein Balls have an ideal ratio of protein, carbs and healthy fats for sustained energy. While they taste like cookie dough, these protein balls have a clean ingredient list and provide eight grams of protein per 190-calorie serving.
NOTE: The author works with Wonderful Co. and KIND bar.