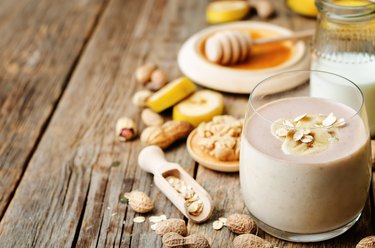 Sunland Inc., a food company specializing in Valencia peanuts, has designed a peanut butter diet for lovers of this protein-rich food. This diet also features bananas for breakfast, lunch and a snack, sometimes in a tasty combination with peanut butter. The Sunland website provides a sample menu allowing you to eat peanut butter every day while still achieving gradual weight loss.
Features
One 2-tbsp. serving of peanut butter contains 190 calories and 16 g of fat. You can be successful with this diet by keeping your servings to two a day if you're a woman and three a day if you're a man, according to registered dietitian Colleen Pierre, writing on the Sunland website. Daily calorie amounts on this peanut butter diet are 1,500 for women and 2,200 for men. Most people can lose about 2 lbs. a month or 25 lbs. in a year with this calorie intake, notes Pierre. The peanut butter's monounsaturated fat helps keep you from getting hungry.
Research
A study by Harvard University published in the June 2009 issue of the "American Journal of Clinical Nutrition" notes that peanuts and peanut butter make up about 68 percent of total nut consumption in the United States. This study assessed the relationship of nuts in the diet, including peanut butter, to weight changes in more than 51,000 women from 1991 to 1999 in the Nurses' Health Study II. Women that ate nuts at least twice per week had a slightly lower average weight gain than women that rarely ate nuts, and the greater nut consumption was connected with a slightly lower risk of obesity.
Features
Pierre offers two recipes for combining peanut butter and bananas into delicious treats. For breakfast, place 1 cup skim milk, one ripe banana, 2 tbsp. toasted wheat germ and 2 tbsp. butter into a blender and mix into a milkshake. For a snack, microwave 2 tbsp. peanut butter until melted, then stir in 3/4 cup plain nonfat yogurt and top with banana slices. The peanut butter diet also suggests eating a banana at lunchtime.
Recommendations
It's easy to add peanut butter servings into your meals and snacks, notes Pierre. Suggestions included in the sample menu include spreading peanut butter on waffles, stirring it into oatmeal, spreading it onto a piece of fruit or celery, and spreading it onto a granola bar. You might also want to enjoy a traditional peanut butter sandwich.
Additional Benefits
Peanut butter has other benefits besides preventing hunger during a diet. Pierre notes that eating monounsaturated fats, including peanut butter, as the primary type of fat in a sensible diet can reduce the risk of developing heart disease. Eating 1 oz. of peanuts or other nuts, or 1 tbsp. of peanut butter, at least five times a week is linked to a reduced risk of type 2 diabetes, according to licensed dietitian-nutritionist Kathy McManus of Brigham and Women's Hospital.