A kilocalorie, or Kcal in abbreviated form, is a measurement of the amount of energy in the foods you eat. Low-energy foods have a relatively small amount of kilocalories, while high-energy foods have a lot of kilocalories. In common usage, non-specialists and consumers refer to kilocalories as calories, although these two terms have different technical definitions.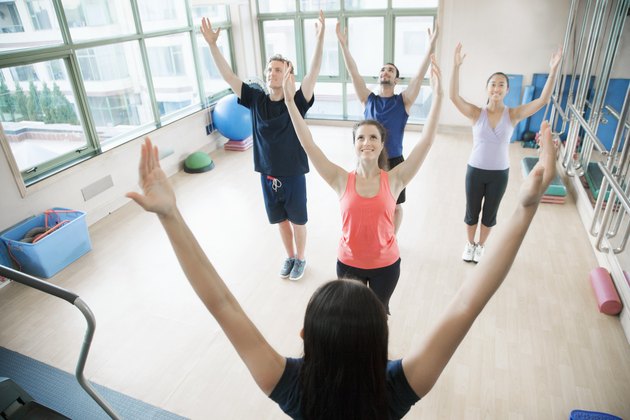 Kilocalories vs. Calories
In scientific terms, a single calorie contains enough energy to increase the temperature of a gram of water by 1 degree on the Celsius or centigrade scale, according to the U.S. National Library of Medicine's Medline Plus. A kilocalorie, on the other hand, contains enough energy to increase the temperature of a kilogram of water by 1 degree Celsius. A kilogram contains 1,000 grams, and a kilocalorie contains 1,000 real calories. For the sake of convenience, the word calorie is used instead of the more technically correct kilocalorie.
Metabolism
When you eat or drink, your body breaks down the food and beverages in your diet and uses their energy content, or calories, to maintain all of your systems and internal functions. This breakdown and conversion process, called your metabolism, continues 24 hours a day whether you're physically active or inactive. However, physically active people generally burn through more calories than physically inactive people. A variety of additional factors can influence your body's rate of calorie usage, including your body size, muscle content, gender and age.
Calorie "Types"
Since calories are units of measurement and not actual substances, all calories are the same, Medline Plus explains. For instance, a calorie of protein contains the same amount of energy as a calorie of fat or a calorie of carbohydrates. Some marketers and diet advocates ignore or don't understand this fact and promote diet plans that target "types" of calories. However, in energy terms, these foods differ only in the amount of calories they contain when weighed in equal portions. Fat contains about 9 calories per gram, while proteins and carbohydrates contain less than half this amount of calories per gram.
Considerations
If you increase your food energy intake and exceed your body's metabolic requirements, the extra calories in your diet will make you gain weight. You can also gain weight if you maintain your food intake and decrease your body's metabolism by decreasing your level of physical activity. Some people gain weight from a mixture of these two factors. A properly balanced diet supplies you with enough calories to sustain your body properly while avoiding an oversupply or undersupply of protein, carbohydrates, fats or other nutrients. Consult your doctor or a registered nutritionist for more information on calories, kilocalories and your metabolism.