A kilocalorie is a measure of energy produced in the foods you eat. When you say calorie, most likely you mean kilocalorie (kcal). The two terms are different, but calorie is the commonly used term. In scientific terms, however, it would be a kilocalorie.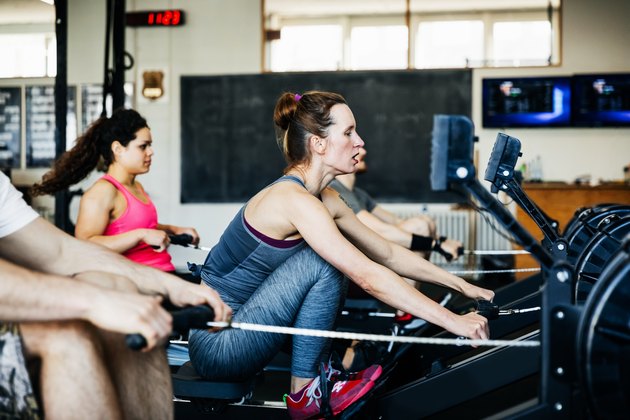 Tip
A kilocalorie measures the amount of water it takes to raise the temperature of a kilogram of water by 1 degree Celsius. When you say calorie, you really mean kilocalorie.
Kcal vs. Calorie
In scientific terms, a single calorie contains enough energy to increase the temperature of a gram of water by 1 degree Celsius, according to the U.S. Department of Agriculture's Nutrient Data Laboratory.
That's not much. The true calorie is really a small calorie, and it takes 1,000 of these to equal a kilocalorie. When you speak in terms of calories contained in something you're eating, you mean kilocalorie, sometimes called kcal.
A kilocalorie contains enough energy to increase the temperature of a kilogram of water by 1 degree Celsius. A kilogram weighs about 2.2 pounds, while a gram weighs in at 0.03 ounces, considerably less than a kilogram. So if you eat a diet that contains about 2,000 calories a day, you're really eating 2,000 kilocalories. If you only ate 2,000 true calories per day, you would only be eating a tiny amount of food.
For the sake of convenience, however, the word calorie is used instead of the more technically correct kilocalorie.
Metabolism and Calories
When you eat and drink, your body converts the calories you consume into energy, as explained in an August 2017 Mayo Clinic article. Calories contained in the food you eat and beverages you drink combine with oxygen to release the energy your body needs to maintain all of your bodily systems and internal functions.
This breakdown and conversion process, called your metabolism, continues 24 hours a day whether you're moving around or at rest. Physically active people, however, burn through more calories than people who engage in little physical activity.
Body size: Larger and more muscular people burn more calories, even when resting.
Gender: Men are typically larger and have more muscles than women of the same age and weight, so they burn through more calories.
Age: As you age, your body tends to lose its muscle and increase its fat stores, which slows down your calorie burning process.
Types of Calories
Calories are units of measurement, like an inch or a teaspoon, says the Cleveland Clinic. So a calorie of protein contains the same amount of energy as a calorie of fat or a calorie of carbohydrates. The amount of energy contained in each "type" of calorie, whether it's from fat, protein or carbohydrates, is the same.
The density of fat, protein and carbohydrates, however, is different. If you're looking at a serving of food that contains 1 gram of fat, that 1 gram of fat is going to contain 9 calories. A serving of food that contains 1 gram of protein or carbohydrates, however, will be less dense. A gram of protein or carbohydrate will contain about 4 calories.
Fat is denser than protein and carbohydrates. That's why you'll want to eat a smaller portion of a food that contains more fat, the Cleveland Clinic says. Conversely, you can eat a larger portion size of a food high in protein or carbohydrates for the same number of calories. Remember, however, that a fat-free food may still have a lot of calories from carbohydrates or protein.
Weight Gain or Loss
If you take in more calories than you burn, the extra calories in your diet can get stored as body fat, according to the Cleveland Clinic. You can also gain weight if you maintain your food intake and decrease your level of physical activity, the Mayo Clinic says.
To lose weight, you need to take in fewer calories than you burn. You can do this by eating less and moving more. Lower fat foods will help, the Cleveland Clinic says, but also pay attention to the calorie content of foods with carbs and protein. Don't substitute fatty foods with highly processed, carb-rich foods and sugars. Some foods labeled low-fat actually have more sugar.
Exercising will also help. Before starting an exercise program, however, you should work with your health care provider to start the program that's right for you.