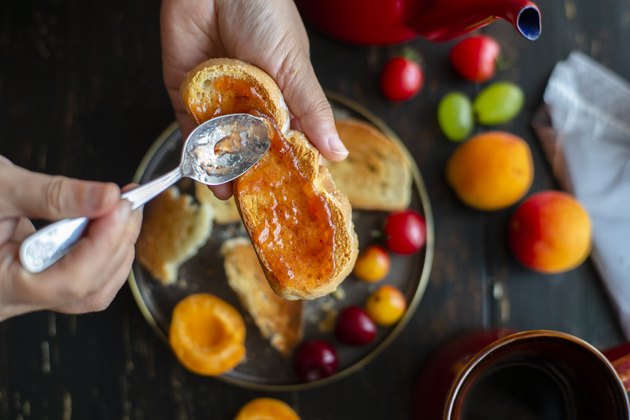 It may seem like almost everyone is substituting rice with cauliflower and ditching their omelet's side of toast these days. But why are carbs now vilified and why is everyone cutting them? Despite the recent low-carb diet frenzy, you still need at least some carbs to provide fuel for your brain and your body.
However, you should be picky about the carbs you choose since some carb sources are healthier than others. And the ones that you eat most of the time can have a significant impact on your health — and your weight. Here's a look at why carbs are important, which ones you should be eating and how to make them part of your diet without going overboard.
What Are Carbs?
Carbohydrates are a type of macronutrient (among protein and fat) — and act as your body's main source of energy. They're found in grains and grain-based foods like bread and pasta, as well as beans, starchy vegetables, fruit and dairy products. Anything with added sweeteners also contains carbs.
There are three types of carbohydrates:
Sugars: All types of sugar are simple carbs. They occur naturally in foods like fruits, vegetables, dairy products and honey or can be added as added sugars to different products during the manufacturing process.
Starches: Starches are complex carbohydrates. They are broken down at a slower rate than simple carbs, so the energy they provide tends to last longer. Starches are found in vegetables, whole grains and beans.
Fibers: Fibers are special complex carbohydrates that promote healthy digestion and can lower the risk for problems like heart disease and diabetes. There are two types of fiber: Soluble fiber and insoluble fiber. Soluble fiber is a gel-like fiber that helps lower cholesterol and an help improve blood glucose, according to Medline Plus. It is naturally occurring in foods like oat bran, barley, nuts, seeds, beans, lentils and peas as well as some fruits and vegetables. Insoluble fiber adds bulk to stool and aids in digestion. It's naturally found in wheat bran, vegetables and whole grains.
Your brain and body rely on carbohydrates to function properly. And though carbs have a reputation for causing weight gain, it's largely undeserved. There isn't actually much research out there linking healthy carb consumption to obesity. Carbs that contain fiber, like whole grains, fruits, veggies and beans can keep you fuller longer and even help keep your weight in check. Fiber-rich whole grains may protect against heart disease, type 2 diabetes and cancer as well as aid weight management and digestive health, a comprehensive May 2011 report in The Journal of Nutrition states.
Carbohydrates should make up 45 to 65 percent of your total daily calories, according to the 2015-2020 Dietary Guidelines for Americans with no more than 10 percent of your total daily calories coming from added sugars.
Do Carbs Make You Gain Fat?
Complex Carbohydrates Vs. Simple Carbohydrates
The body can convert carbs from any food source into useable energy. But not all carbs are created equally — and if you're looking to lose weight, boost your health or get the most carb bang for your buck, it's worth knowing the difference!
Carbohydrates can either be simple or complex, depending on their chemical structure. Simple carbs get broken down by the body relatively quickly, so they provide a quick burst of energy that doesn't last very long. On the other hand, complex carbs are broken down at a slower, steadier rate, delivering sustained energy — which is why they keep you fueled and satiated for longer.
Complex carbohydrates: These are unprocessed or minimally processed, so they contain all or most of their nutrients and fiber — meaning that they're the closest to natural form. Whole grains (including whole-grain bread), potatoes, sweet potatoes, fruit and vegetables are all complex carbohydrates. They're rich in vitamins and minerals, but that's not all. "They have a milder effect on your blood sugar because the fiber helps slow digestion," Goodson says. They can also help fill you up faster and keep you fuller for longer.
Simple carbohydrates: These are highly processed carbs that have been stripped of most of their nutrients and fiber during the manufacturing process. Refined carbs include foods like white rice, white bread and white pasta. "These typically spike blood sugar faster and leave you feeling tired and fatigued later, or looking for more sugar," Goodson says. Since refined carbs aren't very filling thanks to their lack of fiber, they can be easier to overeat.
It All Boils Down to Choosing Healthy Carbs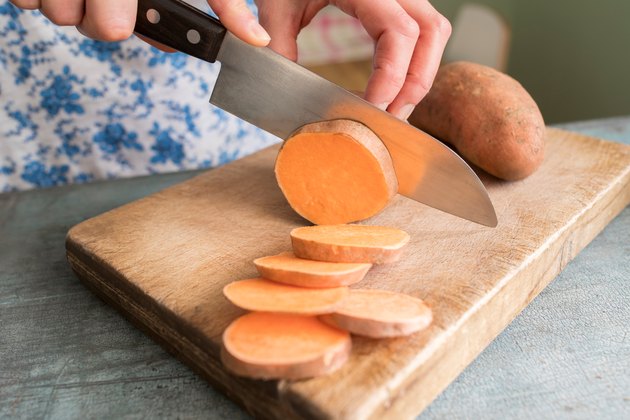 Carbohydrates can absolutely be part of a healthy diet. "You definitely don't need to go low-carb to lose weight, but you should be mindful of the types and amounts of carbs that you choose," Largeman-Roth says.
"The way I look at it is that the grain staples I buy — bread, cereal, crackers, pasta and wraps — should be made with whole grains," says Largeman-Roth. When you add carbs to your meal or snack, they should mostly take the form of:
Whole-grain foods: Think oatmeal, quinoa, brown rice, 100% whole grain pasta, or 100% whole grain bread.
Fruits and vegetables: Fruits and starchy vegetables like white potatoes, sweet potatoes, winter squash, corn and peas tend to be higher in carbs than non-starchy vegetables like leafy greens, broccoli, cauliflower, peppers, mushrooms and summer squash. But all are healthy options.
Beans and legumes: Lentils, chickpeas, black beans, kidney beans, white beans and split peas are all great choices.
Unsweetened dairy: Milk, cheese and plain yogurt contain carbohydrates in the form of naturally occurring lactose, a type of sugar. As long as you're not lactose intolerant or have a dairy allergy, you can enjoy it. Consume dairy in moderation as it's also a source of saturated fat.
As for simple or refined carbs? You don't need to avoid them completely — that's where portion control comes into play. You probably know that it's not the best idea to eat three slices of vanilla cake at your cousin's birthday party — but even healthy carbs like brown rice or sweet potatoes are calorie-dense, and eating too much can quickly rack up your calorie intake.
Still, the exact amount of carbs you need is based on your weight and activity level. "There's no one-size-fits-all equation," Goodson says. If you think you might be eating too many carbs (or too few), speak with a registered dietician. They can help you figure out your individualized carb intake goal based on your size and how much you exercise, along with other factors like whether you're trying to lose weight or if you have diabetes.
So, Let's Toast to Healthy Carbs
Carbohydrates can be confusing, especially when everyone seems to be touting the benefits of low-carb diets. But carbs are an essential source of energy, and whole or complex sources serve up important health benefits. In short, pick healthy carbs most of the time and round out the rest of your diet with lean proteins and healthy fats.
"Remember, balance is key to maintaining a healthy eating pattern," Goodson says. "Ultimately, the bulk of your diet should be nutrient-rich."