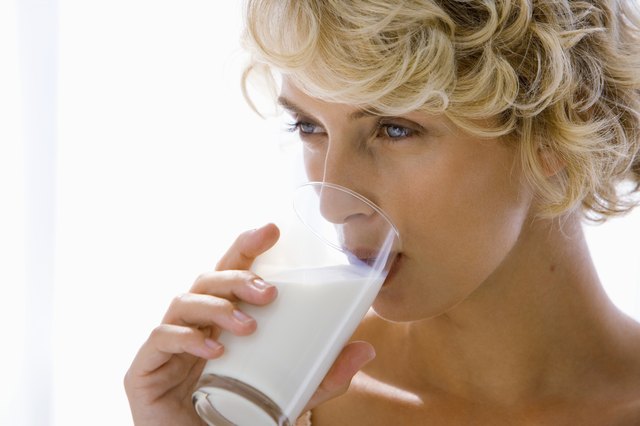 Lactose is the type of sugar that occurs naturally in milk. It is found in the milk of animals such as cows and goats, as well as human breast milk. Plain cow's milk purchased in your local grocery store doesn't contain added sugar. If you purchase flavored milks, such as chocolate or strawberry, sugar is added to the beverage for sweetness. Alternative milks such as almond, soy or oat milk may also contain added sugar. Check the nutrition labels carefully on your milk product to determine whether or not sugar has been added.
Lactose Explained
Lactose is made up of two different sugar molecules: glucose and galactose. Once lactose enters the body, it breaks down into these smaller molecules for easier digestion. This type of sugar is more easily digested in some individuals. Lactose also may also be more easily digested depending on the type of milk. Some individuals believe that lactose naturally occurring in goat's milk is more easily digested than lactose in cow's milk.
Intolerance
Sometimes, milk sugar or lactose is difficult for some people to digest. This condition is called lactose intolerance. Symptoms of this condition include cramping, bloating and diarrhea. If you have difficulty digesting lactose, you can purchase milk with reduced lactose, or milk that is lactose free. Removing the naturally occurring sugar in milk does alter the taste, but makes it possible for lactose intolerant individuals to drink the milk.
Amount of Lactose
The amount of lactose in milk depends on the type of milk. Human milk has the largest proportion of lactose at 7 percent. Cow's milk follows at 4.7 percent. The amount of lactose in goat's milk is less at 4.1 percent. The more lactose in milk, the sweeter the taste.
Added Sugar in Milk
Chocolate and strawberry milk contains added sugar. The amount varies depending on the type of milk and the manufacturer and may range from 1 to 3 tsp. of sugar per serving in prepared flavored milk products. Mixing your own flavored milk using powered mixes can help you adjust the amount of sugar to fit the sweetness you desire.