Simple sugars are carbohydrates that are quickly absorbed by the body to produce energy. They are also classified as "simple" because they contain only one or two units of sugar or saccharides. Also referred to as simple carbohydrates, these sugars are found naturally in a variety of foods that we consume daily. Check with your registered dietitian for a full list of healthy food options and specific energy needs.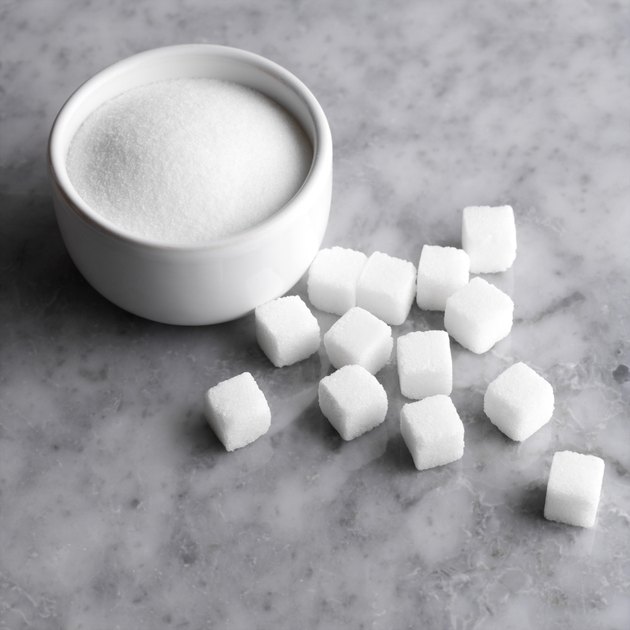 Function
Your brain and nervous system utilize carbohydrates for energy. In the body, carbohydrates are broken down into a molecule called glucose, which is either used for energy or stored for later use. Simple sugars are broken down quickly, producing a rapid increase in blood sugar levels. In contrast, complex carbohydrates take longer to break down and process in the body because of their structure.
Foods
Simple sugars are present in both natural and processed foods. Natural foods that contain simple sugars include fruits, vegetables and milk products. The simple sugars found in these foods include fructose, galactose, lactose and maltose. These foods contain naturally occurring vitamins and minerals and are considered more nutritious than processed foods. Processed foods often have simple or refined sugars added to improve flavor. Examples of refined-sugar foods include candy, cakes, syrups, fruit juices, regular carbonated beverages, ready-to-eat cereals and various condiments. These foods are typically referred to as "empty calories" because they provide a lot of energy but very few nutrients such as essential vitamins, minerals, fiber and fatty acids. Refined simple sugars include high-fructose corn syrup, brown sugar, table sugar, dextrose, malt syrup and molasses.
Recommendations
The American Heart Association recommends limiting daily sugar intake to no more than 100 calories for women and 150 calories for men--about six to nine teaspoons daily. In a typical 2,000-calorie diet, 50 to 60 percent of the total calories should come from carbohydrates. However, simple sugars that provide many calories but few nutrients should be limited. Medline Plus recommends consumption of complex carbohydrates such as fruits, vegetables, whole grains and legumes.
Considerations
Consumption of excess carbohydrates can lead to an increase of total calories and may lead to weight gain or obesity, according to Medline Plus. A registered dietitian can help you determine your daily caloric requirement, based on your age, sex and activity level. Processed foods that contain refined sugars can be replaced with fresh and unrefined food options. For example, replace carbonated and sweetened beverages with water or no-sugar-added juices. White flour and rice can be replaced with whole-grain food options that provide vitamins, minerals and dietary fiber.