"Superfood" is one of those catchy, trendy terms that's often thrown around on social media — but have you ever wondered what it actually means?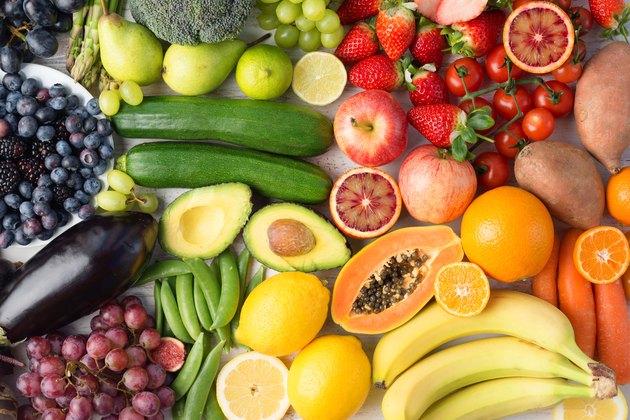 First off, the term isn't actually federally regulated. Generally speaking — and perhaps a less sexy way to phrase it — a superfood describes a nutritionally dense wonder from Mother Nature that boasts plenty of nutrients. These can include antioxidants, phytochemicals, healthy fats, amino acids, vitamins, minerals and fiber. When you snack on these gems or add them to your recipes, you're helping your body fight against diseases and build your overall immune system, celebrity chef Serena Poon tells LIVESTRONG.com.
Though superfoods are grown year-round in the United States and beyond, there are some summer-specific produce you'll find at your local farmers' market or grocery store during the warmer months. So make sure to shop these summer vegetables and fruits once the temperature climbs — after all, everything tastes better when it's in season!
1. Blueberries
Often found in cute baskets at a farm stand, these small berries pack a ton of minerals and vitamins. They are high in anthocyanins, which are a group of plant molecules called flavonoids that may help fight inflammation and minimize free radicals, Poon tells us.
Plus, they're great for your heart. According to Harvard Health Publishing, women who ate the most blueberries (and strawberries) were 34 percent less likely to have suffered a heart attack than were women who didn't eat much of the berries.
As an additional perk, blueberries are also high in soluble fiber. This is an important quality because soluble fiber helps to ward away hunger cravings and helps digestion.
How to eat it: Bite-sized and delicious, there are plenty of ways to add blueberries into your daily routine. According to the Harvard study, people with the greatest heart health benefits ate three or more half-cup servings of berries weekly. Eat them on their own as a post-dinner dessert or use them as a topping for your yogurt, oatmeal, granola, smoothie or salad to reap the benefits.
2. Watermelon
During the summer, walking to work could have you pooling sweat. And if you're an avid exerciser, you could be more dehydrated than you realize if you aren't sipping enough H2O. If you get bored of water, Poon suggests tapping into watermelon since it's made of more than 90 percent water!
Watermelon is also rich in vitamins A, C and lycopene which work to perk up your immune system and keep your skin clear. "The natural sugars found in watermelon, along with the fruit's potassium, help our bodies replenish electrolytes lost when we sweat," Poon continues.
The juicy fruit may also promote heart health, according to Florida State University researchers. Why? Watermelon is one of the richest natural sources of L-citrulline, an amino acid that may help manage healthy blood pressure levels.
How to eat it: You can sit by the beach with a slice in hand — or if you're stuck in the office, consider chopping watermelon into bite-sized portions that you can eat with a fork. For some fun flavors in a summer salad, add cubes of watermelon and mix with mint, cucumbers, tomatoes and feta. Or, if you're more of a juice lover, watermelon is delicious when blended into juice.
3. Beets
Don't let the deep red tint that threatens your white T-shirt scare you away — this hearty root vegetable offers a multitude of benefits. Poon says that beets are one of the most diverse superfoods of summer, especially since they can be utilized in countless ways across hot and cold recipes.
Beets are high folate, a B vitamin that may decrease risk of cancer, depression and heart disease, according to the National Institutes of Health. The bright root veggie is also high in metabolism-revving manganese and copper, which keeps your immune system healthy.
If you're a fan of outdoor runs, beets could be your new summer go-to for a cool-down bite. Beets are rich in dietary nitrates that our bodies convert into nitric oxide, which helps increase circulation. In fact, an April 2015 study in Nutrients shows that the veggie can enhance athletic performance and may reduce blood pressure and inflammation. The study also found that beets may be able to better manage heart disease and cancer.
How to eat it: While some folks enjoy them roasted, steamed or boiled with a dash of olive oil and salt, Poon says they're great as a juice or as another color on your crudité plate.
4. Red Bell Pepper
Red bell peppers shouldn't be overlooked at your grocery's produce aisle. These nutritional powerhouses contain only 31 calories and 170 percent of the daily recommended value of vitamin C per medium pepper, according to the USDA. In addition to bolstering your immune system against summer colds, vitamin C also supports skin health, helping to build collagen.
Plus, red bell peppers' beta-carotene (which the body converts into vitamin A) supports eye health, while the veggie's lycopene may have cancer-preventing effects, Poon adds.
How to eat it: Though some folks aren't mega-fans of the raw taste of red peppers, you may enjoy them hot off the grill or roasted as part of a side dish. If you're Team Crudité, they also pair well with hummus!
5. Avocado
As if you need another reason to love avocados, their incredible nutritional benefits give you a major excuse. Audrey Perkins, MPH and health and wellness strategy manager for Ocean Spray, praises this delicious and versatile superfood. "Avocados are high in monounsaturated oleic acid, a heart-healthy fatty acid, which has been associated with improved cardiovascular health, regulated blood sugar levels and reduced inflammation," she explains, citing a December 2012 review in Nutrients.
What's more, the healthy fats in avocados can help you absorb fat-soluble nutrients including vitamins A, D, E and K.
How to eat it: Your options are limitless! Whether you dip veggies into guacamole, slice up some perfectly ripe avo for your salad or blend it into a smoothie for a creamy texture, all of these varieties will give you the nutrient boost your body craves.
6. Blackberries
Blackberries are chock-full of vitamins A and C. Plus, they're a great source of bone-protecting vitamin K, clocking in at over one-third of the daily recommended value.
If you ever wondered what creates the super-dark shade, Alison Baker, RD and director of nutrition for Kroger, explains it's due to anthocyanin — the same plant pigment found in blueberries! According to an August 2017 study in Food & Nutrition Research, anthocyanin may help prevent heart disease, certain cancers, diabetes, some metabolic diseases and even microbial infections.
How to eat it: Just like their pal blueberries, blackberries are a flavorful addition to yogurt, oatmeal, cereals, quinoa or even a salad. They're also great to nibble on frozen after an outdoor workout.
7. Raspberries
According to a January 2016 study in Advances in Nutrition, the red berries may help decrease blood pressure, cholesterol, prevent heart disease, control blood sugar and fight inflammation — whether it's from working out, sunburn or a hangover. Because they're an excellent source of fiber, they can help you to regulate your digestive system too.
How to eat it: Raspberries make for a great snack on their own or topping for salads, oatmeal and smoothies. Try them frozen and smashed as a refreshing fruit sorbet.
8. Summer Squash
Browse through your local farmers' market and you'll notice a colorful, vibrant variety of summer squashes from zucchini to crook neck. As Baker explains, all summer squash options pack a punch of vitamin B6, fiber, potassium and phytochemicals.
How to eat it: If you live or are visiting below the Mason-Dixon line this summer, you'll probably find plenty of fried summer squash on menus. Although this isn't the healthiest version of the squash, it's a delicious treat to enjoy in moderation. For a cleaner take, Baker suggests mixing diced squash into your pasta salads or sautéing the delicate veggie with capers, lemon and sun-dried tomatoes.
9. Peaches
Sinking your teeth into a perfectly juicy peach is one of summer's simple pleasures. This fruit contains vitamin C and is rich in potassium, which maintains healthy blood pressure by helping your body excrete sodium via urine and reduces tension in your blood vessels, according to the American Heart Association.
What's more, peaches are high in fiber, which aids digestive health. And with the fruit's high vitamin C content, you may also notice brighter skin over time and an improved immune system to fight against summer germs (looking at you, airplanes!).
How to eat it: Eat this fruit whole for a mid-afternoon snack or throw it on the grill. Peaches also create a unique flavor profile when added with tart ingredients in a fresh salad.