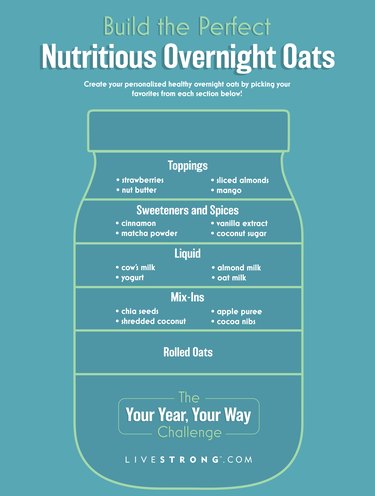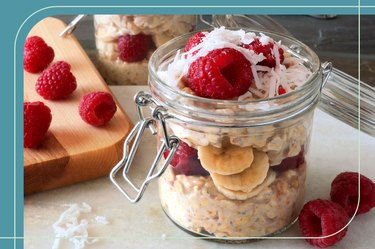 If you find yourself smashing the snooze button every morning, you're destined to fall in love with overnight oats. This quick, customizable meal allows you to mix and match your favorite ingredients, providing plenty of protein, complex carbs, healthy fats and fiber to fuel your day.
Plus, it couldn't be easier: A batch of overnight oats is a tasty "set it and forget it" meal that makes breakfast prep a snap on busy (or over-snoozed) mornings, says Maya Feller, RD, CDN, owner of Brooklyn-based Maya Feller Nutrition.
The first step is choosing your container. Feller recommends using mason jars, an eco-friendly favorite among dedicated meal preppers, as they allow you to measure, mix, refrigerate and eat your oats all in the same vessel.
Choose jars that make you smile when you look in the fridge, Feller says, for a little something extra to look forward to seeing in the mornings.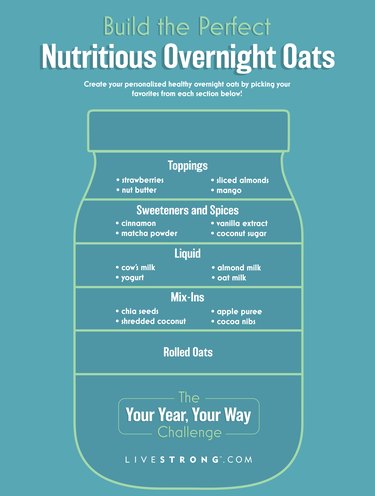 Step 1: Start With Rolled Oats
To start, you'll need 1/2 cup of rolled oats, also called old-fashioned oats. These oats absorb liquid well and develop a creamy, chewy texture as they sit in the fridge overnight.
As the base for the entire dish, oats soak up all the flavors of the other ingredients. They also provide soluble fiber in the form of beta-glucans, which can help lower LDL (or "bad") cholesterol, according to a December 2014 meta-analysis in ‌The American Journal of Clinical Nutrition‌. And they deliver 7 grams of plant-based protein per 1/2 cup, clocking in higher than other whole grains.
Step 2: Add Chia Seeds or Other Mix-Ins
A popular addition to overnight oats is the tiny-but-mighty chia seed. Rich in plant-based protein, dietary fiber, healthy fats and many minerals, such as calcium and zinc, according to the Harvard School of Public Health, chia seeds also create a thicker texture in your oats.
You can use other nuts or seeds — such as sliced almonds, pecans, pumpkin seeds or ground flax seeds — instead of or along with chia seeds, Feller says, or experiment with dried or fresh fruit, chopped nuts, shredded coconut and cocoa nibs, too.
Overall, aim for 1/4 to 1/3 cup of whatever mixture of these extra ingredients you choose:
Chia seeds
Dried cherries, cranberries, apricots or other fruit
Mashed or chopped fresh fruit
Pumpkin seeds
Ground flax seed
Sunflower seeds
Pepitas/pumpkin seeds
Chopped pecans or walnuts
Shredded coconut
Cocoa nibs
Chocolate chips
Apple puree
Pumpkin puree
Mashed banana
Be careful when using Greek or regular yogurt, though. Its thickness will give your overnight oats a cement-like texture. Thin out yogurt significantly with one of the liquids listed below before adding it to your jar.
Use double the amount of liquid you use for the rolled oats. So if you're making one serving with 1/2 cup of oats, add 1 cup of liquid. Depending on your taste and texture preference, you can experiment with slightly more or less liquid. And if you're using chia seeds, stick closer to the full cup.
Pick from the following liquids:
Cow's milk
Soy milk
Oat milk
Cashew milk
Rice milk
Hemp milk
Buttermilk
Plain kefir
Greek or regular yogurt thinned with one of the above
Step 4: Flavor With Sweeteners and Spices
These flavorings offer more chances to make every jar of overnight oats unique. Try starting with a pinch of salt, then expand to suit your mood.
"I love cinnamon, nutmeg and even black pepper, depending on the direction I'm going," Feller says. For something more savory, she'll combine turmeric and grated zucchini. "But if I'm going for something sweeter, I'll do cinnamon and nutmeg with nuts and dried fruits. And lately, I've been doing unsweetened coconut flakes and bee pollen."
Salt
Cinnamon
Ginger
Nutmeg
Cloves
Vanilla extract
Cocoa powder
Matcha powder
Maple syrup
Honey
Agave nectar
Coconut sugar
Brown sugar
Tip
Once you've added all of your ingredients to the container, mix them together, cover and place in the refrigerator overnight. Overnight oats should stay fresh for three days, in case you wait to eat them or decide to make more than one serving for multiple meals.
Step 5: Sprinkle on Day-Of Toppings
The final part of this delicious meal is the garnish, which you add right before eating. (Though you can skip the toppings and just eat it straight from the fridge — we won't judge!)
Toppings add flavor and texture, but they can also add valuable nutrients. Fruit delivers sweetness and fiber, while nuts and seeds provide healthy fats and some crunch. Either way, breakfast is ready when you are.
Choose your favorites from the following:
Strawberries
Cherries
Mango
Pineapple
Apple
Sliced banana
Blueberries
Raspberries
Sliced almonds
Chopped pecans or walnuts
Macadamia nuts
Pepitas/pumpkin seeds
Nut butter (almond, cashew, etc.)
Put It All Together in These Recipes