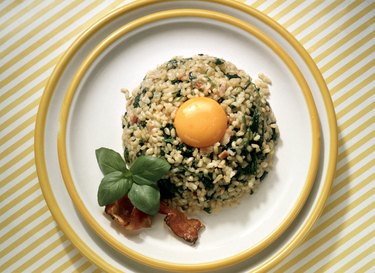 A gluten- and dairy-free menu plan doesn't have to be complicated, expensive or time-consuming to prepare. It will, however, require some advance planning for you to make simple, nutritionally balanced meals that will provide you with adequate vitamins and minerals while adhering to your dietary restrictions. Ask your doctor, dietitian or nutritionist for help in designing healthy menus free of gluten or dairy products.
Gluten-Free Grains at Breakfast
Breakfast on a gluten- and dairy-free diet could consist of eggs scrambled with water or plant milk such as almond or soy milk, a slice of gluten-free toast spread with sugar-free fruit preserves and a piece of whole fresh fruit. Wheat, spelt, rye, kamut, bran and barley all contain gluten, so you'll need to opt for bread made with flour from a gluten-free grain, such as rice, flax, amaranth, buckwheat, corn, millet or ground nuts, seeds or soy. Choose a calcium-fortified plant milk to ensure you consume enough calcium without eating dairy products.
Vegetables at Lunch
For an easy-to-fix lunch, try a plate of dark, leafy salad greens topped with canned salmon, cooked white beans and plenty of vegetables such as chopped tomatoes and cucumbers, grated carrots, diced onions and steamed broccoli or asparagus. For maximum calcium, mash any bones into the salmon with a fork and incorporate greens like kale into your salad mix. Steer clear of croutons, imitation bacon bits and commercial salad dressings, all of which may contain gluten. Instead, prepare your own heart-healthy dressing using distilled vinegar, spices or herbs and a monounsaturated oil like olive oil.
Pick Lean Protein at Dinner
A simple but nutritious gluten- and dairy-free dinner might include grilled London broil paired with cooked quinoa or brown rice, steamed vegetables and a dessert of fresh fruit. Avoid excess saturated fat, cholesterol and sodium by choosing lean cuts of beef or pork, skinless poultry and seafood over fattier cuts or processed meats. Cook grains like quinoa or rice in water instead of commercial stock or broth that may be prepared with ingredients containing gluten. By including leafy greens like bok choy or collard or turnip greens in your vegetable rotation, you'll ensure you get plenty of calcium.
Make Your Snacks Count
Raw or plain, dry-toasted nuts and seeds can add nutrients to your diet without the addition of gluten or dairy. For example, eat a mid-morning, afternoon or evening snack of almonds with fresh whole or sliced fruit. Other acceptable but healthy snack choices include plain popcorn tossed with olive oil and your choice of spices or herbs, rice cakes spread with nut butter or a bean-dip like hummus served with a gluten-free option like rice crackers or raw vegetable sticks.