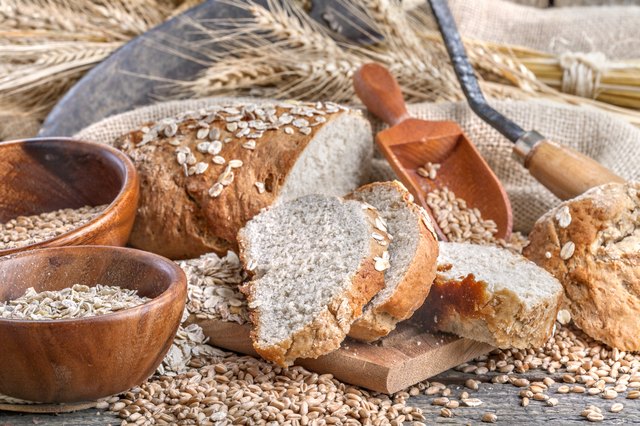 Gluten intolerance describes a condition that occurs when the body mistakenly attacks the cells lining the small intestine in response to gluten, the protein found in wheat, rye and barley. Doctors refer to gluten intolerance as celiac disease or celiac sprue. With no specific treatment or cure, a patient can only manage her symptoms by eliminating gluten from her diet. The symptoms of gluten intolerance vary from patient to patient. For example, some patients may experience weight gain as a consequence of bloating, while others experience weight loss due to a failure to absorb nutrients.
Celiac Disease
To understand the symptoms of celiac disease and how one condition can cause one person to gain weight and another to lose it you must first understand what happens to the body as a result of gluten intolerance. In a person with celiac disease, ingesting a food containing gluten triggers the immune system to release antibodies that specifically attack the cells lining the small intestine. This lining contains tiny fingerlike projections, known as villi, that increase the surface area to allow for maximum nutrient absorption. The antibodies attack the villi and over time destroy them, reducing the ability of the small intestine to absorb nutrients.
Weight Gain
When the small intestine fails to absorb the majority of the nutrients from any food, the consumed matter continues to pass into the lower portion of the small intestine and the large intestine, or colon. The bacteria in these sections of the digestive tract attempt to digest the food particles further, which produces gas. Excess gas in the intestines causes bloating and weight gain. Along with the bloating many patients experience constipation, which also contributes to weight gain. Despite the damage to the lining of the small intestine, it does continue to absorb water from the food. Constipation occurs because the food passing into the large intestine increases but the water volume remains the same.
Weight Loss
Although being gluten-intolerant can make you gain weight, many patients with celiac disease experience weight loss. The damage to the small intestine inhibits the absorption of nutrients, including carbohydrates, protein and fat. Since these three macronutrients serve as the source of calories and energy for the body, failure to absorb them means that although you consume calories you continue to lose weight. The malabsorption of food can cause chronic diarrhea, which also promotes weight loss. The chronic diarrhea and other accompanying symptoms create a loss of appetite that contributes to the weight loss.
Other Symptoms
Along with weight loss or weight gain, constipation or diarrhea, a patient suffering from celiac disease experiences many other symptoms. The inability to absorb nutrients means his body fails to get energy from food, resulting in fatigue. His body also fails to absorb vitamins and minerals, leading to deficiencies that can cause a variety of symptoms like tingling in the hands or feet, anemia, depression, anxiety, seizures, fertility problems and skin rashes.