You've heard the terms "plant-based," "vegan" and "vegetarian" thrown around and they all sound pretty similar — but they're not actually one and the same. So how does going vegetarian differ from a vegan diet? And is eating plant-based better than going vegetarian?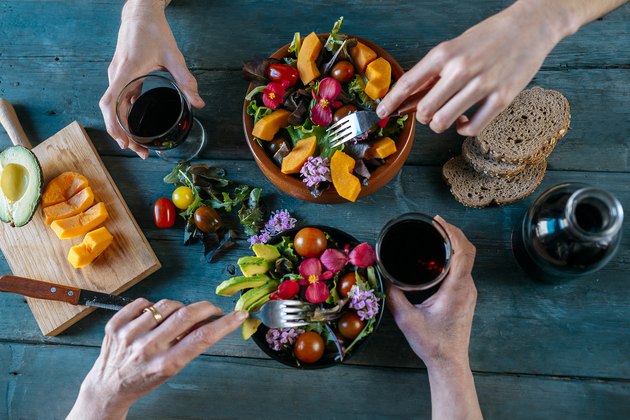 Read on to find out each diet's main components as well as expert tips on whether you're a good candidate for any of these popular eating plans.
What Is a Plant-Based Diet?
There is no single, universally accepted definition of a plant-based diet. However, most experts agree that the term plant-based means primarily eating plants while small or occasional amounts of any type of animal protein may be consumed, including meat. Some people refer to this eating plan as "chegan" — a play on words for a vegan who "cheats."
One thing is certain, though: This eating approach is on the rise. Two-thirds of people reported reducing meat consumption in at least one category over the previous three years, particularly red and processed meat, according to a July 2018 Cambridge University survey.
What's more, 32 percent of respondents say they eat less meat now than they did three years ago, a January 2016 survey conducted by National Public Radio (NPR) and Truven Health Analytics found. Among those who are curbing their meat intake, 60 percent cite health as their primary concern.
Dairy is also on the decline. Milk consumption in North America plummeted 22 percent between 2006 and 2016, which paralleled a triple-digit increase in plant alternatives during that same period, a 2018 Cargill report shows. While most Americans aren't taking the leap to full-on vegetarianism or veganism, more and more are moving towards a plant-based diet.
This is important news for the planet — particularly in light of the EAT-Lancet Commission, a comprehensive report put together by nearly 40 world-leading scientists about the impact of what we eat on human health and the health of the planet. The commission advises increasing intakes of produce, legumes and nuts as well as minimizing intake of eggs, seafood, meat, poultry and dairy — an eating plan referred to as the planetary health diet. On this eating plan, the recommended limit for red meat per week is no more than about three ounces, which is roughly the size of a deck of cards.
It may lower your risk of type 2 diabetes: A July 2019 meta-analysis, published in JAMA Internal Medicine, looked at plant-based eating patterns (defined as higher consumption of plant-based foods and lower consumption or exclusion of animal-based foods) and the incidence of type 2 diabetes. The review found that plant-based dietary patterns were associated with a lower risk of type 2 diabetes, even after adjusting for body mass index (BMI). In other words, the effect holds true regardless of weight. The link was even stronger when whole, plant-based foods were consumed, including fruits, vegetables, whole grains, legumes and nuts. This is particularly significant because the number of U.S. adults diagnosed with diabetes is projected to nearly triple by 2060, per a June 2018 study in Population Health Metrics.
It may protect you from dying from heart disease: Higher adherence to a plant‐based diet showed a 19 percent lower risk of dying from heart disease, an August 2019 study in JAHA found.
It's maintainable: Plant-based diets lack any true exclusions, which makes it more maintainable for many people. Since the diet allows for some animal-based foods, this may help people better meet nutritional needs.

It's not well-defined: The lack of clear-cut limitations may leave some people floundering over exactly what to eat. Sharon Palmer, RDN known as the Plant-Powered Dietitian, encourages starting by filling 75 percent of your plate with plants and giving Meatless Mondays a try.
Should You Adopt a Plant-Based Diet?
"A plant-based diet is easy to follow and virtually everyone can eat this way," says Palmer. If you want to lower your carbon footprint, improve your health and eat more plants without swearing off any type of animal food completely, a plant-based diet is your best option.
While there are no hard-and-fast rules regarding the plant-to-animal-foods ratio, remember that the key difference between being an omnivore and going plant-based is that the latter involves eating primarily plants. Simply put, plants should be the star of every meal on a plant-based diet. So if you don't want to give up downing eggs for breakfast, a cold cut sandwich for lunch and a burger for dinner, a plant-based diet may not be right for you.
What Is a Vegetarian Diet?
A vegetarian diet excludes meat, poultry and seafood, but may include eggs, dairy or both. People who eat eggs as their only animal protein are called ovo-vegetarians; those who consume dairy in addition to plant foods are dubbed lacto-vegetarians; and those who eat seafood in addition to plant foods are known as pescatarians. People who eat both dairy and eggs are deemed lacto-ovo-vegetarians.
While vegetarianism is probably a diet you're familiar with, not many people adopt it. Only 5 percent of Americans identify as vegetarian, according to a 2018 Gallup poll.
It may help you lose weight and lower risk factors of metabolic diseases: Compared to omnivores, vegetarians had significantly reduced levels of body mass index (BMI), total cholesterol, "bad" LDL cholesterol and blood sugar, a June 2017 comprehensive review published in Critical Reviews in Food Science and Nutrition found_._ Researchers also found a significantly lower risk of death from heart disease and the incidence of cancer. Palmer confers that the positive health impact of a vegetarian diet has been well-documented, and the effects are linear — meaning that the more plant-based the diet is, the greater the benefits.
It may benefit all types of people: Appropriately planned vegetarian diets are healthful, nutritionally adequate and appropriate at all stages of the life cycle, including during pregnancy, lactation, infancy, childhood, adolescence and through older adulthood, a December 2016 study published in the Journal of the Academy of Nutrition and Dietetics states. However, the key is knowing how to eat to obtain all of the necessary nutrients.
You may need to take supplements: Given the exclusion of many animal-based foods, vegetarians may be deficient in omega-3 fatty acids, iron, zinc, iodine, calcium, vitamin D and vitamin B12.
It requires meal planning: If vegetarians fail to meal plan, they may be missing out on these important nutrients, which is why a vegetarian diet requires a basic understanding of nutrition, Palmer says. She cautions against simply replacing meat or seafood with cheese or eggs at every meal. "You'll consume a wider range of nutrients from eating more plants, including pulses, whole grains, vegetables, nuts and seeds," she advises.
Should You Try Vegetarianism?
If you love plant foods but aren't ready to commit to giving up all animal-based foods like eggs, yogurt and cheese, a vegetarian diet is best for you. "It's quite easy to follow vegetarianism today, as there are choices everywhere," says Palmer, who also notes that it's easier to meet the needs for certain nutrients on a vegetarian versus vegan diet, including omega-3s, calcium, vitamin D and B12.
What Is a Vegan Diet?
A vegan diet excludes all animal-derived foods, including meat, poultry, seafood, eggs, dairy and any ingredients sourced from non-plant living beings such as honey and gelatin. But veganism generally goes beyond food. Most vegans embrace a lifestyle that involves avoiding any materials derived from animals, including leather, fur, wool and silk. Even household products, such as cosmetics and soaps, are excluded if they are made with animal-based ingredients or tested on animals. Only 3 percent of American adults categorize themselves as vegan, up from 2 percent in 2012.
It may offer the benefits of a vegetarian diet as well as extra cancer protection: The research-based benefits tied to a vegetarian diet are paralleled with a vegan diet, with an even greater reduction in total cancer risk, according to the June 2017 study.
It advocates for animal rights and promotes environmental sustainability: "All diets that promote eating fewer animal foods help human health, the environment and animals — but a vegan diet has the greatest impact on all three," Sherene Chou, RD and chair of the Academy of Nutrition and Dietetics' Vegetarian Practice Group, tells LIVESTRONG.com.
It's very limited: Many seemingly innocent foods contain animal-based ingredients such as gelatin (which comes from animal bones, skin and tendons), lactic acid (which comes from dairy) and added vitamins in enriched foods. Sticking to a vegan diet may, therefore, be difficult since your options are limited.
You may need to take supplements: Like vegetarians, vegans may be deficient in omega-3s, iron, zinc, iodine, calcium, vitamin D and vitamin B12.
If you are ethically opposed to consuming animals and you want to have the greatest possible impact on the environment, a vegan diet is for you. This approach is also a great fit if you're particularly interested in learning more about nutrition, and the nutrient levels of various plant-based foods.
"The benefits of a vegan diet are all things you can feel really good about," says Palmer, who acknowledges that a vegan diet is the most difficult to follow because it's the most limited. It is also the most challenging for meeting nutrient needs. For these reasons, Palmer and Chou both recommend seeking the guidance of a registered dietitian before starting a vegan diet.
"Look for a dietitian who is focused on plant-based nutrition," says Chou, who points out that this is a specialty area of practice. "You may need to take a vitamin B12 supplement, which a dietitian can recommend, and he or she will ensure that you're getting adequate sources of plant calcium and other key nutrients," Palmer explains. You can also grab a copy of Becoming Vegan, written by two veg-focused dietitians, Brenda Davis and Melina Vesanto, to get a better understanding of a vegan diet's nutritional demands.