Vegans are strict vegetarians who abstain from consumption of animal products and byproducts. If you are a vegan, beware of the use of animal byproducts in multivitamins. Gelatin is a common multivitamin stabilizer and is produced from the boiled bones and organs of animals like cows. Vitamin D3 is often derived from the lanolin in sheared sheep's wool. But it's easy to find the best vegan multivitamins available. Check with a doctor before taking herbal supplements.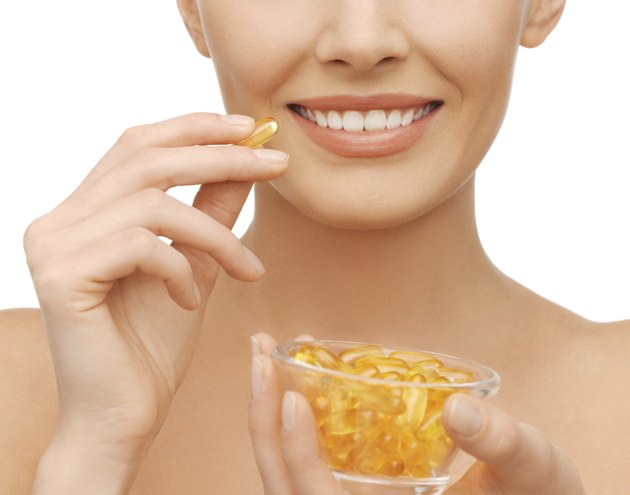 VeganLife Multivitamin
VeganLife Multivitamins are formulated with entirely vegan-derived ingredients. You will get more than 100 percent of more than 21 essential vitamins and minerals, and extra B12 is added. The tablets feature a shellac-free coating and are taken three times a day. VeganLife is free from many common allergen ingredients like wheat, yeast, corn, soy, legumes, peanuts and tree nuts and are salt-free, sugar-free and contain no artificial colors, flavors or preservatives. VeganLife Multivitamins can be purchased with or without iron.
DEVA Vegan Multivitamin & Mineral--One Daily
DEVA Vegan Multivitamin & Mineral tablets feature a once-a-day, potent formula with a smooth vegetable-based coating for easy swallowing. Besides being a complete vitamin and mineral supplement, DEVA Vegan Multivitamin & Mineral is formulated with herbs to promote better vegan health, including parsley, rose hips and chamomile. DEVA Multivitamin is certified vegan by the Vegan Society. DEVA multivitamins are free of GMOs, yeast, wheat, gluten, milk, sugar, salt, starch, preservatives and animal products, byproducts or derivatives.
Vegan One Multiple by VegLife
Vegan One Multiple by VegLife can be purchased with or without added iron. The once-a-day tablets provide essential vitamins and minerals with no animal products or byproducts. Vegan One Multiples contain a VegiBlend vegetable base and need to be stored in a cool, dry place to preserve freshness.
Prenatal One Multivitamin by Rainbow Light
Prenatal One Multivitamin by Rainbow Light carries the VeganGuard guarantee, meaning they are free of animal products. The once-a-day tablets contain all of the vitamins and minerals found in regular multivitamins, but they are specially formulated for pregnant and breastfeeding women. You will get added iron and folic acid, important for baby development. Fresh ginger juice is added to help with nausea, and 25 million bioactive probiotics help with common pregnancy constipation.
PureKidz Multi Vitamin Spray
All PureKidz products are 100 percent animal-free and fit for vegan use. Pure Kidz Multi Vitamin Spray is specially formulated to meet your child's nutritional needs with beta carotene, vitamin C, vitamin D and vitamin D complex. Pure Kidz Children's MultiVitamin Spray is naturally sweetened. The spray formula takes away the challenge of swallowing pills.