Breakfast is your prime opportunity to start the day right. And adding protein to your plate may be your best bet when it comes to staying satiated throughout the morning.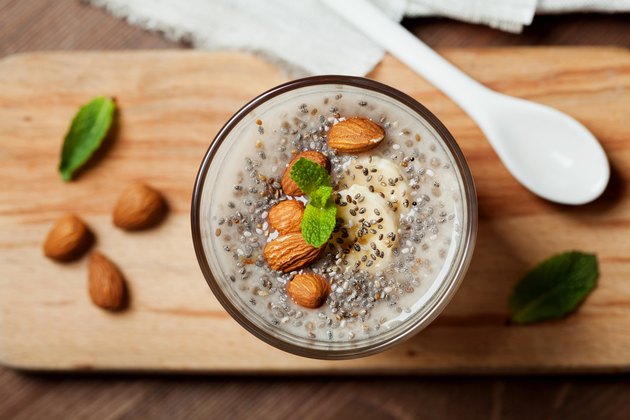 Indeed, a high-protein breakfast has been linked to weight loss because the macro helps increase muscle mass, calories burned throughout the day and can even nix your desire to snack at night, according to the American Society for Nutrition.
However, you have to be picky about your protein sources. Instead of stacking a bacon, egg and cheese, reach for plant-based proteins more often. Why? A study that followed over 70,000 adults found that replacing red meat or processed meat with plant protein is associated with lower total, cancer-related and heart-related deaths, according to the August 2019 study in the Journal of the American Medical Association Internal Medicine (JAMA).
If eating more plants is linked to a longer life, why not wake up to these hearty breakfasts that star plant-based proteins for all-day satiety?
1. Meatless Mexican Breakfast Wrap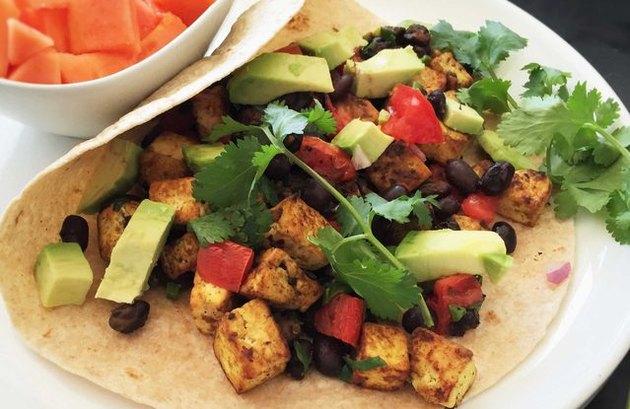 Tofu isn't just a good option for vegetarians or vegans, it's also a great way to get more plant protein into your day. And when you're eating it taco-style, you really can't go wrong.
"As a vegetarian dietitian, I'm a big fan of tofu," Amy Gorin, RDN of Amy Gorin Nutrition in New York City, tells LIVESTRONG.com. "It offers an excellent amount of complete protein: You'll get 22 grams of protein in a half a cup of extra-firm tofu." Plus, there are so many delicious ways to enjoy tofu, she says. "You can add it to a tofu scramble, or you can even blend soft tofu into a smoothie."
2. Steel-Cut Oatmeal Berry Breakfast Bake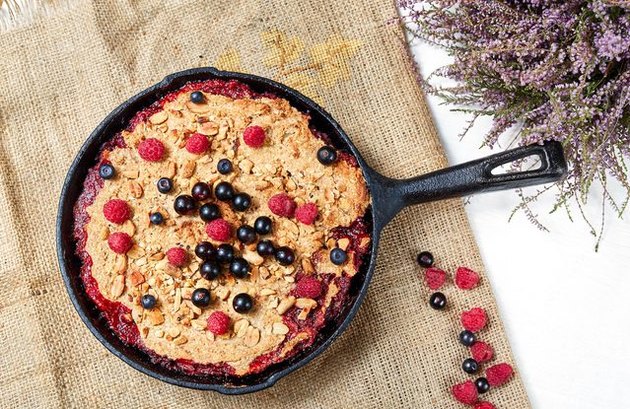 Quinoa may not be your first go-to for breakfast grains because it's usually paired with savory flavors, but it's time to start expanding your horizons. As a whole-grain, gluten-free source of complete protein, quinoa is a great choice for those with celiac disease, according to the Harvard T.H. Chan School of Public Health.
This breakfast bake gives you the familiar oats you love at breakfast and adds in the plant protein you need. Top it with fresh raspberries, coconut flakes and warm cinnamon for a hearty a.m. meal.
3. Breakfast Biscuits With Banana and Nut Butter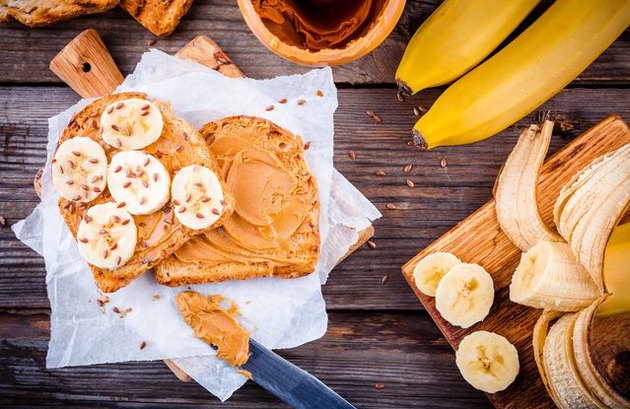 For a fast source of plant-based protein for breakfast, look no further than nut butter. Did you know that you can turn any nut into butter? It's true, think peanuts (yes, technically a legume), almonds, cashews and pistachios. So, if an allergy is preventing you from enjoying peanut butter, perhaps a different type of nut would work for you. Nuts have been widely studied for their positive impacts on health, possibly because of their anti-inflammatory benefits, according to September 2017 research published in the American Journal of Clinical Nutrition.
"I like almond butter as it is a bit higher in calcium and iron and lower in saturated fat than peanut butter," Melissa Altman-Traub, RDN, says. The majority of the fat in nut butters is heart-healthy unsaturated fats. "Nut butters also provide vitamin E and magnesium, which many people do not get enough of."
This whole-wheat toast topped with PB and bananas makes for the perfectly satisfying breakfast that's packed with a balance of healthy carbs, protein and fats.
4. Southwestern Egg Scramble