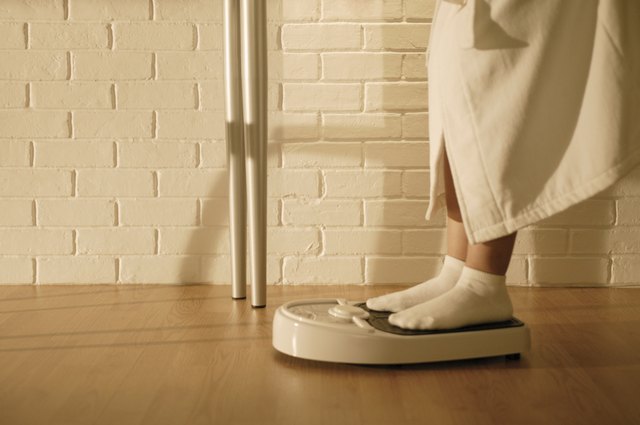 Following a diet is not always easy and it requires some willpower, especially with the constant availability of tempting food. Although many people find the Atkins diet easy to follow because of the satiating power of the generous amounts of fat and protein promoted on the diet, the smell of bread or freshly baked cookies may weaken your resolve. If you exceed your allowed carbohydrate budget on one day while following the Atkins diet, you can simply get back on track the following day.
Carbohydrate Target
The Atkins diet is a low-carbohydrate diet divided into four distinct phases, each with a different carbohydrate target. The first phases are more restrictive and you get slightly more freedom with your carbohydrate intake as you progress through the phases. The induction phase of the Atkins diet limits carbs to below 20 grams a day by excluding all grains, sugars, starchy vegetables, fruits, milk, yogurt and nuts. Sugar cravings can be difficult to resist during the first weeks or even after a few months, and because the amount of carbs you need to limit yourself to, it can be easy to mess up and eat too many carbs. If it happens, don't panic, but be aware of the possible short-term and long-term impacts.
Short-Term Weight Gain
Eating more carbs while following a low-carb diet, such as the Atkins diet, can make you gain weight fairly quickly. The day after messing up and eating too many carbs, you may find that your weight increases by 1, 2 or even 5 pounds depending on the amount of carbs you ate. It is important to understand that this weight gain is not all fat and that a big part of it is water. When you eat a significant amount of carbs, it makes your body retain more water and this is why you can see a higher number on the scale after a carb binge.
Long-Term Weight Goal
Exceeding your carb target can impact your weight loss or weight maintenance to different degree, depending on the amount of carbs you ate. If you ate a significant amount of carbs, even just for one day, your weight loss progress may stall for a little while. Get back on track with your Atkins diet program and your weight loss will resume within a few days.
Carb Cravings
Another impact of messing up on the Atkins diet is that a higher carb intake on one day can trigger a lot of sugar and carb cravings in the following day. The few days after your cheat, you can feel hungrier than usual and feel like eating more carbs. Resist the temptations and your cravings will go away.
Atkins-Friendly Treats
If you find it difficult to stick to the Atkins diet, find ways to treat yourself without going overboard with your carb intake. For example, find low-carb ways to prepare pizzas using portobello mushroom caps, rice by grating cauliflower, pasta using spaghetti squash or zucchini, french fries using turnips and mashed potatoes using cauliflower with butter, cheese and chives.