Going on a restrictive diet can help you lose weight, but, like many other dieters, you may regain that weight as soon as you go back to eating normally. Making more permanent dietary and lifestyle changes can help keep this from happening. Following the 80/20 rule may help you not only lose the weight, but keep it off permanently.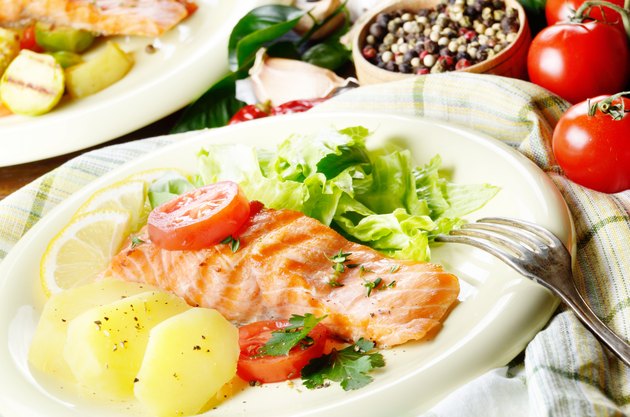 How the 80/20 Diet Rule Works
The principle behind the 80/20 rule is simple: Eat nutritious foods 80 percent of the time and allow yourself to indulge a little the other 20 percent of the time. Proponents of the diet disagree on how to determine the 20 percent when you eat less healthy foods, however. Nutritionist and personal trainer Teresa Cutter, the author of the book "The 80/20 Diet," claims that the 20 percent portion of less healthy eating should occur once per week, and not consume 20 percent of what you eat each day. Another way to follow the diet principle is to cheat four meals per week, assuming you eat the typical three meals per day. A study published in Obesity Facts in 2014 found that people can still lose weight after small splurges like cheat meals on the weekend if they compensate and eat healthily overall. Even if you don't lose weight, you'll probably be healthier overall and may have a lower risk for conditions such as heart disease, high blood pressure and cancer because of the healthy diet you're following.
Healthy Eating Using the 80/20 Rule
Healthy eating on the 80/20 diet includes eating mainly whole, unprocessed or minimally processed foods, including fruits, vegetables, lean protein and whole unprocessed grains, as well as plenty of water. Fruits, vegetables and other foods high in water and fiber are low in energy density, or calories per gram. This means you can eat large portions of them to help you fill up without eating too many calories at meals. It's possible, however, to eat too many calories while still eating nutritious foods like those recommended for the 80 percent of the time you're eating healthily. Listen to your body's hunger cues and avoid eating when you are not truly hungry.
Importance of Moderation on the 80/20 Diet
Moderation is key during the 20 percent of the time when you relax your healthy eating standards. One serving of a treat food is good, but eating a meal containing a whole day's worth of calories is not. An appropriate splurge may be enjoying one serving of dessert at the end of a meal or choose a serving of a comfort food like macaroni and cheese for your main dish. Avoid both indulgences in the same meal, especially if you're trying to lose weight.
Planning Is Key When Using the 80/20 Rule
If you don't plan for those meals when you're going to use your 20 percent of less-healthy eating, you may find yourself getting tempted and indulging way more than 20 percent of the time. Two types of planning need to be involved. First, consider your schedule each week. If you're going to be eating out or having a special occasion, reserve your treats for those times. Second, decide which treats are those you really love and those you could do without, and only use your 20 percent for your favorite indulgences. Having your indulgences planned out ahead of time can make it easier to avoid "junk" foods on other occasions.
Don't Forget Exercise and Relaxation
Teresa Cutter recommends getting about an hour of moderately intense exercise at least five days a week as well as following the 80/20 diet. Add in a couple strength-training sessions each week to help build muscle and improve your metabolism. The combination of cardio and strength training makes it more likely you'll burn fat instead of muscle as you lose weight. Teresa Cutter also recommends rest and relaxation, so be sure to leave time in your day to wind down and get your recommended eight hours of sleep.