Frying is a method of cooking in which food is submerged in oil or fat at a high temperature. Deep frying dates back to the Roman Empire, according to the "Christian Science Monitor," and is a popular cuisine in the United States, representing much of what's cooked up in fast food restaurants. While fried foods are higher in fat, if done correctly, very little extra fat is actually absorbed, reports the "New York Times."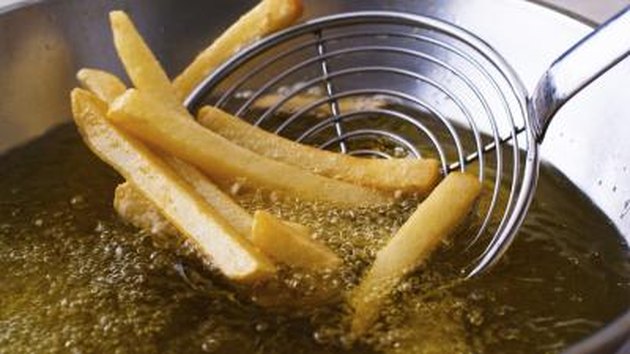 Calories
The U.S. Department of Agriculture has a database that provides nutrition information on thousands of different foods, including different methods of preparation. Estimating calorie content in a fried food vs. the oven-baked version is as easy as typing in the item. A 3-ounce battered fried chicken leg has 228 calories. A 3-ounce roasted chicken leg with skin on has 195 calories. A skinless leg has 159 calories. A large baked potato, at 299 grams, has 278 calories vs. fried potatoes, which, at 312 grams, contain 826 calories.
Cooking Method
The "New York Times" explains that using clean oil at the right temperature and removing the food at the right time before the hissing and sizzling ceases will prevent excess fat -- and calories -- from adhering to your chicken, fish or even Twinkie. The oil you choose can make a big difference as well. Olive oil does not get as hot as other cooking oils, which means you have to leave the food in longer and will up your fat and calorie count. Peanut oil has the highest flash point of comparable cooking oils and will require the least amount of cooking time. One cup of peanut oil has 1,910 calories. Corn and canola oils, both of which have high flash points as well, have 1,980 calories per cup. A cup of lard has 1,849 calories.
Fat Content
Even though deep frying requires you to dunk your food into a vat of oil or fat, when done right, the food expels steam rather than absorbs oil. According to the "New York Times," when meat hits 365-degree oil, the sizzling sound is from steam leaving the food. As long as steam is exiting, fat can't get in. What's important to note is that what you use to coat your food could double, or even triple, the amount of fat and calories absorbed.
About Fats
Choosing a cooking oil with a low saturated fat content, such as vegetable oils. Fats aren't all bad. A small amount is necessary and helps the body absorb nutrients. Limit saturated fats to 10 percent of total calorie intake, which amounts to about 140 to 200 calories a day based on a 2,000 calorie diet, or 16 to 22 grams. According to the USDA National Nutrient Database, a cup of peanut oil has 36 grams of saturated fat. Canola oil contains 18 grams of saturated fat per cup, and the same amount of lard has 80 grams of saturated fat.