What does it mean when summer days grow shorter and evenings cool down? Well, yes, it means autumn is approaching — but the season switch also points to the many marvelous varieties of fall produce. Enter: butternut squash.
While many of us usually eat this starchy vegetable as a side dish or in soup, there are plenty of delicious ways to start your day on an autumn note with butternut. Switch up your usual go-to breakfast with these high-protein butternut squash breakfast recipes.
1. Butternut Squash Breakfast Hash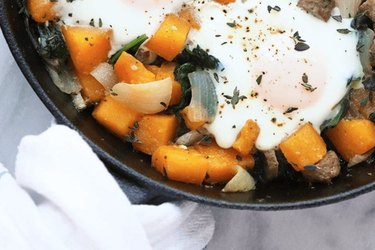 ‌Calories:‌ 213
‌Protein:‌ 12 grams
Nothing will warm you up on a chilly autumn morning like a hearty breakfast hash. This recipe only takes about 20 minutes to prepare and makes enough to serve your entire family, making it the perfect dish for a weekend morning.
This hash calls for eggs total, which are loaded with choline, a nutrient that helps keep your brain sharp, especially where mood, memory and muscle movements are concerned.
2. Paleo Butternut Squash Breakfast Bowl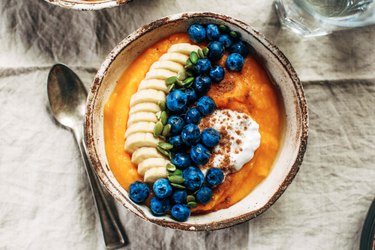 ‌Calories:‌ 337
‌Protein:‌ 10 grams
Swap your usual bowl of oatmeal for a butternut squash base instead. This dish uses a combination of squash, coconut milk and almond butte to make a creamy, decadent base. Then, all you do is top with some fruits, seeds and (of course) pumpkin spice.
Thanks to the pumpkin seeds in this dish, you can expect to get a good dose of magnesium, which supports healthy muscle and nerve function, according to the National Institutes of Health (NIH).
3. Fall Quiche With Roasted Butternut Squash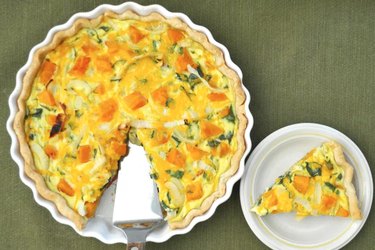 ‌Calories:‌ 352
‌Protein:‌ 16 grams
This quiche takes a little longer to prepare, making it the perfect dish for a Sunday family brunch. After all, everyone loves to sleep in on Sundays.
Unlike most quiche recipes, this version calls for a cup of Swiss chard, which means you'll get a great dose of bone-supporting vitamin K. Just one cup of this veggie supplies about 249 percent of your daily recommended value, per the USDA.
4. Butternut Squash Shakshuka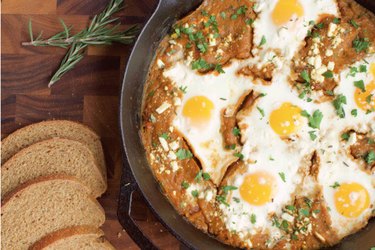 Calories: 287
Protein: 19 grams
This 20-minute recipe takes an autumnal twist on the much-beloved shakshuka. Instead of preparing your eggs on in tomato sauce, you can enjoy your eggs on a delicious bed of butternut squash.
The crumbled feta supplied protein and packs about 53 percent of your daily recommended value of vitamin B12, according to the USDA. This vitamin is crucial for helping keep your blood cells healthy, per the NIH.
5. Kale and Butternut Squash Frittata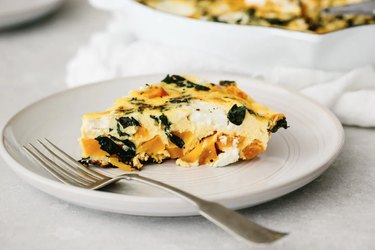 ‌Calories:‌ 220
‌Protein:‌ 13 grams
Whether you're prepping brunch or a breakfast-for-dinner, this frittata only uses one pan, which means clean-up is minimal. Plus, the recipe only takes 30 minutes to prepare, so you'll be enjoying your meal in no time.
This frittata calls for two cups of kale, which provides about 33 percent of your daily vitamin C recommendation, according to the USDA. Getting enough of this vitamin each day is crucial for keeping your immune system strong and healthy.