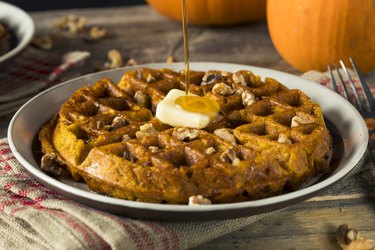 Whipping up an omelet or some sunny-side-up eggs isn't the only way to get protein in the morning. If you're tired of the same old egg breakfast, try one of these surprisingly healthy waffles.
All of these waffle recipes offer more protein per serving than an egg — for reference, one large egg packs 6.2 grams of protein, according to the USDA. And with both sweet and savory waffle recipes in the mix, you have our full permission to enjoy these in the morning or as breakfast for dinner.
Whatever time of day you choose to whip them up, most of these high-protein waffles are as easy and quick to make as an omelet. They're a cinch to customize with your favorite mix-ins and toppings, too.
For even more protein, consider adding ground flax and shelled hemp seeds to your batter, suggests Rachel Fine, RD and owner of the nutrition counseling firm To The Pointe Nutrition in New York City.
"Flax is a rich source of lignans, a powerful phytochemical with antioxidative characteristics, as well as omega-3 fatty acids. Hemp seeds are great sources of iron and zinc, two minerals important for metabolism."
So preheat your waffle iron (we love this Cuisinart Belgian Waffle Maker) and get ready to muscle up your mornings (or nights) with these delicious protein waffles.
1. Freezer Sweet Potato Waffles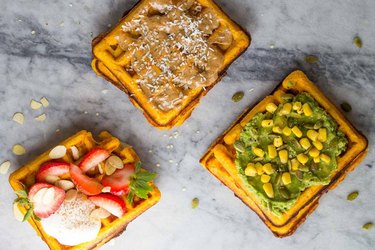 ‌Calories:‌ 301
‌Protein:‌ 8 grams
Cornbread meets mashed sweet potatoes in this savory, high-protein waffle recipe that's packed with vitamin A from those vibrant orange tubers.
Make a big batch when you have a bit of extra free time, then wrap tightly and freeze for up to three months so you're never more than minutes away from a high-protein waffle feast. When it's time to dig in, simply thaw and reheat in the toaster.
2. Strawberry Banana Oatmeal Greek Yogurt Waffles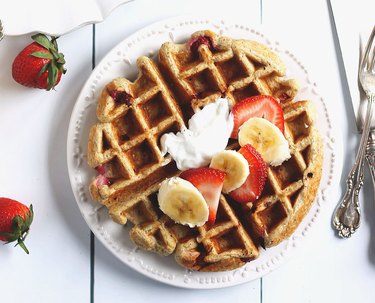 ‌Calories:‌ 249
‌Protein:‌ 12 grams
Refuel after a solid workout with these just-sweet-enough fruit and oat waffles that score their ample amount of protein from plain Greek yogurt. With 6 grams of fiber from the old-fashioned oats, this is one high-protein waffle recipe that will keep you full for hours.
Just steer clear of stacking on too many super-sweet toppings.
"There isn't need to avoid any one type of food, but if your topping waffles with multiple sources of added sugars such as syrup and whipped cream, be mindful of portions as these sugars can contribute to a mid-morning energy slump," Fine says.
‌Get the Strawberry Banana Oatmeal Greek Yogurt Waffles recipe and nutrition info at Ambitious Kitchen.‌
3. Easy Vanilla Low-Carb Protein Waffles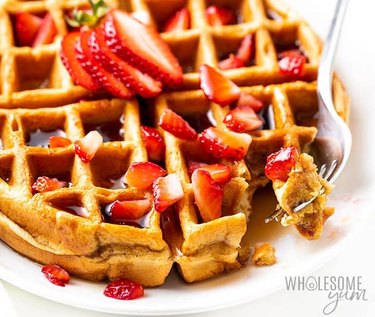 ‌Calories:‌ 439
‌Protein:‌ 29 grams
Ready in just 10 minutes and calling for five ingredients, this is one of the easiest high-protein waffle recipes we've found. A triple-play of protein stars — eggs, protein powder and nut butter — pack each half Belgian waffle serving with as much protein as almost 5 eggs.
To speed up prep time for these high-protein waffles, mix the batter in a blender. For a nearly no-calorie flavor boost, sprinkle some cinnamon or pumpkin pie spice into the blender before pressing "on."
‌Get the Easy Vanilla Low-Carb Protein Waffles recipe and nutrition info at Wholesome Yum.‌
4. Flourless Peanut Butter Waffles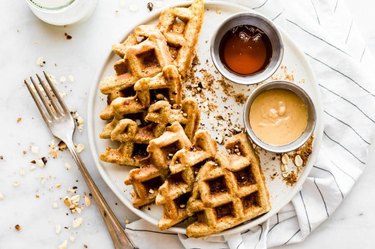 ‌Calories:‌ 348
‌Protein:‌ 16 grams
Instead of flour, these high-protein waffles start with blender-processed gluten-free oats. Once those are blitzed to a fine consistency, simply add the rest of the healthy waffle recipe ingredients — including nut butter and non-dairy milk — and blend once more and your batter will be ready to pop into the waffle maker.
To echo the nut butter in the batter and add some nostalgic PB&J vibes, try drizzling your high-protein waffle with a tablespoon of melted nut butter (the microwave can do the trick in seconds!) and berries.
‌Get the Flourless Peanut Butter Waffles recipe and nutrition info at Cotter Crunch.‌
5. Gluten-Free Cinnamon Roll Waffles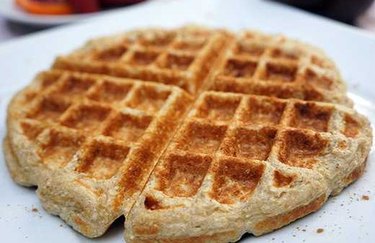 ‌Calories:‌ 365
‌Protein:‌ 23 grams
Think cinnamon rolls can't be a nutritious choice? One bite of these protein waffles that are designed to taste similar to those intoxicatingly-scented mall kiosk treats will convince you otherwise.
Honey, vanilla, cinnamon and vanilla pea protein powder bring the flavor. Almond meal, coconut flour and oat flour keep things gluten-free. Egg whites in the waffle batter tack on a bonus dose of protein while all those alternative flours stoke each two-waffle serving with 12 grams of fiber.
Was this article helpful?
Thank you for your feedback!