With meats and veggies on the menu, the low-carb diet is designed to help your body burn fat and lose weight. Although bacon, butter and cheese are allowed, you can up the nutritional quality of your low-carb plan by choosing healthier proteins and fats, including omega-3 rich salmon and olive oil. Consult with a registered dietitian if you'd like an individualized plan for a healthy low-carb diet.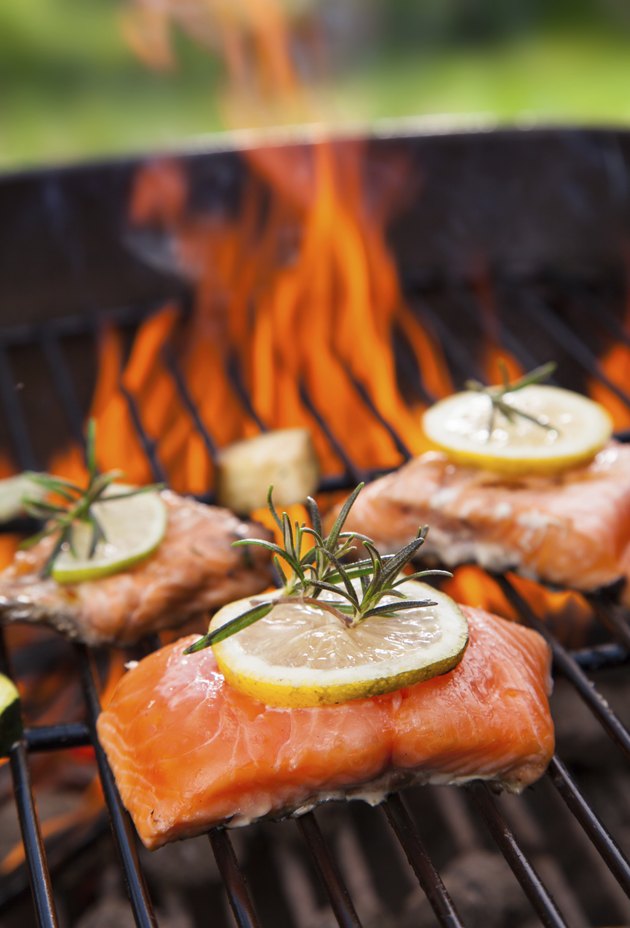 Choose Healthy Proteins
Low-carb diets don't restrict foods high in saturated fat, so there's been some concern that getting too much may increase your risk of heart attack or stroke. You may want to swap out high-fat meats for leaner cuts, which reduces saturated fat intake but won't compromise the premise of the diet -- keeping carbs low. Lean cuts of meat include bottom round, flank steak, boiled ham and loin chop. Poultry is naturally leaner than red meat, but skip the skin. And instead of your usual bacon, try leaner turkey or Canadian bacon.
Salmon and tuna are rich in omega-3 fats, which are good for your health and heart. Make these fish -- as well as shrimp, flounder, lobster and other types of seafood -- a regular part of your healthy low-carb plan.
Other healthy protein options include eggs, tofu and tempeh. Soy products, such as meatless hot dogs and bacon, are also alright.
Fill Up on Low-Carb Veggies
On a low-carb diet, most of the carbs you do eat should come from vegetables. Making these a priority on your healthy meal plan ups your intake of good-for-you nutrients such as vitamins A and C, potassium and fiber. Regularly include lettuce, spinach, broccoli, bok choy, artichokes, collards, turnip greens, arugula, broccoli rabe, cauliflower and mushrooms. Each of these veggies have 2 grams or fewer of "net" carbs per serving. Even though fiber is technically a carbohydrate, because it doesn't affect blood sugar, fiber grams don't count toward your total carb intake. So most low-carb diets count "net" carbs, which are total carb grams minus the grams of fiber.
Although a little higher in carbs -- between 2 and 5 grams of net carbs per serving, tomatoes, red peppers, Brussels sprouts and spaghetti squash should also be included in your healthy low-carb meal plan to increase nutrient intake.
A couple of foods that are technically fruits -- olives, pumpkin and avocados -- have less than 5 grams of net carbs per serving and make healthy additions to your eating plan.
Include Healthy Fats
Butter is allowed on your low-carb diet, as well as healthier vegetable oils such as olive, safflower or walnut oil. Although they're a source of carbs, nuts and seeds also have healthy fats. Hazelnuts and almonds make healthy choices, with 2 to 3 grams of net carbs per ounce, and sunflower seeds give you 4 grams of net carbs per 1/4 cup.
Dress up your salad with healthy low-carb salad dressings such as ranch, Caesar or creamy Italian, with up to 3 grams of carbs per serving.
Sample Eating Plan
You can easily put healthy meals together, even when you're on a very low-carb diet plan. Say you're eating 30 grams of carbs daily. You could have an omelet stuffed with 1/2 cup of spinach and 1/4 cup of leeks cooked in olive oil and served with sliced avocado for breakfast. At lunch, zucchini cut into thin strips like noodles and stir-fried with 1/2 cup of mung bean sprouts, 1/2 cup of bok choy, garlic, ginger, soy sauce, sesame oil and cubes of tofu makes a healthy, nutrient-filled low-carb take on lo mein. Broiled pork loin with 1 cup of broccoli rabe sauteed in olive oil and 2 cups of mixed greens topped with 2 tablespoons of Caesar dressing makes a good dinner. If you feel hungry between meals, snack on olives, almonds or bell pepper strips. Drink water, decaffeinated coffee or tea with meals or throughout the day.