Many diet trends at the moment are having you ditch the carbohydrates, or carbs for short. Carbs are foods such as fruits, vegetables, whole grains, legumes, nuts, and seeds. Sugars, such as honey, cane sugar, molasses, maple syrup, and agave, are also carbs. Carbohydrates provide energy for your body and also essential vitamins and minerals, antioxidants, and phytochemicals. If you are thinking of starting a no-carb, no sugar diet, speak with your healthcare provider first to ensure it is safe for you.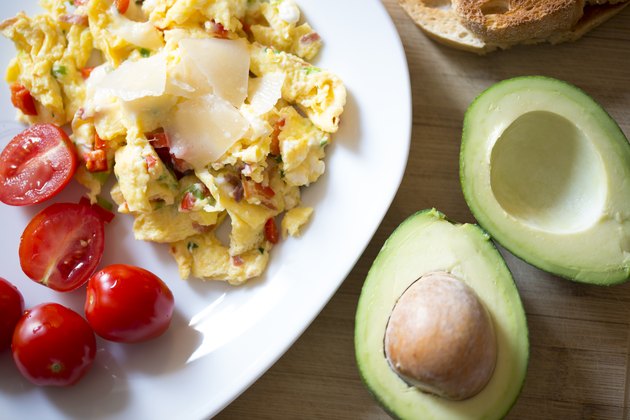 Low Carb-No Carb Diet Plan
The ketogenic diet, a high fat, moderate protein, very low carbohydrate diet is currently a very popular weight loss diet. It is sometimes referred to as low carbohydrate, high fat - lchf for short. Research published in Nutrients indicates that a very low carbohydrate ketogenic diet consists of 65 percent fat, 30 percent protein, and 6 percent carbohydrate, which comes out to be approximately 30 grams of carbohydrate per day, depending on total calorie intake.
When looking to start a new diet, take a look at your current diet and see where immediate changes can be made. Drinks are often a high source of carbohydrates. Switching to water, plain herbal tea, and black coffee and still give you variety and hydration without carbohydrates. Snacks can also be tricky if you're accustomed to hitting the vending machine at work. Plan your snacks and carry food with you when hunger strikes. Take some time to prepare and plan your main meals to keep you from feeling frustrated and hungry.
Low Carb Diet Weight Loss
No Added Sugar Diet
Most diet plans, even Whole 30, will suggest that you cut out added sugar from the diet. When diet plans indicate NO sugar, they typically mean no ADDED sugar. Sugar is naturally found in foods like fruit and milk. Added sugar is the sugar that has been added to a food during processing. This includes all sugars such as maple syrup, honey, cane sugar, beet sugar, date sugar, agave, and coconut sugar, among many others. A no-added sugar diet still consists of healthy foods - you can find many foods void of added sugar. Reading labels and ingredient lists are essential when looking for foods with no-added sugar.
If adhering to a low carbohydrate diet with 20 to 50 grams of carbohydrate, these low carb diet foods are a healthy addition to your plan:
Low Carb Diet Foods
There are three types of macronutrients in your diet, carbohydrates, proteins, and fats. If you are not eating carbohydrates, or eating a small amount, then the rest of your diet must be filled with fat and protein rich foods, such as olive or canola oil, chicken, lean beef, pork, cheese, and eggs.
It may not be very practical to nix all of the carbs from your diet. Even though you want to eliminate as many carbs as possible, that may not be the best idea, as they are your only source of fiber. Fiber is essential in keeping your digestive system moving and recommended amounts everyday can reduce your risk for developing type 2 diabetes, high blood pressure, heart disease, and obesity according to Harvard T.H Chan School of Public Health. The Academy of Nutrition and Dietetics recommends women get 25 grams of fiber per day and men should get 38 grams per day. It may be beneficial to choose fiber rich foods that have a lower carb content, such as lettuces, berries, mushrooms, zucchini, and avocados.
No-Carb Snacks
It can be very challenging to get snacks that have no carbs, but you can get pretty close with some very low carb - about 1 gram - snacks that will leave you satisfied. If you are watching your sodium intake, be mindful of high sodium foods such as pickles, beef jerky, and deli meat.
Plain Tuna - no carbs

1 hard boiled egg - no carbs
Celery, one large stalk - 2 grams carbs
String cheese - 1 gram carb
1 ounce olives - 1 gram carb
Is No-Carb, No-Sugar Diet Healthy?
A low carb diet can be challenging to follow, but a no-carb diet would be nearly impossible. It is necessary to keep some carbohydrates in the diet for fiber, antioxidants, vitamins, and minerals. It is recommended by authors at the National Center for Biotechnology and Information that very low carbohydrate diets, such as the ketogenic diet, not be followed more than 6 to 12 months. They also suggest that kidney function be regularly monitored. It may also be helpful to be under the watch of a physician who can monitor your blood lipid levels.
On the other hand, a no-added sugar diet can be a healthy addition to any diet plan. Added sugar does not hold any nutritional benefit. Research in BMJ Open indicate added sugars may play a role in the development of obesity, type 2 diabetes, heart disease, and metabolic syndrome.
As always, speak with your healthcare provider if you want to drastically alter your diet. Your health, risk factors, and any current medications can all be affected by the foods you eat. Find a local registered dietitian. They can help guide you on which foods are appropriate for the diet you choose and ensure all of your nutrient needs are met and minimize the risk of developing nutrient deficiencies.