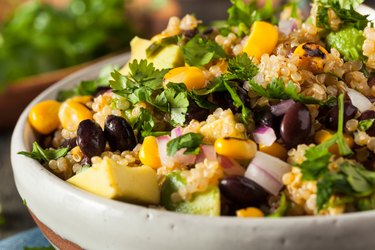 Maybe you've been vegetarian or vegan for years or you've just recently decided to cut down your meat intake for health reasons. Either way, one major concern that often comes with following a plant-based diet is, "how will I get enough protein?"
Vegetarian lunches can be especially tricky when you're looking for something easy and healthy. The good news is that there are plenty of ways to go meatless at this meal while keeping prep simple and still meeting your protein needs.
Getting enough protein is especially important if you're trying to lose weight, according to a December 2019 meta-analysis in ‌Advances in Nutrition‌. The review found when we're cutting calories to lose weight, we should actually eat more than the recommended daily allowances (RDAs) of this macronutrient (1.3 grams per kilogram of body weight, instead of 0.8 grams) because it helps us maintain lean body mass, which is often lost as part of overall weight loss. Lean body mass (aka muscle) helps maintain our metabolism, which is a definite win when you're trying to shed pounds.
So what are some high-protein, meat-free meals you can enjoy? We've got you covered with these five vegetarian lunch recipes — all with at least 14 grams of protein per serving.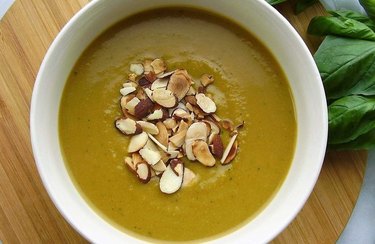 ‌Protein:‌ 17 grams
‌Calories:‌ 301
A warm bowl of soup is sure to satisfy, but this recipe offers a two-for-one when it comes to losing weight: Each serving provides 17 grams of protein thanks in part to the edamame and peas, and eating soup can also help with weight loss (high-protein or not) according to a January 2013 study in the ‌European Journal of Clinical Nutrition‌.
Researchers found smooth soups delayed gastric emptying, which increases fullness, compared to a solid meal or even a chunky soup — all made of the same foods, just in different forms.
2. Taco Salad With Skillet Beans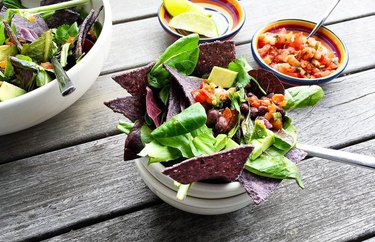 ‌Protein:‌ 14 grams
‌Calories:‌ 396
You'll love this healthy twist on taco salad featuring tortilla chips, avocado, pico de gallo and of course, black beans, which add protein to the dish, bringing the total to 14 grams per serving.
As the 2020-2025 Dietary Guidelines for Americans points out, legumes (such as beans) are unique because they're highly nutritious and full of plant-based protein. Beans have a nutrient profile similar to meat, offering protein, zinc and iron, but are also similar to vegetables in that they are excellent sources of fiber, folate, potassium and other nutrients. Talk about the best of both worlds!
To up the protein on this dish even more, try adding a cup of cooked quinoa, which packs about 8 grams of protein and 200 calories, per the USDA.
3. Cajun Red Beans and Quinoa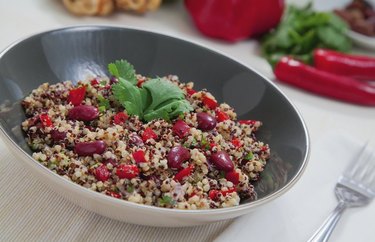 ‌Protein:‌ 14 grams
‌Calories:‌ 361
Speaking of quinoa, the 8 grams of protein in a cup is more than you'll find in a whole egg. But it's the grapes added to this dish that give it an element of surprise and a healthy boost.
Unlike most other fruit, grapes are not particularly high in fiber — but what they do have is polyphenols, which have a positive effect on our good gut bacteria, according to a November 2018 review in ‌Food Research International‌.
4. Black Bean Sandwich Slaw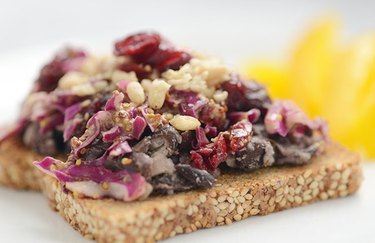 ‌Protein:‌ 17 grams
‌Calories:‌ 416
This open-faced sandwich promises an explosion of flavors in your mouth from the red cabbage, black beans and cranberries flavored with sweet agave, tart vinegar and whole-grain mustard to help bring it all together.
The 17 grams of protein per serving are mostly due to the black beans, but the deep red color from the cabbage ‌and‌ the cranberries comes from a beneficial plant compounds called anthocyanins, according to a July 2017 review in ‌Food & Nutrition Research‌. Anthocyanins are antioxidants that may help protect our vision and brain health.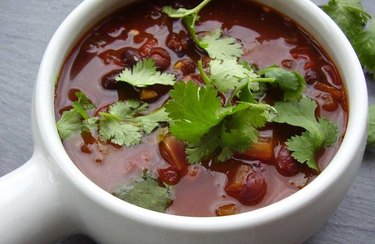 ‌Protein:‌ 14 grams
‌Calories:‌ 318
Chili is an easy recipe to make meat-free thanks in part to all of the beans and other flavorful vegetables that are included. But this one has a unique benefit for weight loss — it includes more broth, so cup-for-cup, it's lower in calories. But that doesn't mean it has less by way of nutrition. Each two-cup serving has 14 grams of protein and 16 grams of filling fiber, all for less than 320 calories.
Was this article helpful?
Thank you for your feedback!