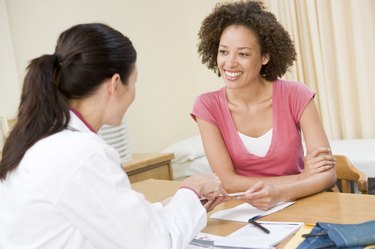 Weight gain can be a side effect of in vitro fertilization, or IVF, says the National Institutes of Health. Women who develop ovarian hyperstimulation syndrome, or OHSS, due to the procedure might gain as much as 10 pounds in less than a week. The key to losing weight after IVF is the same as for anyone aiming to lose excess pounds: burn more calories than you consume by reducing your total intake or exercising more. The ideal approach is to do both, but to do it in a way that doesn't compromise your nutritional needs. Ask your doctor for advice on losing weight after IVF.
Eat More Produce
Fresh fruits and vegetables are low in calories and high in fiber, which can help keep you feeling fuller longer. Eating more of both on a daily basis can lead to post-IVF weight loss, especially if you're simultaneously eating less high-sugar, high-fat foods. Use the U.S. Department of Agriculture's MyPlate as an easy rule of thumb -- at every meal, make sure at least half of your plate consists of unsweetened raw or cooked produce. Eat this part of your meal first. Stay away from sweetened fruit desserts, fruit canned in heavy syrup, deep-fried vegetables or vegetable entrees topped with sauces rich in cream, cheese or butter.
Go for Lean Protein
Eliminate processed meats, fatty red meat cuts and fried or breaded meat products from your diet. Instead, get the protein you need from skinless poultry, fresh fish or shellfish, beans, legumes, low- or nonfat dairy products and lean beef or pork -- cuts that have less than 10 grams of total fat, 4.5 or fewer grams of saturated fat and less than 95 milligrams of cholesterol in every 3.5-ounce serving. Grill, roast, poach, steam, broil or stir-fry your meats using as little added fat as possible.
Make Your Grains Whole
A study published in the Journal of Nutrition in 2012 demonstrated that subjects were more likely to lose body fat on a calorie-restricted diet if they consumed whole grains, not refined grains. Swap the white rice, white bread and regular pasta in your diet for brown rice, whole-wheat bread, whole-grain pasta and other whole cereal grains like oatmeal, quinoa, barley and bulgur. Aim to make at least half of the grains you consume each day whole ones.
Drink Electrolyte-Rich Fluids
Women who've gained weight due to OHSS should aim to drink a minimum of 120 ounces of fluid -- at least 15 8-ounce glasses -- every day, according to the American Society for Reproductive Medicine. Skip alcohol and all caffeinated drinks like coffee, soda and tea in favor of water and electrolyte-rich beverages such as 100 percent fruit juice or coconut water. Avoid sweetened fruit punches and commercial sports drinks, both of which are high in sugar and calories. Make your own, lower-calorie electrolyte drink by dissolving sea salt into water, your choice of juices and a small amount of honey, if desired.
Enjoy More Physical Activity
Exercising more won't just help you lose post-IVF weight; it will also build muscle, strengthen your bones and help improve your mood. The Centers for Disease Control and Prevention says women between 18 and 64 years old should engage in two types of exercise weekly: aerobic and muscle-strengthening. The muscle-strengthening exercises, which can include weightlifting or yoga, should be done at least twice a week. For aerobic exercise, you can do 150 minutes each week of moderate-intensity activity like brisk walking, 75 weekly minutes of high-intensity activity such as jogging or a combination of both. Whatever you choose, make it something you enjoy. You'll stick with it longer and see better weight-loss results. If you were diagnosed with OHSS, talk to your doctor before starting an exercise regimen.