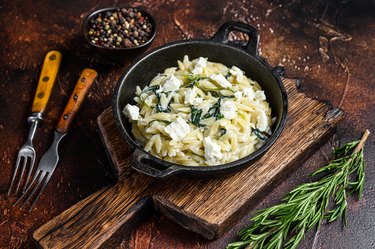 What do graveyards and cemeteries, Amy Adams and Isla Fisher, and orzo and rice have in common? Well, up until this moment, many of us thought these pairs were the same thing.
But in fact, a graveyard is attached to a church while a cemetery is not. Amy Adams is the actress in ​Enchanted​; Isla Fisher is the actress in ​Wedding Crashers​. And orzo is a form of short-cut pasta, while rice is its own grain.
Now that we've gotten that all cleared up, consider yourself in the know. Although it looks almost identical to rice, orzo is a wheat-based pasta that isn't gluten-free. Orzo and rice can be easily mistaken, which can be risky for those following a gluten-free diet.
Although it looks a lot like white rice, which is naturally free of gluten, orzo is actually a short-cut pasta made of wheat semolina flour, says Jen Hernandez, RD. As wheat is one of the three gluten-based grains (rye and barley are the other two) orzo is not gluten-free and should be avoided if you're sensitive or intolerant to gluten, according to the Celiac Disease Foundation.
Orzo is a small, versatile pasta that can easily be added to soups, stews and salads, Hernandez says. It may even be added to rice-based dishes, making it especially difficult to avoid while eating. So, if you're ordering at a restaurant or buying a pre-prepared meal, keep an eye out for this ingredient on the menu.
If you prefer to avoid orzo completely, you can swap with similar gluten-free ingredients, like rice, buckwheat, amaranth or quinoa, Hernandez recommends. But if you're prepping an orzo-based recipe and want to stay as authentic as possible, you can find gluten-free orzo (more on that below).
Generally, gluten-free orzo is made with rice flour as opposed to wheat. But you should look for a gluten-free label on your orzo. This mark is regulated by the FDA and ensures the food you're buying contains less than 20 parts per million (ppm) of gluten, a generally safe amount for people with celiac disease.
Some non-gluten orzo packages may also have a Gluten-Free Certified stamp from the Gluten-Free Certification Organization (GFCO). This third party tests products with particularly strict standards, only certifying foods that have 10 ppm of gluten or less.
If you can't find a label or stamp on the package, check the ingredients. Even though an orzo package may list rice flour as an ingredient, look for any hidden gluten foods. Also, peek at the allergen listing for wheat or gluten.
Gluten-Free Orzo Alternatives
Brown and white rice
Buckwheat
Amaranth
Millet
Gluten-Free Orzo Brands to Buy
While standard orzo isn't free of gluten, there are gluten-free orzo products out there. If you want to give this pasta a try, add these products to your cart.
1. Jovial Grain-Free Cassava Orzo
2. Delallo Gluten Free Corn & Rice Pasta Orzo
3. Lulupasta Orzo Protein Pasta
While some gluten-free establishments may offer orzo you can eat, standard restaurants probably won't. But if you buy your own gluten-free orzo, there are plenty of healthy and delicious recipes you can prepare right in your own kitchen. Plus, you'll have peace of mind knowing your dish is safe to eat.
Next time you're craving a pasta salad, try this recipe — just be sure to sub your own gluten-free pasta.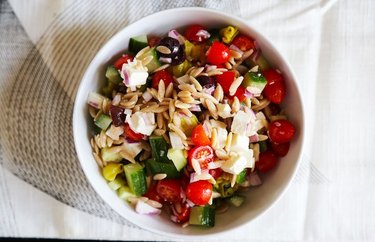 ​Calories:​ 347
​Protein:​ 11 grams
This pasta salad recipe is loaded with veggies, giving your meal a dose of vitamins and nutrients. And while this dish has a good amount of protein already, you can always include some chicken or tofu for a more filling meal.
The olive oil, olives and feta cheese give your salad some heart-healthy, unsaturated fats, balancing the overall macros in the dish. Unsaturated fats are not only satiating but they'll also help your body absorb the vitamin A, D, E and K in your salad's veggies.