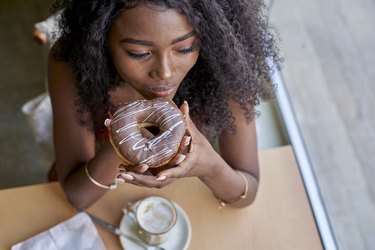 Faced with shelves of glazed, powdered and strawberry-frosted doughnuts (let's not forget the Munchkins), the endless choices at Dunkin' Donuts can leave you and your sweet tooth stumped. But while plenty of people may "run on Dunkin'," those with celiac disease or a non-celiac gluten sensitivity will have any easier time making a selection.
That's because anyone avoiding gluten, a protein found in wheat, barley and rye, has limited choices at the chain. Although the doughnut franchise does offer a handful of gluten-free beverages and foods, you'll need to notify your server and make sure your beverage or breakfast is safe before you dig in.
Cross Contamination at Dunkin' Donuts
With all those gluten-filled doughnuts and bagels around, Dunkin' locations don't provide devoted gluten-free kitchens. That means any food you order at the chain can be at risk of cross contamination, according to the Gluten Intolerance Group. Cross contamination occurs when gluten-free and gluten-containing foods come in contact or are prepared on the same surface or using the same utensils.
Cross contamination can also occur through airborne gluten, according to the Gluten Intolerance Group. In restaurants or bakeries where wheat flour is used, particles can enter the air and settle on surfaces or foods, contaminating them with gluten, according to the National Celiac Association. This may pose a threat at Dunkin' restaurants where doughnuts are prepared on-site. Even if you're ordering one of the gluten-free food options below, you may want to verify that the location does not prepare its own treats from scratch.
Warning
While Dunkin' Donuts offers some foods and drinks made without any gluten-containing ingredients, all products may face cross contamination either through direct contact or airborne gluten during the preparation process. "As such, any customer with an allergy should inform the server before placing an order," Erika Brooks, RD, LDN, senior manager of regulatory compliance and nutrition at Dunkin' Brands, tells LIVESTRONG.com.
Gluten-Free Drinks at Dunkin' Donuts
Dunkin' Donuts offers a variety of coffee, tea and flavorings formulated without gluten. And, if you like to personalize your coffee with sweeteners or cream, the Dunkin' Donuts site offers an interactive menu that allows you to customize your drink online and review any potential allergens, including wheat. However, the site does not list gluten as an allergen, which means some drinks may contain barley or rye, which also contain the protein.
If you want to play it safe, try one of the beverages listed below, which Brooks specifies as being free of gluten ingredients. These beverages may still face cross contamination, so notify your server of your intolerance or sensitivity before you sip.
Hot coffee (original, dark, decaf)
Americano
Latte
Machiatto
Cappuccino
Espresso
Cold-brew coffee

Iced coffee
Iced latte
Iced macchiato
Hot chocolate
Iced black tea
Iced green tea
Iced sweet tea
Fruit iced tea
Vanilla chai tea
Bold Breakfast tea
Chamomile Fields tea
Harmony Leaf tea
Cool Mint tea
Hibiscus Kiss tea
Decaf Breakfast tea
Gluten-Free Coolatta and Frozen Drinks
Vanilla Bean Coolatta
Blue Raspberry Coolatta
Strawberry Coolatta
Frozen vanilla chai
Frozen Dunkaccino
Frozen chocolate
Frozen coffee
Gluten-Free Flavor Swirls and Flavor Shots
Caramel Swirl
French Vanilla Swirl
Hazelnut Swirl
Mocha Swirl
Pumpkin Swirl
French Vanilla Flavor Shot
Hazelnut Flavor Shot
Caramel Flavor Shot
Toasted Almond Flavor Shot
Blueberry Flavor Shot
Raspberry Flavor Shot
Coconut Flavor Shot
Pumpkin Flavor Shot
Gluten-Free Food at Dunkin' Donuts
Given the nature of the company (doughnuts and bagels aren't generally gluten-free), it's no surprise that Dunkin' doesn't offer too many gluten-free food options. While you probably won't find any gluten-free doughnuts or bagels at your local Dunkin', the options below are free of gluten ingredients. Nevertheless, cross contamination during preparation is a risk to consider, so order with caution.
Dunkin' Donuts Hash Browns
A popular menu item, the restaurant's hash browns do not contain any gluten and can be ordered at all locations, according to the company site. The snack packs 140 calories per six-piece serving, and it's free of eggs, fish, milk, peanuts, shellfish, soy, tree nuts and wheat.
Dunkin' Donuts Burrito Breakfast Bowl
In August 2019, Dunkin' Donuts came out with two egg-based burrito breakfast bowls, which are available at participating locations, according to the Dunkin' site. Both the Fire Roasted Veggie Bowl and Chorizo Bowl are made without gluten and are high in protein.