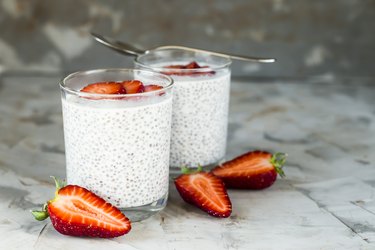 Whether or not you ditched believing the cliché that breakfast is the most important meal of the day, starting your day with a healthy meal can set you up for success. Choosing high-protein, low-carb foods can not only supply your day with energy but keep you satiated well until lunch so you can effortlessly ignore those breakroom doughnuts.
If you're looking to pack your mornings with protein and back off the carby bagels and cereal, Laura Iu, RD and founder of Nourish New York, has some great breakfast staples for you to incorporate into your weekly routine — and two recipes for you to try!
Why Choose a High-Protein, Low-Carb Breakfast?
Although it can be easy to skip, breakfast is the perfect opportunity to start the day off on a nutritious note and may even lead to better choices later in the day. Adults who eat a healthy breakfast are more likely to eat more vitamins and minerals, perform better at work and eat less fat and cholesterol, according to the Mayo Clinic.
While you should try to get in a good dose of all the major macros (protein, carbohydrates and fats) at the start of the day, the high-protein, low-carb combo is great if you prefer a late lunch, according to Iu. Adding protein at breakfast is key for preventing energy crashes. That's because protein slows down digestion, which means you experience a steadier release of energy and will likely feel fuller for longer periods of time, according to Iu.
Keep in mind that foods low in carbohydrates and high in protein may also be high in fat. While protein and carbs are only four calories to the gram, fats provide nine calories per gram and can be more calorically dense. Next time you're at the grocery store, shop for these high-protein, low-carb breakfast staples and combine them for a balanced breakfast:
Egg frittata or omelet with cheese
Nut butter on sprouted toast
Smoked salmon with avocado
Greek yogurt with raspberries
Cottage cheese with chia seeds and berries
High-Protein, Low-Carb Recipes to Try
If you have some time and want to get a little more creative, Iu has two delicious recipes for you to try.
Protein Muffins
Yields 12 muffins
2/3 cup oat bran (or other low-carb flour of choice, like almond or coconut flour)
1 scoop of protein powder (1/4 cup)
2 teaspoons baking powder
1 teaspoon cinnamon
2 small or medium very ripe mashed bananas
1/2 cup unsweetened applesauce
1/2 cup low-fat, plain Greek yogurt
1 egg
1 teaspoon vanilla extract
Preheat oven: Preheat your oven to 400° Fahrenheit and spray a 12-cup muffin tin with nonstick cooking spray or grease it with coconut oil.
Create dry mix: In a medium bowl, whisk together oat bran, protein powder, baking powder and cinnamon. Set it aside.
Create wet mix: In a large bowl, mix the mashed banana, applesauce, Greek yogurt, eggs and vanilla.
Bake the muffins: After mixing, allow the batter to sit for 5 minutes to thicken and divide the batter evenly into the 12 muffin cups. Bake for 15 minutes.
Vanilla Chia Pudding
Serves 1
3/4 cup milk (almond, coconut, oat or regular dairy milk)
1/2 teaspoon pure vanilla extract
1 tablespoon honey
1/4 cup chia seeds
1/2 cup fresh berries (whole or mashed)
Combine ingredients: In a small bowl or jar, combine the milk, vanilla extract and honey. Using a fork, whisk in the chia seeds and let it stand for 5 minutes. Then, stir to distribute any seeds that have settled.
Let it sit: Cover and refrigerate for at least one hour, or until the mixture develops a pudding-like consistency.
Serve: Mix before serving. To serve, top with fresh berries or mango for natural sweetness.
Tip
You can make this chia pudding ahead of time and store it in the fridge for up to two to three days. So when a.m. hunger strikes, you can pack it for on-the-go fuel!
Was this article helpful?
Thank you for your feedback!