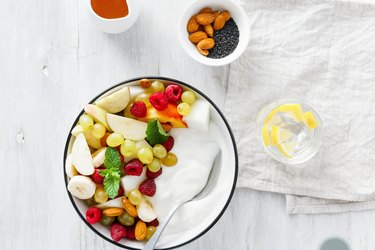 Is all the hoopla about Greek yogurt justified? Just what is the difference between Greek yogurt and regular yogurt? And is Greek Yogurt more nutritious? Read on, for some answers.
Both types of yogurt come from milk that has had healthy bacteria added, causing it to ferment. During this process, yogurt thickens and takes on a slightly tangy taste. Yogurt is then strained with a cheesecloth, which allows the liquid whey part of milk to drain off. Regular yogurt is strained twice, while Greek yogurt is strained three times to remove more whey (resulting in a thicker consistency at the end of this process).
This additional third straining step is what makes Greek yogurt different from regular yogurt in several important ways. Greek yogurt contains less whey, lactose, calcium, sodium and sugar than regular yogurt. A single serving of Greek yogurt averages around 50 milligrams of sodium -- that's about half the sodium contained in most brands of regular yogurt. Greek yogurt also contains roughly half the carbs as regular yogurt -- 5 to 8 grams per serving compared with 13 to 17 grams in regular yogurt.
Whether you eat it alone, with fruit or enjoy it as a treat or dessert instead of ice cream, Greek yogurt is most definitely a healthful choice - and for me, one that always wins over regular yogurt.