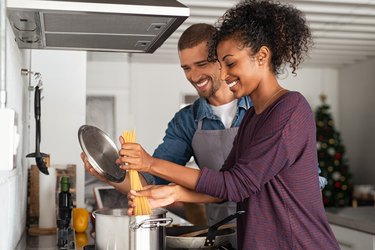 Dry pasta is more than just a box of carbs — it can be a pretty versatile ingredient. In fact, you can easily prep a nutritious meal in a matter of minutes using the box of macaroni sitting in your pantry.
The key is to go for whole-grain pasta varieties for extra fiber. If you want to dial the health factor up a notch, go for a legume-based pasta (such as chickpea or lentil pasta) for added nutrients.
You don't need a heap of additional ingredients for your pasta, either. But don't take our word for it: Try one of these five-ingredient, easy pasta recipes next time you're craving carbs for lunch.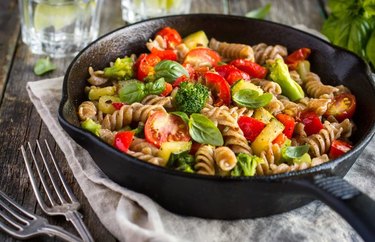 ​Calories:​ 267
​Ingredients:​ Whole-wheat pasta, zucchini, eggplant, carrot and extra-virgin olive oil.
This veggie pasta totals only 267 calories per serving and provides 8 grams of protein and 7 grams of healthy, unsaturated fat to save you from the afternoon slump.
Fiber keeps you satiated, promotes regular digestion and may even help lower your cholesterol levels. Yet, most Americans don't get enough! You'll get 12 grams of fiber from just one serving of this recipe, knocking out a good chunk of your daily recommended intake, which is about 25 grams for women and 38 grams for men, according to the Academy of Nutrition and Dietetics.
2. Tuna Pasta Salad With Avocado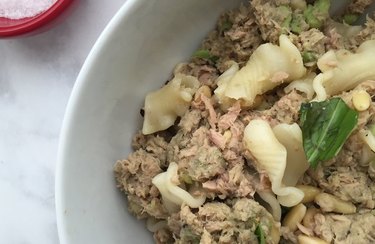 ​Calories:​ 210
​Ingredients:​ Whole-grain rotini pasta, canned white tuna, avocado, fresh basil and pine nuts.
Tuna pasta salad is a protein-packed lunch-time staple and this breezy recipe needs only five ingredients and 15 minutes to come together.
With a whole can of white tuna (in water), this dish boasts 29 grams of protein per serving, which is sure to keep you feeling full well after lunch. Diets high in protein are great for curbing hunger and may help with weight maintenance or loss, according to a March 2014 study published in ​Satiation, Satiety and the Control of Food Intake​.
3. Sesame-Crusted Chicken Breast With Pasta and Asparagus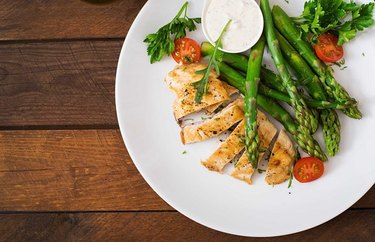 ​Calories:​ 366
​Ingredients:​ Skinless boneless chicken breast, egg white, sesame seeds, whole-wheat pasta and asparagus.
It's hard to deny that crispy fried chicken is both a classic and a delicacy. But as all fried-food lovers know, it's not the most calorie-friendly dish.
This sesame-crusted chicken breast pasta is a lower-calorie alternative that you can whip up in just a half-hour. And this recipe calls for the whole-wheat variety, lending your meal some fiber.
Whole grains are high in antioxidants, fiber, magnesium, iron, B vitamins and vitamin E, according to the Whole Grains Council. Incorporating more healthy grains into your diet is associated with a reduced risk of heart disease, stroke and diabetes.
4. One-Pot Penne With Cauliflower and White Beans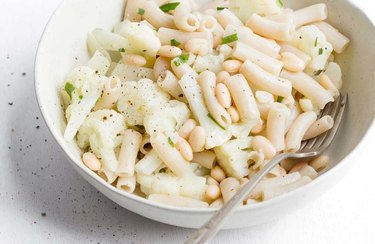 ​Calories:​ 222
​Ingredients:​ Brown rice penne, cauliflower florets, olive oil, white beans and fresh chives.
This penne is a calorie-friendly, easy-to-prep dish that you can enjoy solo or alongside your preferred protein. And you probably already have all the necessary ingredients in your pantry to prep this.
This recipe calls for a cup of white beans, which add some heart-healthy benefits to your lunch. Beans are high in minerals, fiber and protein and free of saturated and trans fats, according to the American Heart Association (AHA).
Tip
Many canned bean brands are high in sodium, so either buy a low-sodium variety or rinse the beans to remove excess salt, the AHA recommends.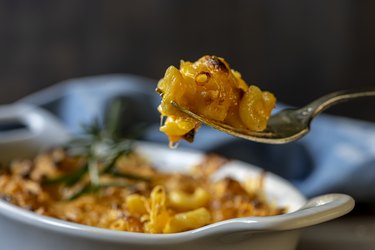 ​Calories:​ 468
​Ingredients:​ Whole-wheat elbow macaroni, milk, sharp cheddar cheese, ground mustard, whole-wheat pastry flour.
A list of pasta recipes wouldn't be complete without at least ​one​ mac and cheese recipe. Enjoy this but pay attention to your portions, since spooning into second helpings comes with a significant amount of cals. And if you want to cut back on calories even more, swap for healthier options such as low-fat cheddar cheese.
As with most cheesy dishes, this recipe is a little higher in cholesterol and saturated fat. So, you may want to keep your breakfast and dinner lower in these nutrients to keep your macronutrients balanced throughout the day.