When choosing pasta, size often matters -- your recipe may call for pasta for use as a broad base for thick sauces or melted cheese, or it may call for smaller pasta for use in soups. One such small pasta known as orzo resembles large grains of rice. You can find orzo for sale in your local grocery store. This type of pasta is most commonly made from white flour, although you may find it made from whole-grain flour as well.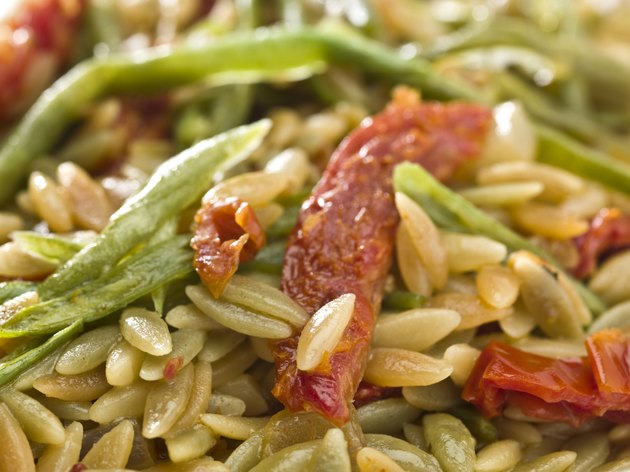 Calories
A 2-ounce. serving of orzo contains 200 calories, most of which come from carbohydrates. In addition to 84 percent of the calories in a serving of orzo deriving from carbs, 14 percent of the calories are from protein and 5 percent come from fat. While orzo may be eaten alone, it is more common to consume this type of pasta incorporated into a larger recipe or topped with sauce. Account for all these calories in your meal plan. Research presented in the October 2009 issue of "The British Journal of Nutrition" indicates that consumption of pasta, including orzo, may help you take in less food per day.
Fat
Orzo is a low-fat food – 1 gram of fat per serving. As a rule, limit the fat in your diet to 20 to 35 percent of your daily caloric intake. If you follow a 2,000-calorie diet, this should amount to 44 to 78 grams, but the small amount of fat in orzo does not significantly contribute to this recommended limit. Too much fat in your diet may contribute to weight gain.
Carbohydrates and Fiber
The carbohydrates in orzo directly impact the amount of energy you have, because this nutrient is your body's main source of energy. One serving of this type of pasta contains 42 grams of carbs, or 12.9 to 18.6 percent of the amount you should eat every day. You also take in 2 grams of fiber, although the amount increases if you consume orzo made from whole-grain flour. You should consume 25 to 38 grams of fiber daily, according to the Harvard School of Public Health.
Protein
Eat a serving of orzo, and you consume 7 grams of protein. This accounts for 13 to 15 percent of the recommended daily amount. Increase your protein consumption by eating whole-grain orzo or pairing it with seafood, such as salmon, shrimp or clams, or some other meat. The protein in orzo also helps boost your energy levels.
Iron
Including orzo in your diet helps you get the iron you need, with 10 percent of the daily recommended amount. You can boost your iron intake further by serving orzo with spinach. The iron in orzo and other foods helps your body obtain the oxygen it needs to function correctly. Without proper oxygenation, you may experience dizziness and heart palpitations as well as fatigue.