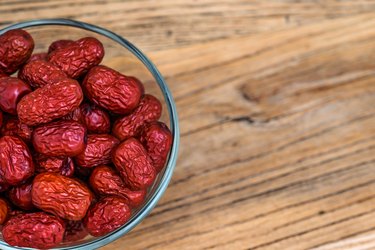 Ever heard of jujube fruit? No, not the candy — the real fruit. It's not always easy to find in major grocery stores in the United States, but this date-like fruit is popular in parts of Asia. You can eat jujube fruit if you have diabetes, but watch your serving size and consider pairing it with some protein.
Although jujube fruit looks like a traditional date in its dried form, it tastes more like an apple. So what's in those little fruits? A lot of good stuff!
A 3-ounce serving of jujube fruit (about three of them) has 79 calories and 20 grams of carbohydrates, according to the USDA. That serving is also packed with a good portion of the daily recommended amount of vitamin C, which helps the body's immune system and provides age-fighting antioxidants, according to the Office of Dietary Supplements.
B vitamins and minerals such as iron and phosphorus are also found in jujube fruit, says Shanthi Appelö, RD, a registered dietitian and health and wellness spokesperson with Blue Cross Blue Shield of Michigan in Detroit.
Is Jujube Fruit Good for Diabetes?
If you have diabetes, you may wonder if jujube fruit is a good fruit option. If you love your jujubes, or want to try some, there's good news for you.
Because of its high fiber content, jujube is a good fruit choice when you have diabetes, Appelö says. "Relative to other fruit, jujube fruit is high in fiber," she says. Appelö contrasts jujube fruit with a medium banana, which has 3 grams of fiber, versus a serving of jujube fruit, which has 10 grams. Fiber takes longer to digest, so it has less of an immediate effect on your blood sugar. It's also more filling than other carbs and helps your digestion.
If you're looking for jujube fruit in the U.S., it might be easier to find dried fruit rather than fresh. But beware: Dried jujube fruit tends to be higher in sugar. That means you need to stay mindful of your serving size. How much is one serving of dried jujube fruit (containing 15 grams of carbs)? Only about 2 tablespoons, Appelö says.
If you have diabetes and want to enjoy some jujube, Appelö suggests:
Mix a tablespoon or two of dried jujube fruit into a trail mix.
Place dried jujube fruit on top of toasted oats.
For fresh jujubes, slice them on top of a salad, oatmeal or yogurt.
Are Some Fruits Better Than Others?
Like jujube fruit, fruit in general tends to be a great source of vitamins, minerals, fiber and antioxidants, according to the Cleveland Clinic.
But when you have diabetes, you need to be smart about how you get those servings. Your best fruit choices are fresh, frozen or canned without any added sugars, according to the American Diabetes Association (ADA). When choosing canned fruit, look for products in 100 percent fruit juice or water instead of light or heavy syrup.
Keep an eye on serving size and carbohydrates, too, especially for dried fruit and fruit juice. A small piece of whole fruit or a half-cup of frozen or canned fruit has about 15 grams of carbohydrates, according to the ADA. But if you're reaching for fruit juice or dried fruit, that 15 grams of carbs equates to a much smaller serving size. Plus, fruit juice doesn't provide the same fiber benefits as whole fruit, according to the Mayo Clinic.
Combine Whole Fruit With Protein and Fat
Some things are better together: Combine fruit with protein and fat to help control your blood sugar, Aleppö says. For instance, having a banana with peanut butter won't affect your blood sugar as much as eating a banana on its own. Adding some protein to your fruit will also keep you feeling fuller longer, according to the U.S. National Library of Medicine.
Some additional ideas for smart carb-protein snacking are an apple and string cheese or plain yogurt with fresh fruit. What kind of protein goes well with jujube? That's for you to discover. Mix and match: Maybe try almond butter, for starters.
Was this article helpful?
Thank you for your feedback!