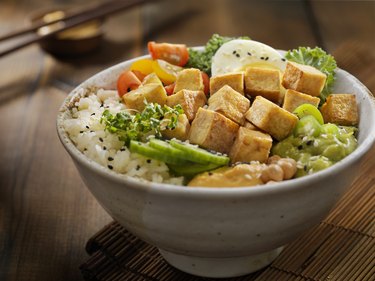 Fans of plant-based protein or milk alternatives are no strangers to the glorious soybean. This little legume is quite the chameleon, transforming into sauce, protein, milk and tofu.
Although soy is naturally gluten-free, that doesn't mean that every soy-based product is safe to eat on a gluten-free diet.
Plain soybeans are naturally gluten-free, as they don't contain any of the three main gluten grains, including wheat, rye and barley, according to the Celiac Disease Foundation. Soy is a high-protein plant-based food that makes a great addition to your regular diet.
Unlike most plant protein sources, soy is a complete protein, which means it contains all nine essential amino acids that your body can't produce on its own. Although there's some validity behind the idea that soy increases estrogen levels, it's generally safe to eat and won't change your hormones in any significant or harmful way.
Assuming you don't have any soy sensitivities (soy is a major allergen), this bean is safe to eat in its natural state. But that doesn't mean that all soy products are gluten-free — soy sauce isn't, for example.
Cross-contamination is another risk you'll want to consider with soy-based dishes or products. This happens when foods come in contact with gluten ingredients, according to the Celiac Disease Foundation. If soy is stored or cooked in the same container or area as a gluten food, it can become unsafe for those with celiac disease or gluten sensitivity.
Is Soy Lecithin Gluten-Free?
Soy lecithin is a common additive used to emulsify foods. This ingredient is gluten-free and safe to eat, according to Beyond Celiac.
How to Buy Gluten-Free Soy Products
You can avoid potential cross-contamination by checking the packaging and reading the nutrition label on the foods you buy. Tempeh, tofu and soy milk are just a few soy-based foods but they may not be safe to eat.
First, look for a "gluten-free" label on the packaging. This label is regulated by the Food & Drug Administration and signifies that the food you're eating has less than 20 parts per million (ppm) of gluten, which is safe for people with celiac disease or gluten sensitivity.
If a label doesn't have a gluten-free label, then check the ingredient label for any wheat, rye or barley-based foods and check the allergen statement for wheat or gluten.
Soybean oil is a vegetable oil that's made from soybeans. So, considering it's usually free of any other ingredients, you can assume it's gluten-free.
Gluten-Free Soybean Oil Brands
Tofu and Soy-Based Fake Meat
Plain tofu is generally free of gluten, according to the Celiac Disease Foundation. But, other soy-based fake meats or tofu meals may contain sauces (or other ingredients) with wheat, rye or barley. So, be sure to check the ingredients before you dig in.
Gluten-Free Tofu Products
Whether you eat it shelled, in the pod or dry-roasted, this bean is naturally gluten-free in its plain form, according to the Celiac Disease Foundation.
Gluten-Free Edamame to Try
Although many soy products are gluten-free, soy sauce is not, according to Beyond Celiac. Wheat is an ingredient in nearly all soy sauce products. Try tamari sauce, a popular gluten-free alternative.
Gluten-Free Soy Sauce Brands
For the most part, soy milk is not made with any wheat, rye or barley. But different companies may offer different flavors with various additives and preservatives. So, double-check the ingredient list before you take a sip.
Gluten-Free Soy Milk to Try