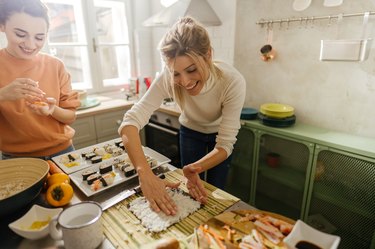 Whether you want to wow your partner on date night or treat yourself to an upscale DIY dinner in, homemade sushi never disappoints.
Buying and prepping raw fish can be challenging and potentially risky, though: Raw fish can harbor parasites, which can cause mild-to-moderate illness (like diarrhea and cramps) or even severe symptoms such as organ damage in serious cases, according to the Food and Drug Administration (FDA).
But that doesn't mean you should abandon sushi night altogether.
Instead, play it safe with these high-protein vegan sushi recipes that take minutes to make at home. They'll still give you a satiating portion of protein but without the raw fish risk.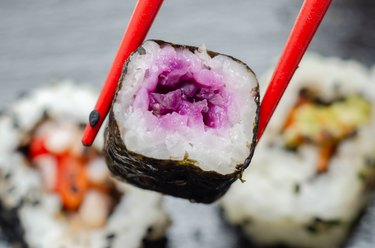 ‌Calories:‌ 190
‌Protein:‌ 10 grams
This maki uses sweet potato in the recipe, giving it a unique (and delicious) flavor and some added vitamins and nutrients.
Sweet potatoes are high in vitamin A, providing about 105 percent of your daily recommended value per cup. Vitamin A plays a critical role in maintaining the health of your eyes, heart, lungs and kidneys, according to the National Institutes of Health (NIH).
This recipe also calls for tamari, which is a great gluten-free soy sauce alternative. Whereas most soy sauce is made with wheat, tamari is produced from miso paste, giving the sauce a richer flavor.
‌Get the full recipe and nutrition info at Yummly.‌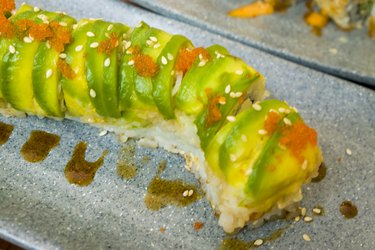 ‌Calories:‌ 319

‌Protein‌: 18 grams
At only 319 calories per serving, this Tempeh Avocado Sushi recipe makes the perfect midday snack or dinner appetizer.
And rest assured the protein and healthy fat content in this roll will help keep you satiated.
This vegan sushi calls for avocados, the main source of the unsaturated fat content in this recipe. Unsaturated fats are great for your heart health and may help lower risk of heart disease and type 2 diabetes, according to the Mayo Clinic.
Just be cautious of portion sizes, as high-fat foods are calorie-dense.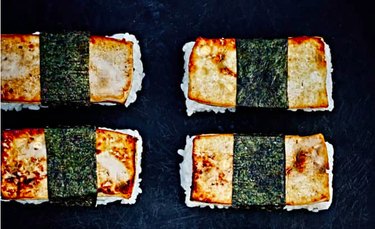 ‌Calories:‌ 280
‌Protein:‌ 14 grams
Instead of salmon or tuna, this sushi recipe uses tofu as its main protein source.
Soy is high in isoflavones, a type of plant estrogen that's caused controversy in the past, leading people to question whether soy is healthy. However, there isn't enough evidence to suggest that these plant hormones can be harmful to human health.
4. Superfood Quinoa and Avocado Sushi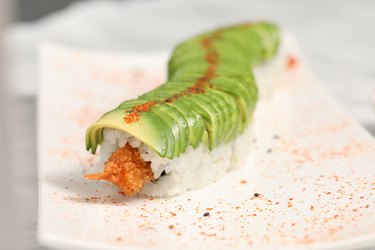 ‌Calories:‌ 455
‌Protein:‌ 16 grams
This quinoa and avocado sushi makes the perfect date night meal, whether you're having dinner with a partner or just treating yourself to some me-time. Plus, this recipe is full of fresh veggies.
This roll also calls for crunchy radishes, which boost the vitamin C content of your meal. A cup of radishes provides nearly 20 percent of your daily recommended vitamin C intake.
Most commonly recognized for its immune system benefits, vitamin C also helps protect your body from free radical toxins, like smoke or air pollution, according to the NIH.