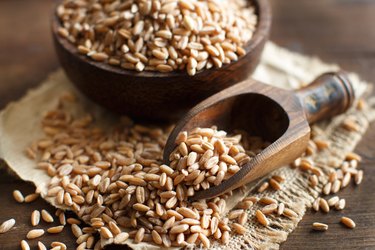 Durum, einkorn, emmer, farro, Kamut — there's no shortage of wheat derivatives and varieties. And you can add spelt to that list, too.
An ancient grain, spelt is actually a form of wheat, which means it's not gluten-free. If you're following a gluten-free diet, you'll want to keep this grain far away from your pantry. Luckily, there are plenty of safe alternatives you can try instead.
Why Spelt Isn't Gluten-Free
Gluten is a protein found in wheat, barley, rye and their derivatives. Since spelt is a variety of wheat, it's not gluten-free and should be avoided if you're sensitive or intolerant to gluten, according to the Celiac Disease Foundation.
In addition to einkorn, emmer and Kamut, spelt is also known as an ancient grain, which some have misinterpreted as being free of gluten, according to the Whole Grains Council.
If you're sensitive to gluten but don't have celiac disease, spelt may be easier for you to tolerate, some anecdotal evidence suggests, but there's no firm research that says it's safe to eat on a gluten-free diet. So, it's best to play it safe and avoid these ancient wheat-based grains.
Spelt looks a lot like wheat or farro (which is another gluten-containing grain). While they're similar in taste and texture, spelt is actually a little higher in protein content than standard wheat, according to the Whole Grains Council.
Spelt Flour Has Gluten, Too
While spelt is sold as a whole grain, you can also find it ground in the form of spelt flour. Since spelt contains gluten, spelt flour does, too. Avoid spelt flour on a gluten-free diet.
Gluten-Free Spelt Alternatives
Although spelt is a no-go, there are still plenty of other grains you can incorporate into your GF diet. Similar in texture and general taste, buckwheat, rice and millet are versatile grains that make a great gluten-free alternative, according to the Celiac Disease Foundation.
These alternatives are naturally gluten-free but you should always double-check the ingredient list of the grains you buy. Check the allergens and ingredients to look for any hidden wheat, rye or barley ingredients and to make sure your GF product wasn't subject to cross-contamination with gluten ingredients.
Then, look for a Gluten-Free label on the package. This FDA-regulated label indicates that the food you're buying contains less than 20 parts per million (ppm) of gluten, which is an amount that's generally safe for gluten-sensitive or intolerant people, according to the FDA.
In some cases, the grains you're buying may also have a seal from the Gluten-Free Certification Organization (GFCO). This third-party group tests and certifies foods that are less than 10 ppm of gluten, which is a particularly strict standard.
Gluten-Free Grains to Buy
​Organic Raw Hulled Buckwheat Groat​ ($19.99, Amazon.com)
​Pride of India Extra Long Brown Basmati Rice​ ($10.99, Amazon.com)
​Bob's Red Mill Whole Grain Millet​ ($14.75, Amazon.com)
2 Gluten-Free Grain Recipes to Try
Now that you've stocked your pantry with a bunch of gluten-free grains, give these healthy recipes a try.
1. Nutty Zucchini Grain Salad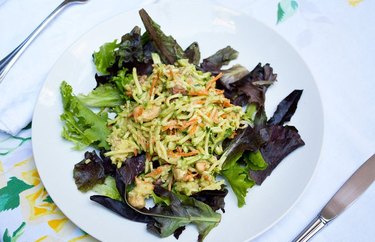 Whether paired with your preferred protein or eaten solo, this nutty salad is loaded with healthy, nutrient-dense ingredients, like zucchini, millet, almonds and leafy greens.
Grains are naturally low in healthy, unsaturated fat and this recipe calls for cashews, almonds and olive oil, which add about 21 grams of healthy fats. Both monounsaturated and polyunsaturated fats, though high in calories, are great for your heart health. Plus, they help your body absorb vitamins A, D, E and K.
2. Gluten-Free Breakfast Pizza With Cinnamon Honey Drizzle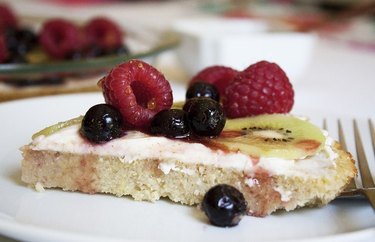 This breakfast pizza takes only 6 minutes to prep and will keep you satiated throughout your morning.
With 5 grams of fiber, this pizza knocks out a big chunk of your recommended daily fiber intake, which is about 25 grams for women and 38 grams for men, according to the Mayo Clinic.
Fiber is a type of carbohydrate that digests slowly in the body, helping you stay full and satiated. This nutrient also helps regulate your digestion and keeps your blood sugar stable.