Ground beef is a type of meat product that just about everyone is familiar with: It's what you use to make meatballs, burgers, chili and various other types of foods. It's easy enough to find this meat at any supermarket or butcher's shop. Whether or not it's healthy for you comes down to its fat-to-protein ratio. Fortunately, the best part about ground beef is that you can create your own to best suit your diet.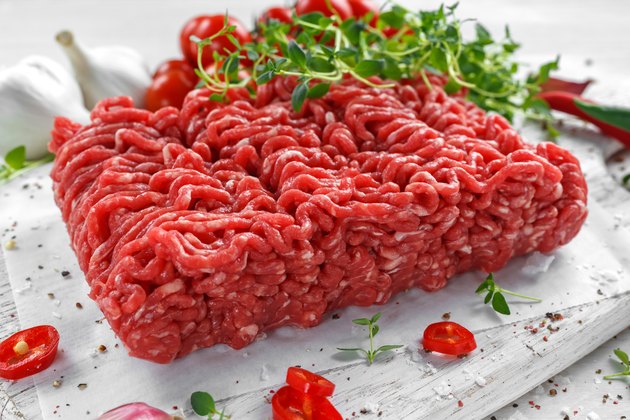 Tip
Ground beef is an excellent source of protein, B vitamins and iron. For good health, choose 95 percent lean versions of ground beef to limit your fat and saturated fat intake.
Ground Beef: Good or Bad?
Ground beef often gets a bad reputation compared to other cuts of beef. Many people associate ground beef of any type with leftover meat products, which means that you could get a range of desirable or undesirable cuts in this product. The worst part about ground beef for most people is its fat content.
Whether or not you want your meat to be fatty is based on your preferences and diet. However, you should consume animal fats in moderation. Foods made from red meats, like ground beef, contain saturated fat, which can raise your cholesterol and be bad for your heart if you eat too much of it. According to the American Heart Association, you should limit your saturated fat consumption to about 13 grams per day.
Ground beef can vary substantially in fat and protein content. The majority of ground beef is always protein (lean meat). Its fat content can also range from as little as 5 percent to as much as 30 percent. This enormous difference is part of the reason ground beef has such a bad reputation. It can be hard to know what you're getting when you buy this product.
Protein in Ground Beef
Since the content of ground beef can vary, you need to look at the fat-to-protein ratio to understand what you're getting. Fat brings out flavor, but if you're a big fan of meat or are following a high-protein diet, you should consume fatty meat in moderation due to its high saturated fat content.
Many different types of ground beef are readily available in supermarkets. Some butchers let you create your own ground beef in the store as well by allowing you to pick your preferred cuts of meat. People who want less saturated fat and lower calories in their ground beef might choose primarily lean meat. An example of this is ground beef made with 95 percent lean meat and 5 percent fat, 100 grams of which provide:
21.4 grams of protein: 43 percent of the daily value (DV)

5 grams of fat: 8 percent of the DV (almost half of this, or about 2.3 grams, is saturated fat)

137 calories

In contrast, someone on a high-fat diet might choose ground beef with 70 percent lean meat and 30 percent fat, 100 grams of which contain:
14.3 grams of protein: 29 percent of the DV

30 grams of fat: 46 percent of the DV (over a third of this, or about11.3 grams, is saturated fat)

332 calories

The average type of ground beef listed with USDA nutrition information is somewhere between 5 percent and 30 percent fat, with each 100-gram serving supplying:
17.4 grams of protein: 35 percent of the DV

17.1 grams of fat: 26 percent of the DV (6.8 grams from saturated fat)

288 calories

Ground beef is also a good source of B vitamins and most minerals, including iron, phosphorus, potassium, selenium and zinc. The amounts of these nutrients vary depending on the content of protein and fat in your ground beef. There are more nutrients in some types of ground beef that contain higher protein and less fat content.
Downsides to Eating Ground Beef