If you're salivating for something sweet but don't have baking staples in stock, rest assured that some masterpieces don't need one bit of flour, eggs or butter.
Seriously — you can still cobble together a batch of comforting cookies and crush those cravings with limited ingredients on hand. These four convenient cookie recipes don't require any flour, eggs or butter, but you'd never know the difference. Big bonus: Thanks to the smart dairy substitutes for butter, most of these recipes are vegan.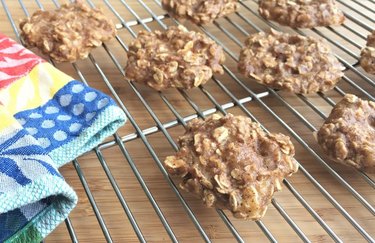 Easy as one, two, three, you'll go bananas for these moist, melt-in-your-mouth cookies that only require three simple ingredients— bananas, almond butter and rolled oats. Holding things together, banana and almond butter replicate butter and eggs and act as the binding agents while oats replace flour in this healthy batter, says New York City-based dietitian Isabel Smith, RD, CDN.
And thanks in part to whole-grain oats, each cookie contains 3 grams of fiber, which may help reduce harmful cholesterol levels and lower your risk of developing heart disease, obesity and type 2 diabetes, according to the USDA. Fiber also keeps your blood sugar stable and your appetite in check.
And, with no added or refined sugars, these tasty treats (which get their natural sweetness from bananas) will satisfy your cookie cravings without the sugar crash.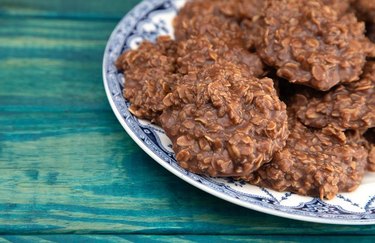 No time to bake? No problem. You don't need to break a sweat (or crack an egg) over the stove for these no-bake, high-protein cookies that are ready in a jiffy. They pack 6 grams of protein per cookie and require just 20 minutes from prep to plate.
"In place of sugar and eggs, pantry staples like honey and peanut butter pull this recipe together, adding moistness and sweetness," Smith says.
And everyone knows peanut butter pairs better with chocolate chips. These yummy cookies call for dark chocolate, which not only pleases your palate but also possesses powerful polyphenols known as flavonoids (a type of antioxidant) that are linked to reduced inflammation and supporting heart health, Smith says.
Tip
To make these vegan, sub out the honey for agave nectar or maple syrup.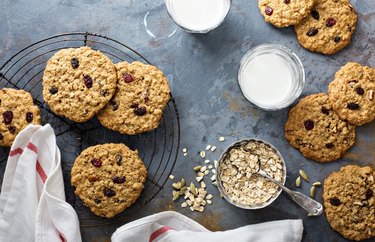 Have a hankering for classic oatmeal raisin cookies but your butter box is bare? These butter-free bites use coconut oil yet deliver the same flavor as your old-fashioned favorite. Starchy-sweet bananas and chewy oats tie it all together much like eggs would, Smith says.
Whole-grain oats offer texture plus plenty of B vitamins such as thiamin, riboflavin and niacin (which are essential for a healthy metabolism and nervous system) and much-needed minerals like iron (which is important for carrying oxygen in the blood), according to the USDA.
The best part: You get two cookies per serving for double the deliciousness and health benefits.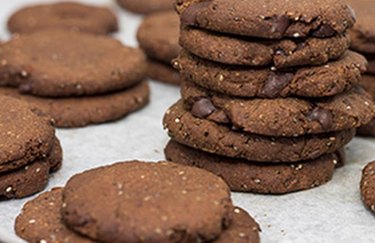 Loaded with heart-healthy superfoods such as chia seeds and cocoa powder, these aren't your average store-bought chocolate cookies. These decadent dessert bites are bursting with plant-based protein (a whopping 14 grams per cookie) to help you build muscle and keep you satisfied.
If you don't have chia seeds in the cupboard, Smith says you can use flax seeds, since both work nicely as egg alternatives.