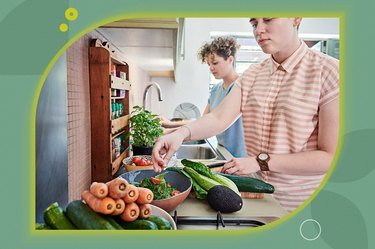 The post-workout protein smoothie is so ubiquitous that many gyms have built-in smoothie bars (and you might have a blender at home just for the occasion). And for good reason: Protein is an essential part of a well-balanced diet, and smoothies can be tasty, quick fuel whether they're part of a fitness regimen or not.
But what if you're bored of the usual routine — or want something more substantial? Protein powder can be used as a base for tons of creative recipes, you just need to start with the right one.
For a plant-based option that's endlessly versatile, try Huel® Complete Protein, a vegan protein powder available at The Vitamin Shoppe® that's made from sustainably sourced, high-quality ingredients like hemp, fava and pea protein. While you can of course blend it into your go-to smoothie, it can also be added into snacks and meals galore.
The powder is naturally gluten-free, has 20 grams of protein per serving and contains 9 grams of essential amino acids (plus, it's a source of fiber with zero sugar). Whether you're looking for protein-packed breakfasts, snacks or desserts, Huel makes it easy without opting for the same old smoothie.
Intrigued? Scroll on to see the five ways to use Huel® Complete Protein powder and start prepping now.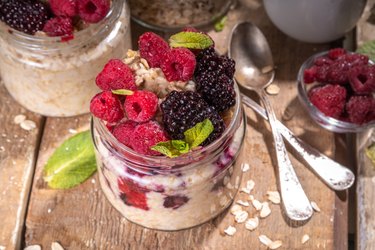 To start, boost your go-to breakfast with little fuss with overnight oats. For a twist, mix in one scoop of Huel® Complete Protein's Vanilla Caramel flavor for a more complex flavor.
1/4 cup quick oats
1 tbsp chia seeds
1 scoop Huel® Complete Protein
1 tsp cinnamon
1 cup almond milk
A splash of water (if needed)
1/4 cup of dark chocolate
To make the overnight oats, mix the oats with chia seeds, protein powder, cinnamon and almond milk in a jar. Add water to thin if needed.
Transfer the mix to the fridge and let it rest overnight or for at least 3 hours.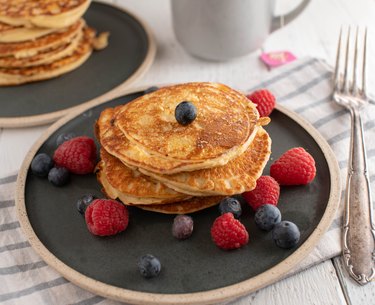 Take a.m. meals to the next — and tastier — level with protein-packed pancakes. Ladle in a scoop of Banana Pudding or Strawberry Shortcake that'll taste so good topped with antioxidant-rich fruit like blueberries.
3/4 cup buckwheat or oat flour
1 tsp baking powder
1 tsp cinnamon
1 scoop Huel® Complete Protein
A pinch of salt
1 tsp vanilla extract
1 cup to 1 cup and 3 tablespoon almond milk
1 tbsp lemon juice
1 tsp coconut oil
To make the protein pancakes, mix the buckwheat flour, protein powder, baking powder, salt and cinnamon together in a mixing bowl until well combined.
Add vanilla extract, lemon juice and almond milk, and gently mix all together until it's thick and all combined.
Heat coconut oil in a non-stick pan over medium heat. Scoop 2 tablespoons of the batter onto the pan. Repeat for the second pancake.

Let cook until bubbles appear all over each pancake and the edges start to look dry and cooked, this should take 3-4 minutes. Flip and cook for 1-2 more minutes.

Repeat until you've used all the batter, you should get about 12 pancakes.

Make a stack, drizzle with maple syrup and finish with fresh berries and hemp seeds.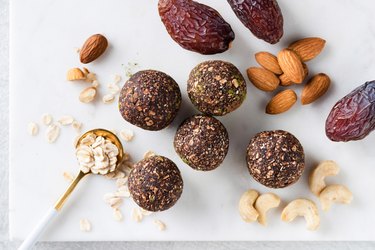 Batch prep these chocolate bliss balls for an easy protein boost. With Chocolate Fudge Brownie as the main flavor ingredient, this snack highlights additional nutrients from raw almonds and natural sweeteners including medjool dates.
1/2 cup rolled oats
3/4 cup raw almonds
1/3 cup medjool dates
2 scoops Huel® Complete Protein
1 tbsp maple syrup
1 tsp vanilla extract
1 tsp cocoa powder
A pinch of salt
Add rolled oats into a food processor and blend into a flour.
Place all of the remaining ingredients into the food processor and mix until a sticky dough forms which holds together when you press between your fingers. Add a tablespoon more almond milk if required.
Roll into tablespoon sized balls and cover with chopped almonds or shredded coconut if you'd like.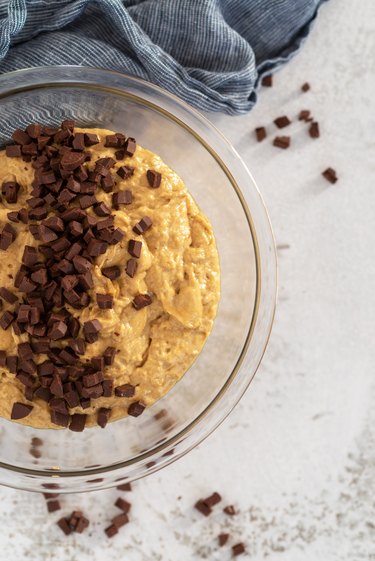 Dessert gets a protein infusion with this chickpea-based cookie dough. Add nut butter and Huel® Complete Protein and pulse in a food processor in a snap (and store any extra in your freezer to snack on later).
1 can chickpeas
1/2 cup almond milk
3 tbsps peanut or almond butter
1 to 2 scoops Huel® Complete Protein
2 tbsps maple syrup
1/4 cup dark chocolate
Wash and drain the chickpeas.
Transfer to a food processor and mix with almond milk, nut butter, Huel® Complete Protein, maple syrup and optional a pinch of salt.
Add more almond milk if the dough is too dry.
Chop dark chocolate into little pieces.

Transfer the dough to a large bowl and add dark chocolate. Mix until all combined.

Serve immediately.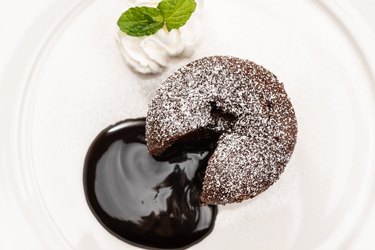 The famed lava cake just got a vegan — and protein-filled — spin with only five minutes of prep. Chocolate Fudge Brownie is the star protein powder of this batch, but Banana Pudding is also a tasty option. Just mix the ingredients and pop in the oven for some chocolatey goodness.
1 cup oat flour
1/2 cup almond flour
2 tbsps cocoa powder
1 tsp baking powder
1/2 tsp baking soda
A pinch of salt (optional)
1 ripe banana
2/3 cup almond milk
2/3 cup maple syrup
1 to 2 scoops Huel® Complete Protein
1 tsp coconut oil
3/8 cup dark chocolate
Preheat the oven to 350 degrees.
Mix oat flour, almond flour, cocoa powder, baking powder, baking soda and (optional) a pinch of salt, in a large bowl.
Mash the banana with a fork and add almond milk and maple syrup. Add the mixture to the dry ingredients.
Add 1 scoop of Huel® Complete Protein and mix until all combined.
Grease an oven-proof bowl with coconut oil and pour the batter into the bowl.
Place the dark chocolate into the center and cover the top with the batter.
Bake in the oven for 18-20 minutes. Let it cool for about 10 minutes. Cover with an inverted plate and turn over. Use an oven mitt because the bowl is hot. The cake should release easily.