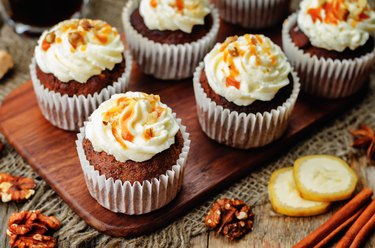 Pumpkin pie, pumpkin cheesecake, pumpkin bread, pumpkin muffins: This go-to gourd gets all the love when it comes to fall-inspired baked goods. But pumpkin isn't the only seasonal squash that can spice up your sweets.
While primarily known for savory fare like soups and side dishes, butternut squash — with its mild flavor and creamy texture — pairs just as well with desserts.
Don't believe us? These six decadent butternut squash dessert recipes will forever change your fall baking game.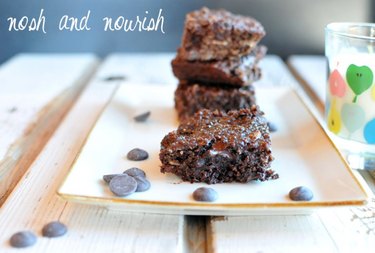 These moist, melt-in-your-mouth brownies seamlessly sneak in superfood seeds like quinoa and ground flax as well as veggies like butternut squash for a dessert that's delicious and nutritious. A drizzle of maple syrup and coconut sugar supply the natural sweetness while fiber-rich rolled oats balance out the brownie batter and help keep your blood sugar from spiking.
Serve these dark chocolate vegan brownie bites with a tall glass of almond milk.
2. Spiced Butternut Squash Cupcakes With Maple Cream Cheese Frosting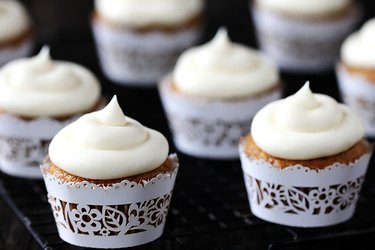 Got leftover butternut squash from last night's dinner? Make a puree and blend it into cupcake batter. With cinnamon, ginger and nutmeg, this butternut squash puree delivers all your favorite fall flavors and a lovely light, moist texture. And the whipped cream cheese frosting — accented with maple syrup — is the absolute icing on the (cup)cake.
‌Get the Spiced Butternut Squash Cupcakes With Maple Cream Cheese Frosting recipe at Gimme Some Oven.‌
3. Creamy Vegan Butternut Squash Pudding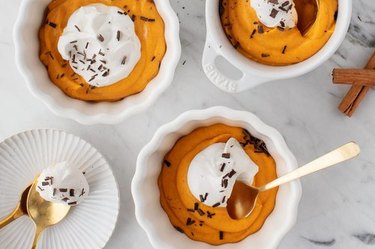 Pining for pumpkin pie but not big on baking? This creamy butternut squash pudding will satisfy your sweet tooth and comes together in three simple steps: just roast, blend and chill your squash for a spoonful of heaven. Top with coconut cream and chocolate shavings or toasted pecans and granola.
‌Get the Creamy Vegan Butternut Squash Pudding recipe at Love & Lemons.‌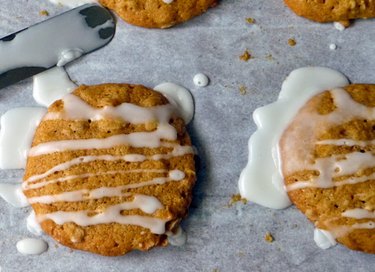 Ordinary oatmeal cookies get a tasty twist with the addition of butternut squash. Soft and chewy, these delicious cookies will fill your home with warmth and amazing aromas thanks to fragrant spices like cinnamon and ginger. A maple glaze drizzled on top takes these mouthwatering morsels to the next level of dessert decadence.
5. Maple Butternut Squash Donuts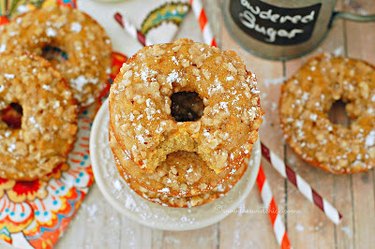 Butternut squash, maple syrup and allspice combine to create these slightly sweet, light and fluffy donuts that are baked, not fried. A confectionary crumble of oats and brown sugar supply an extra touch of tasty texture to these delectable doughnuts. Serve with a sprinkle of powdered sugar or just pop one in your mouth straight from the pan.
6. The Healthiest Ice Cream Ever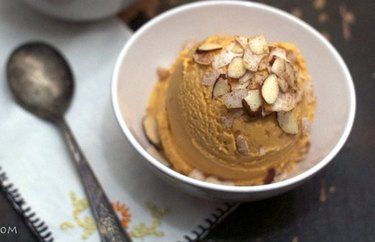 Sugar-free ice cream with veggies? Don't knock it until you try this flavorful frozen custard made with roasted butternut squash, creamy coconut milk and warm spices like cinnamon and cardamom. And if you crave a little crunch, sprinkle with a sweet and salty mix of coconut flakes and almond slivers.
If you don't own an ice cream maker, no worries: Just let your roasted squash cool to room temperature and then freeze it for 30 to 90 minutes. Before it's frozen solid, toss your squash into a food processor and pulse until smooth.