The benefits of clams are many. Whether steamed, fried or grilled, clams are a delicious and nutritious seafood, adding variety to your diet. Clams join sea snails, octopus, squid and scallops as popular ocean-sourced shellfish called mollusks.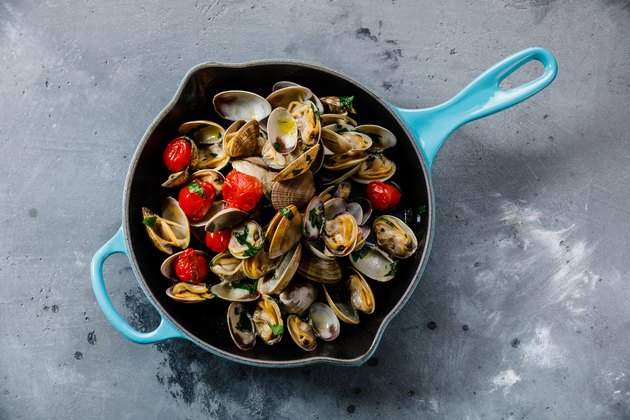 Clams' nutrition properties are impressive. The USDA recommends eating a variety of seafood, including shellfish, twice a week at 8 ounces per week to obtain healthy omega-3 fatty acids that help prevent heart disease.
Plenty Vitamin B12 and Protein
One of the most notable benefits of clams is their extremely high vitamin B12 content. In a serving of 20 small clams (190 grams), there are 187.9 micrograms of vitamin B12, which is an astounding 7,829 percent of the daily value (DV).
According to the National Institutes of Health (NIH), vitamin B12 is important for maintaining healthy nerve and blood cells, as well as the prevention of megaloblastic anemia. The NIH recommends that people get most of their vitamin B12 from food. Clams and beef liver are the top food sources of vitamin B12.
Clams are high in protein, providing 48.5 grams in a typical 190-gram serving. One of the best benefits of clams is that their proteins provide several essential amino acids. These are amino acids that the human body cannot make, and therefore must be obtained from dietary sources.
Amino acids are the building blocks of life. The US National Library of Medicine lists growth, the breakdown of foods, repair of tissues and many other bodily functions as being the job of amino acids. A serving of clams provides over 100 percent of the recommended daily intake of 11 different amino acids, including all nine essential amino acids.
Clams Promote Heart Health
The polyunsaturated fatty acids in seafood, including shellfish, is one of the most beneficial reasons for consumption. Omega-3 fatty acids are considered essential in the diet because they must be obtained from food or supplementation. These fats help form the structure of cell membranes and aid in the health of the body's immune, cardiovascular, endocrine and pulmonary systems. Long-chain omega-3 fatty acids, called EPA and DHA, are only available through fish, fish oils and krill oils.
The USDA recommends 1.6 grams of omega-3 fatty acids per day for adult males and 1.1 grams per day for females. For pregnancy and lactation, 1.4 grams and 1.3 grams per day are recommended, respectively. Clams are a top source of omega-3 fatty acids, providing 50 percent of the daily adequate intake at 798 milligrams per 190-gram serving.
One serving of clams contains 0.4 grams of saturated fat. Saturated fat is known to raise low-density lipoprotein (LDL) cholesterol levels, the "bad" type of cholesterol. Too much LDL cholesterol raises the risk of heart disease. Conversely, unsaturated fats such as those found in fatty fish and shellfish help to prevent heart disease.
The other type of cholesterol, high-density lipoprotein (HDL), is beneficial. The Harvard School of Public Health explains that cholesterol is necessary for the creation of sex hormones, as well as vitamin D and other vital compounds.
What Are Clams' Health Risks?