Fish is a high quality protein rich in essential nutrients, omega-3 fatty acids and low in saturated fat. While fish is an important part of a healthy diet, nearly all fish and shellfish contain trace amounts of elemental mercury, according to the Environmental Protection Agency. The EPA notes that mercury consumption should not be a health concern for most people, but fish with high levels of mercury can harm unborn babies and developing children. Eating fish low in mercury can be beneficial, particularly for pregnant women, nursing mothers, women who may become pregnant and children.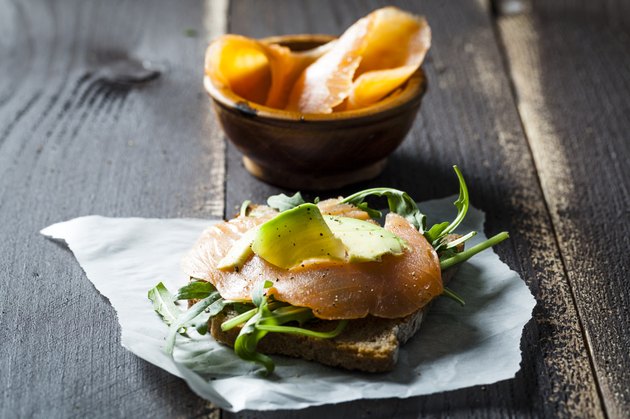 Dangers of Mercury
When you eat fish, you're exposed to a form of mercury known as methylmercury. The effect that methylmercury has on you depends on a number of factors, including the dose, your age, the duration of exposure and your health. The most noted effect methylmercury can have on human health is the impairment of neurological brain development in fetuses, infants and children. The EPA notes there is no data showing that exposure to any form of mercury causes cancer, although the current data is limited.
Fish with Lowest Mercury Levels
The Natural Resources Defense Council has a list of fish that contain the lowest levels of mercury. These include anchovies, catfish, flounder, hake, haddock, herring, salmon, trout, whitefish, pollock, mackerel, sardines and butterfish. While all of these fish are low in mercury, NRDC notes that farmed salmon should be avoided because it can contain high levels of another chemical with serious long-term health effects -- PCBs (Polychlorinated biphenyl). The NRDC also recommends avoiding haddock and flounder because these fish are low numbers due to extensive fishing.
Common Mercury-safe Fish and Fish to Avoid
The Food and Drug Administration lists the four fish with the highest levels of mercury -- shark, swordfish, king mackerel and tilefish. To avoid mercury, the FDA recommends limiting yourself to approximately 12 ounces of fish, or two meals, per week. Some of the most commonly eaten fish low in mercury include canned light tuna, salmon, pollock, catfish and shrimp. The FDA also notes that white albacore tuna has a higher mercury content than canned light tuna. Limit albacore tuna to one meal, or 6 ounces, per week.
Measuring Mercury
According to an FDA program that monitored mercury levels in commercial fish and shellfish between 1990 and 2010, canned salmon was measured with the lowest mercury concentrations of 0.008 ppm (parts per million), followed by sardines at 0.013 ppm; tilapia, 0.013 ppm; anchovies, 0.017 ppm; fresh or frozen salmon, 0.022 ppm; butterfish, 0.058 ppm; trout, 0.071 ppm; hake, 0.079 ppm; herring, 0.084 ppm; whitefish 0.089 ppm; cod, 0.111 ppm and canned light tuna, 0.128 ppm. The fish with the highest levels of mercury were king mackerel coming in at 0.730 ppm; shark, 0.979 ppm; swordfish, 0.995 ppm and tilefish, 1.450 ppm.