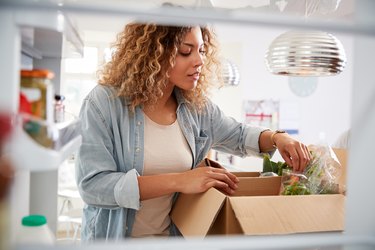 We all know the feeling: It's 6 p.m. on a weeknight and what's for dinner remains one big question mark. Ordering in is the easy solution, but you're also on a budget and trying to make nourishing choices. What to do?
Stocking your kitchen with affordable, versatile foods is a game changer if you often find yourself in this predicament. Below, registered dietitian Rachel Brief, RD, highlights nine nutritious foods that make it easy to throw together budget-friendly, balanced meals on the fly.
"Canned beans are a nonnegotiable pantry staple," Brief says. "They're nutritious, inexpensive and incredibly versatile." Not only do beans contain critical nutrients like iron, potassium and magnesium, but they're also filling.
"Beans provide an impressive 15 grams of fiber and 15 grams of protein per 1-cup serving, both of which can help keep your blood sugar levels balanced and support satiety in between meals," Brief says.
Try these smart ways to use beans:
"Oats are a fantastic source of whole grains that contain an impressive type of soluble fiber called beta-glucan, which [can help] lower LDL cholesterol levels," Brief explains. "The beta-glucan in oats also helps stabilize blood sugar levels and promotes feelings of satiety, allowing us to go longer without snacking in between meals."
Buying oats in your grocery store's bulk section can bring their price down even more.
Swap oat flour for regular all-purpose flour in baked goods recipes. Brief recommends doing 1 and ⅓ cups of oat flour per 1 cup of AP flour
Make a batch of overnight oats on Sunday for easy breakfasts throughout the week
Swap bread crumbs for oats in meatballs or meatloafs
Experiment with savory oatmeal. Top your usual bowl of oatmeal with a fried egg, sauteed greens and spoonful of pesto for a new spin on the a.m. staple
A freezer stash of veggies is your best bet for securing nutrients in a pinch. And contrary to popular belief, frozen vegetables are just as nutrient-dense as their fresh counterparts. In fact, frozen veggies can be even richer in vitamins and minerals as they're frozen at their peak, whereas fresh alternatives can start to lose nutrients in (often lengthy) transit to your local grocery store.
Brief loves keeping frozen cauliflower rice in her freezer for last-minute meals. "Cauliflower is part of the cruciferous vegetable family, a class of vegetables rich in nutrients like vitamin K, vitamin E and folate," Brief says. "Cruciferous vegetables also contain a compound called sulforaphane, which has been studied for its [potential] anticancer properties."
Use frozen veggies like so:
Blend 1/2 cup of frozen cauliflower rice into smoothies for a veggie boost you'll barely taste
Use cauliflower rice as a replacement for regular rice; or go halfsies, combining 1/2 portion of white or brown rice with 1/2 portion of cauliflower rice
Sauté cauliflower rice with olive oil and your favorite flavor agents, such as antioxidant-rich spices, a couple spoonfuls of pesto or some salsa. The neutral veggie will take on any flavor easily
It's always a good idea to keep frozen fruit on hand. Options like frozen berries are an especially useful alternative come the winter when buying out-of-season fresh berries can be prohibitively pricey.
"Berries are a low-sugar, high-fiber fruit," Brief says. "Just 1 cup of raspberries provides 8 grams of fiber." That's about a 1/4 of our fiber needs for the whole day.
"The rich blue-purple color of berries is due to naturally occurring antioxidants called anthocyanins," Brief says. "Anthocyanins help keep our blood vessels nice and elastic, which supports healthy blood flow."
Here's how to use frozen fruit:
Add a handful of frozen berries to smoothies
Make your own "fruit on the bottom" yogurt. Microwave 1/2 cup of frozen berries for about 30 seconds so that they thaw and form a compote-like consistency. Place the fruit in the bottom of your bowl and top it with plain Greek yogurt for a high-protein, high-fiber breakfast that's free from added sugars
Add to make-ahead breakfasts, like overnight oats or baked oatmeal
Make your own berry chia jam by blending thawed berries with chia seeds and citrus until they form a gel
Keep chicken, beef or vegetable broth in your pantry for last-minute meals. The low-calorie liquid is a great way to bring more flavor to dishes. Opt for a low-sodium broth if you're trying to keep your salt intake in check.
Here are a few ways to use broth:
Cook whole grains like quinoa or brown rice in broth instead of water
Use broth as the base for a quick homemade soup
Replace water with broth when poaching proteins like chicken
Buying fish like salmon or sardines that are canned with their bones is also a stellar (and dairy-free) way to get more calcium. Of course, wild fish that's canned is also considerably cheaper than fresh.
Here's how to use canned fish:
Use canned salmon to make quickie salmon patties at home
Make your own tuna or salmon salad using Greek yogurt and/or avocado instead of mayo
Make a homemade tuna or salmon melt for a five-minute dinner that tastes like childhood
Add canned fish, olives and roasted red peppers to whole wheat or chickpea noodles for a Mediterranean-style pasta salad that's packed with protein
While it's never a bad time for a PB&J, nut and seed butters can be used in countless ways.
Keep it classic with peanut butter or branch out with sunflower seed or hazelnut butters. "Regardless of your pick, nut and seed butters offer the trifecta for stable blood sugar levels by providing healthy fats, plant-based protein and a bit of fiber," Brief says.
Eating nuts regularly has been associated with improvements in key cardiometabolic health markers, such as reductions in waist circumference, systolic blood pressure, triglycerides and weight, per a December 2020 study in ‌The Journal of Nutrition‌‌.‌
Try these delicious ways to use nut and seed butters:
Add a couple tablespoons of nut or seed butter to your morning oatmeal bowl for a boost of filling, heart-healthy fats. "Oats are a great source of complex carbohydrates, but pairing them with nut butter will help round out your breakfast and curb the need for a mid-morning snack," Brief says.
Pair a piece of fruit, such as a banana or an apple, with nut or seed butter for a balanced snack
Whip up a quick peanut sauce to upgrade noodles or stir-fries
Mix plain Greek yogurt with your favorite nut or seed butter to create a creamy, high protein dip for fruit, veggies or high-fiber crackers
Drizzle tahini (made from sesame seeds) on roasted vegetables like cauliflower or sweet potatoes
Tip
Look for nut and seed butters that are made from simple ingredients, like nuts/seeds and salt exclusively. Many products include unnecessary additives, like partially hydrogenated oils and added sugars.
8. Frozen or Jarred Artichokes
"Artichokes are a super veggie because they provide an impressive 8 grams of fiber per cup," Brief says. "They specifically contain prebiotic fiber, an indigestible carbohydrate that serves as food for the beneficial probiotics in the gut and in turn helps to support digestive health."
Artichoke hearts are easy to find frozen, canned or jarred. Pro tip: When buying jarred or canned veggies, consider giving them a quick rinse in a colander to remove excess sodium.
Throw jarred artichokes into salads for a no-cook fiber boost
Mix artichokes into a homemade pasta salad along with a lean protein like chicken breast or shrimp
Pop artichokes in your air fryer with some grated parmesan cheese for a crispy snack or side dish
Riff on a classic spinach artichoke dip using defrosted or canned artichokes, spinach, part-skim cheese and plain Greek yogurt
Yep, you read that right. Pasta is one of the most affordable and long-lasting ingredients around. Make noodles more nutrient-dense by opting for whole-wheat or legume-based pastas such as chickpea, black bean or lentil pasta. These alternatives will put more fiber on your plate compared to pastas made from refined flour.
Whole-wheat pasta also provides key minerals like manganese, selenium and copper, while legume-based noodles serve up more plant-based protein.
Make a protein-packed pasta bake with chickpea noodles, frozen vegetables, jarred tomato sauce, part-skim mozzarella and cottage cheese
Add pasta shells to homemade soups
Make a better-for-you mac and cheese with whole-grain or legume pasta, low-fat cheese and cottage cheese
Was this article helpful?
Thank you for your feedback!