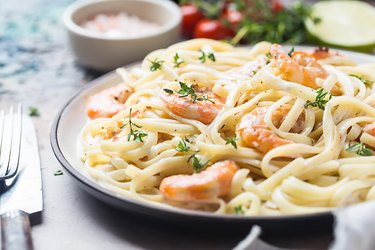 Trying to lose weight but running out of low-calorie dinner ideas? Just because you're aiming to drop a few pounds doesn't mean you need to bake bland chicken breast or sautee the same-old salmon every night.
Don't misunderstand — as lean sources of protein, chicken and salmon are solid staples. But it's good to diversify your dinner menu, so you don't grow tired of eating the same thing and, in a moment of weakness, order a bunch of greasy takeout.
So spruce up dinnertime with these six healthy, dietitian-approved recipes, each of which is 500 calories or less.
1. Tofu Tricolor Stir-Fry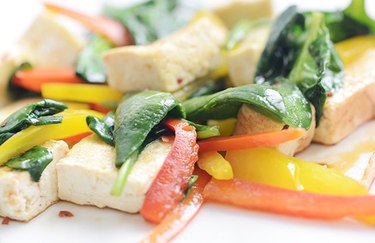 ‌Calories:‌ 283
‌Fat:‌ 16 grams
‌Carbohydrates:‌ 16 grams
‌Protein:‌ 19 grams
2. Vegan Italian Eggplant Parmesan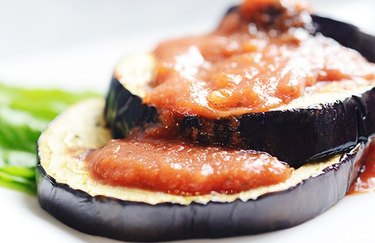 ‌Calories:‌ 198
‌Fat:‌ 3 grams
‌Carbohydrates:‌ 37 grams
‌Protein:‌ 6 grams
This low-fat, vegan spin on the classic Italian dish ditches the dairy, but you can always sprinkle on some almond mozzarella shreds to get your "cheese" fix. Plus, this plant-based parmesan boasts a whopping 16 grams of fiber, which will help regulate your blood sugar and aid digestion.
To create a more balanced meal, Largeman-Roth recommends adding a protein-rich side dish like quinoa.
3. Simple Turkey Salsa Chili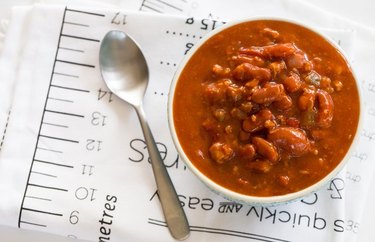 ‌Calories:‌ 339
‌Fat:‌ 20 grams
‌Carbohydrates:‌ 21 grams
‌Protein:‌ 19 grams
Lean ground turkey and kidney beans provide the healthy protein for this quick-and-easy homemade chili, which is perfect for busy weeknights. Simply brown the turkey, toss the ingredients into a pan and dinner is served in 15 minutes flat. To reduce the sodium content, rinse the beans under water before cooking.
4. Lemon Garlic Shrimp Pasta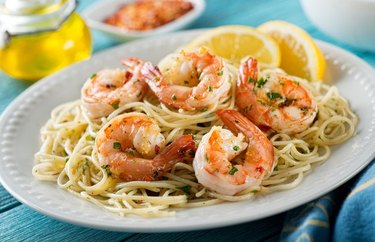 ‌Calories:‌ 99
‌Fat:‌ 3 grams
‌Carbohydrates:‌ 4 grams
‌Protein:‌ 14 grams
Made from a yam native to Asia, shirataki noodles are the perfect spaghetti substitute for people watching their carb intake. "And at just under 100 calories, this 'pasta' recipe is a calorie bargain," says Largeman-Roth.
But, seasoned with olive oil, garlic, lemon juice and spicy red pepper flakes, this high-protein, low-fat shrimp dish definitely doesn't skimp on flavor.
5. Zucchini Noodles With Spinach Pesto and Peas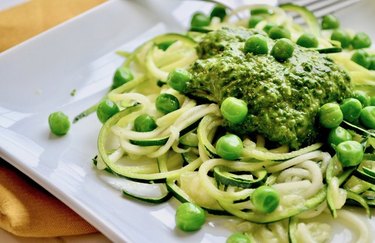 ‌Calories:‌ 169
‌Fat:‌ 14 grams
‌Carbohydrates:‌ 7 grams
‌Protein:‌ 3 grams
"Healthy omega-3 fats from walnuts combine with baby spinach and peas to make this flavorful pesto," says Largeman-Roth. This nutrient-rich, scrumptious sauce pairs perfectly with zucchini noodles, which soak up all the yumminess.
Want to save some time? Instead of spiralizing your own zucchini, buy pre-packaged fresh zoodles at the grocery store.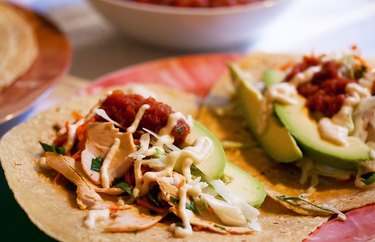 ‌Calories:‌ 300
‌Fat:‌ 8 grams
‌Carbohydrates:‌ 35 grams
‌Protein:‌ 22 grams
Why wait for Taco Tuesday when you can eat these tasty turkey breast tacos any day of the week? Packed with filling veggies like crunchy carrots and cabbage, plus creamy avocado, you get a whole lot of food (three tacos) in just one 300-calorie serving, says Largeman-Roth. Top with a scoop of salsa and a dollop of plain yogurt for a lower-fat alternative to sour cream.