If you're living a low-carb lifestyle, cravings are a fact of life. For many, pasta is at the top of the wish list. But you don't have to give up one of your favorite foods altogether: There are plenty of low-carb noodles out there to satisfy your hankerings.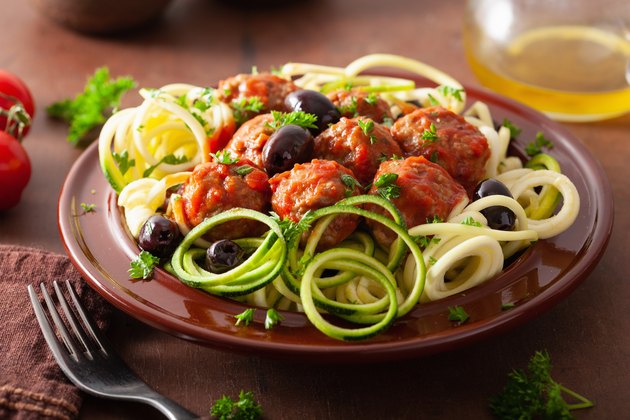 What's the Deal With Traditional Pasta?
While noodles are a big no-no for low-carb diets and plans that eliminate grains, including paleo and Whole30, eating pasta can also be tricky if you're gluten-free or have diabetes or pre-diabetes.
The good news for pasta lovers? You don't need to give up spaghetti and meatballs altogether. Moderation is one solution. "You can always make pasta more low-carb-friendly by monitoring portions," says Sheth. And now, with our favorite pasta alternatives, you can still stick to your low-carb lifestyle and eat your faux farfalle, too.
How to Choose a Low-Carb Pasta Alternative
Rather than completely avoiding carb-rich foods — which provide essential energy — choose smarter options that have fewer net carbs and pack in nutrients including fiber and protein. For example, nutrient-dense pasta replacements with fewer net carbs like legume-based pasta are a great alternative to your traditional white noodles, says Kirkpatrick.
Just be sure to read the nutritional info on the back of the package. Often, "imitation foods" can be less healthy if they're chock-full of processed ingredients or loaded with excess sodium and sugar, warns Isabel Smith, RD. Your best bet is to choose pastas containing only one or two ingredients.
Whether you're longing for linguine or pining for pappardelle, simply swap one of these scrumptious substitutes in your go-to pasta recipe. Buon appetito!
2. Edamame Pasta
In a hurry? This easy-to-make organic edamame spaghetti by Explore Cuisine is ready in under six minutes. A single serving packs a whopping 24 grams of protein, 20 grams of carbs with 13 grams of fiber, which is more than half of your daily value. Plus, it's made with a single ingredient — edamame flour — deeming it vegan-friendly.
3. Shirataki Noodles
ICYMI, shirataki is the guilt-free, gluten-free spaghetti substitute of your dreams. Made from the konjac yam native to Asia, these noodles will only cost you a mere 10 calories and 3 grams of carbs per serving. And there are endless ways to enjoy them. Serve the noodles with traditional marinara sauce or toss them into chicken soup. Smith also recommends whipping up a healthy, low-carb pad thai and adding a lean protein like tofu or chicken to help keep you full.
4. Kelp Noodles
Seaweed spaghetti? If you're a fan of glass noodles, you'll love these kelp-based ones that have the same texture minus all the starch. With no fat and 3 grams of carbs per serving, adding these kelp noodles to your diet is a no-brainer, especially if your goal is weight loss. Plus, kelp has some hefty health benefits: This vegetable of the sea is overflowing with minerals, vitamins and antioxidants.
What's more, these kelp noodles come ready to eat! Just add your preferred sauce, and effortlessly incorporate them into any recipe your pasta-loving heart desires. And, since they're super versatile, the sky's the limit. From meatballs to stir fry, these neutral-tasting noodles will complement any dish.
5. Hearts of Palm Pasta
Listen up, linguine lovers. When it comes to picking a low-carb pasta, you can't go wrong with this potassium-packed option made of hearts of palm. This zero-fat, sugar-free linguine substitute comes pre-cooked, so you can eat it straight out of the BPA-free can. Just a few seconds in the microwave and dinner is served.
Tip
For best results, rinse or soak the noodles in your choice of milk. This will neutralize the hint of flavor from the hearts of palm. Serve with a light Alfredo sauce and slurp away.
6. Chickpea Pasta
At 32 grams of carbs per serving, this chickpea alternative is a little more carb-dense than the others. But if you're on the hunt for something that tastes like real pasta, this is for you. Plus, it's got 13 grams of fiber, making your net carb intake at just 19 grams. With almost three times the protein of regular pasta, this plant-based substitute is the perfect fuel for a post-workout meal. And, if you have a mac 'n' cheese craving, the elbow-shaped noodles will do the trick.