Think you have to forgo lasagna on a low-carb diet? Not if you make a few easy swaps. From zoodles to chickpea pasta, your love of lasagna can continue, while drastically cutting the carb count of this Italian staple. Keep reading for tips on how to transform your favorite lasagna recipe into a low-carb meal as well as a few of our own favorite recipes.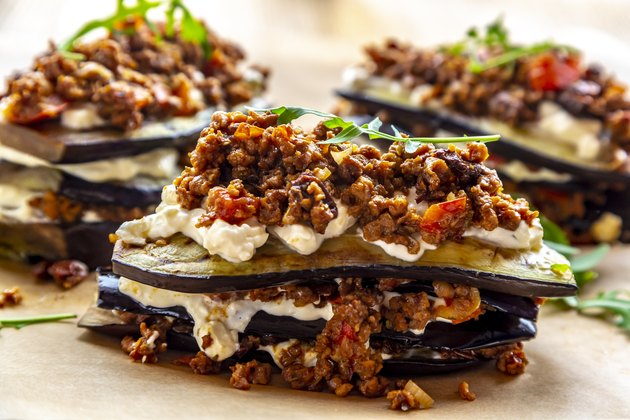 Noodle Alternatives for Lasagna Recipes
When it comes to making low-carb lasagna (or at least lower carb lasagna), you have a few different options. Samantha Cassetty, RD, nutrition and weight-loss expert, recommends swapping in zucchini for pasta. It's not a one-to-one swap for taste or texture, but she views it as a way to up your vegetable intake — something most people fall short on.
"It's not about restriction or dieting, but about creating a better balance of foods that not only are usually better suited for your needs, but also result in more energy, nutrients, and color," she says. In addition to zucchini, you can also use eggplant, sweet potatoes, cabbage, seaweed and/or onions.
If you're not attached to the traditional lasagna format and are just craving a general low-carb pasta substitute, Cassetty is also a fan of chickpea and lentil pasta. "Both will add more protein and fiber, as well as nutrients from these two plant-based proteins that fall into the pulse camp (the umbrella term for beans, lentils, and peas)," she says.
When compared to regular pasta, one serving of Banza contains 12 more grams of protein, 10 more grams of fiber and almost half the net carbohydrates (grams of total carbs minus grams of fiber). But since these noodles are still a processed food, Cassetty recommends balancing them out with vegetables and healthy plant-based fats.
The Best Low-Carb Lasagna Recipes
Ready to get swappin'? Below are some of our favorite lasagna recipes you can enjoy whether you're following a low-carb diet or just want to find a way to up your vegetable intake.
Slow Cooker Vegetable "Pasta" Lasagna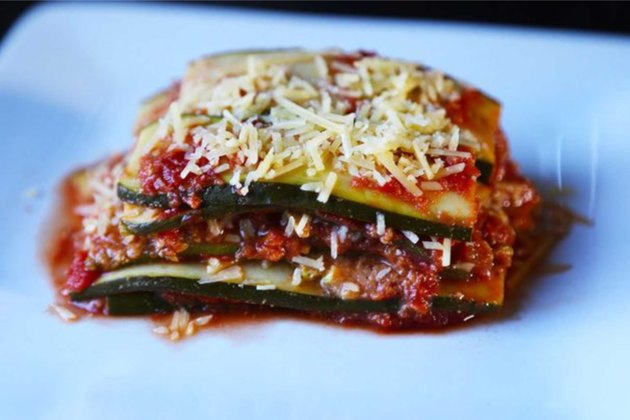 This recipe, made with strips of zucchini in place of traditional starch-heavy pasta layers, is a creative way to enjoy the signature flavors of lasagna without the heavy, stuck-in-your-gut feeling that can happen with pasta. You can either load it up with vegetables to keep it vegetarian or add a layer of ground turkey or ground beef to up the protein.
Lean Lasagna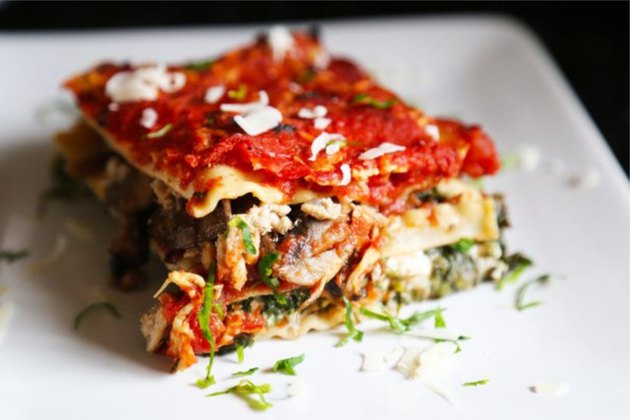 For a healthy, flavorful dish that will quickly become a Sunday night favorite, this recipe uses ground turkey over beef, adds lots of nutrient-rich vegetables like spinach, mushrooms and tomatoes and swaps in with low-fat mozzarella.
To make it a lower carb recipe, Jackie Newgent, RDN, culinary nutritionist and author of The All-Natural Diabetes Cookbook recommends using pulse-based pastas. While they're not necessarily the lowest in carbohydrates, they are lower in carbs when compared to regular lasagna noodles. Plus they're higher in fiber and protein.
Rotisserie Chicken Lasagna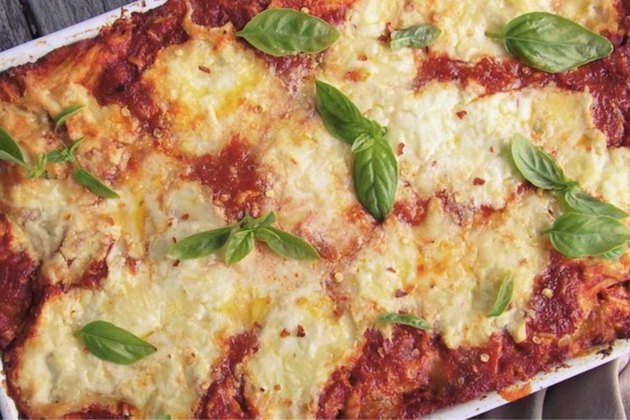 While this recipe originally calls for whole-grain pasta (which beats regular pasta in fiber and nutrients), it's easy enough to go one step further and substitute either the chickpea pasta or zoodles for even better-for-you results. Thanks to the chicken in this dish, the protein content is high, coming in at 30 grams per serving. That also makes it a fantastic post-workout meal.
"Just Like the Real Thing" Low-Carb Keto Lasagna
Top Secret Grain-Free Lasagna
Remember to Practice Portion Control
Another way to control your carb intake is to practice portion control. You may be surprised to realize that the standard portion size for pasta is a half of a cup, says Cassetty.
So she recommends that pasta is your side dish rather than the main dish, or that you replace at least some of the pasta in your main dish with zucchini, olives, tomatoes, broccoli, shrimp or white beans. And Newgent agrees. "I like to think of pasta as a culinary vehicle in which to eat more plants."
Just be especially vigilant at restaurants, where portions can be as much as six servings. To keep those meals in check, Cassetty suggests getting one pasta dish for everyone to share and then building out your meal with vegetables (ex. a side salad and side of sautéed greens) and lean protein like salmon, chicken or fish.
"When you learn to right-size foods and balance them out with other foods, you often feel more satisfied — not less — because a big plate of pasta is not going to keep you as full as long as a plate of salmon with sautéed spinach and a side of pasta."