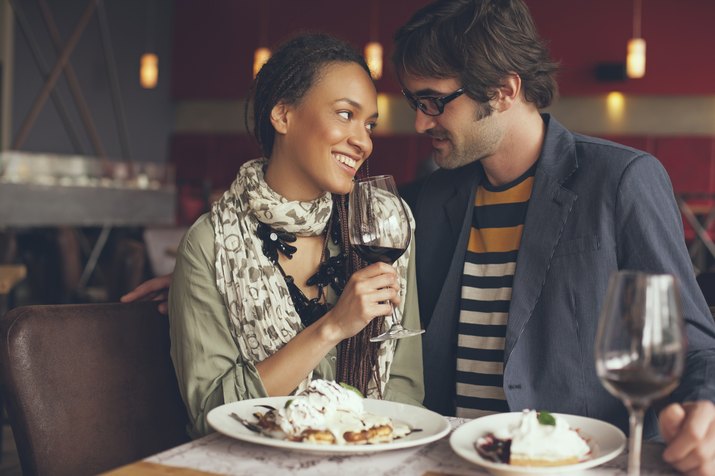 1 of 15
If you're aiming to eat healthily, you don't need to fear eating out (or even ordering to-go or delivery). Restaurants today have more healthy options than ever before and are more accommodating to customers' requests. Eating restaurant food doesn't have to cancel out the good choices you've made all day! We've investigated the best and worst items you can order at popular types of restaurants, with the aid of our calorie counter. Read on to find out which Chinese food dishes to avoid and which surprising diner food is your best option. What are your favorite healthy dishes at restaurants? Leave a comment below, and let us know.
Image Credit:

Lumina Images/Blend Images/Getty Images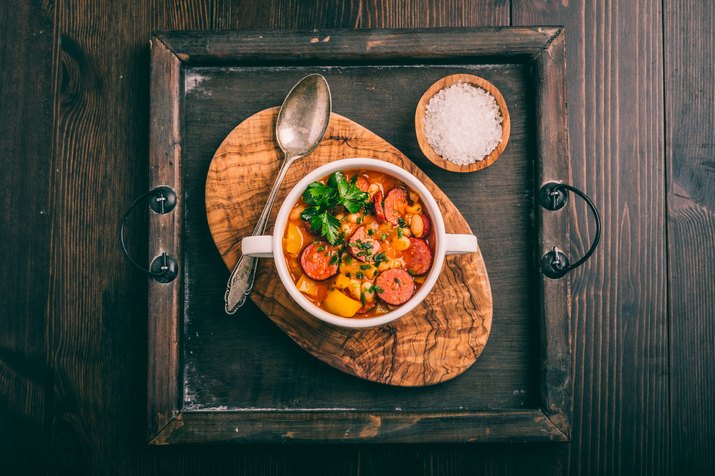 2 of 15
1. Ordering at Italian Restaurants
Start with a cup of minestrone soup (a low-calorie appetizer full of vegetables and beans), which both have fiber to help you feel full. Look for entrées that aren't fried, such as spicy sautéed chicken Fra Diavolo, and choose smart sides like sautéed garlic spinach for a dish rich in vitamin A, which is essential for cell health. Or go with a broth-based Zuppa Di Pesce (seafood stew) for a dose of heart-healthy omega-3 fatty acids. "Pasta isn't evil—you can still enjoy it by keeping portion size small and topping it with marinara sauce, which is lower in fat than creamy sauces and contains the cancer-fighting antioxidant lycopene," says Denver-based nutritionist Lainie Cooper.
Read more: 18 Foods With a "Bad" Rap That Are Actually Good for You
Image Credit:

Christian-Fischer/iStock/Getty Images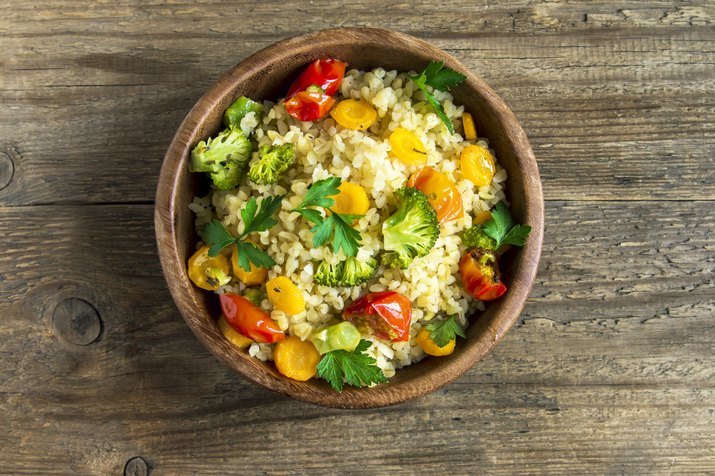 3 of 15
2. Ordering at Greek/Mediterranean Restaurants
In general, Mediterranean food includes heart-healthy ingredients like olives, whole grains and vegetables. But it can also be heavy on the extra virgin olive oil, and often includes fatty cuts of meat. If you usually have a gyro sandwich, forgo the bread and creamy sauce and try a large salad with a side of gyro meat. Tabbouleh —a salad of tomatoes, parsley and whole-grain bulgur wheat— packs a nutritional punch with fiber, protein and vitamin A. Try it with a scoop of hummus, made from protein- and fiber-rich chickpeas, and sliced cucumbers or whole-wheat pita bread for dipping.
Read more: 9 Healthy Hummus Dips Worth Making Yourself
Image Credit:

Mizina/iStock/Getty Images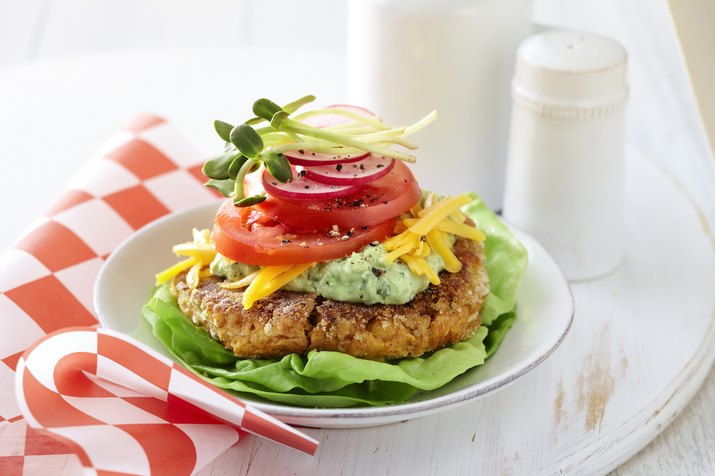 4 of 15
3. Ordering at Burger Joints
When you're craving a burger, there are some easy ways to stay on track. Try a turkey burger or veggie burger on top of a salad, using mustard and relish as dressing. If beef burgers are more your style, skip the cheese and mayo, and remove the top half of the bun to eat it open-faced. If the bun is whole wheat, you'll add a dose of fiber to the meal. When it comes to sauces, choose ones that aren't creamy, and if the sauce is sweet —like barbeque sauce— use it in moderation. Lastly, if the restaurant offers organic, grass-fed or no-hormones beef, ordering would be the best red meat options.
Read more: 15 of the Best Lean Animal Proteins
Image Credit:

Yvonne Duivenvoorden/Radius Images/Getty Images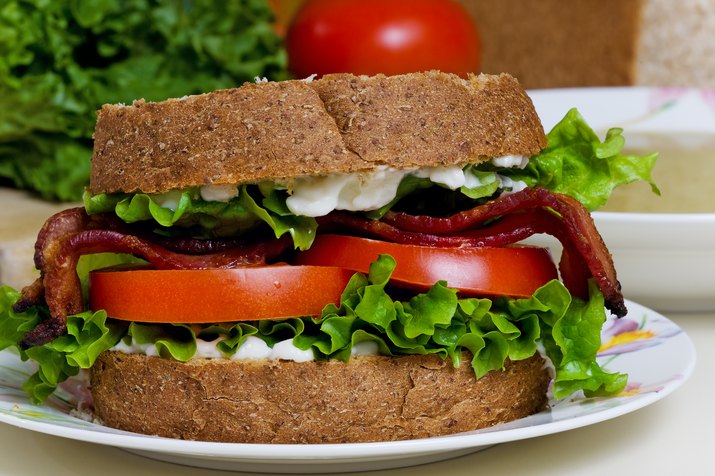 5 of 15
Believe it or not, one of the best choices you can make at a diner is a BLT on wheat toast. Unless it's packed with bacon, the calorie count will be relatively low. Ask them to go easy on the mayo, or hold the mayo altogether. And instead of fries or creamy coleslaw, order a side of steamed broccoli, carrots or a side of fruit. Feel like having old-fashioned comfort food? Look for roast pork loin and have a small baked potato on the side. If you are ordering to-go, ask for the baked potato plain and when you get home choose to top it with Greek yogurt and a drizzle of extra virgin olive oil. For breakfast, an omelet with vegetables, dry wheat toast and a side of salsa is a vitamin- and protein-packed powerhouse.
Image Credit:

Stephen Mcsweeny/Hemera/Getty Images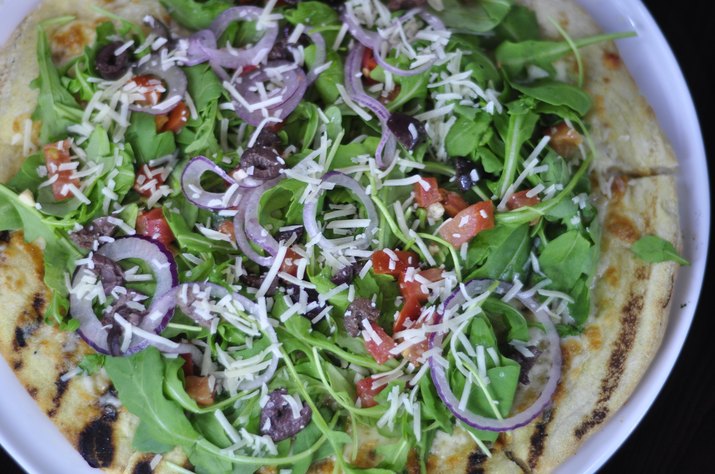 6 of 15
5. Ordering at Pizza Joints
Pizza is not the evil food that many think it is. Pizza can be an easy way to hit all of the food groups at once — and if you order smart, you can keep calories low and nutritional value high. Ask for a thin crust, and, if you're counting calories, ask that the restaurant use half of the usual amount of cheese. Skip processed or fatty meat toppings, and instead choose grilled chicken for lean protein. Or go all veggie with extra mushrooms for meaty texture, and ask for a shake of oregano for extra flavor. Order a salad (no cheese) with Italian dressing to enjoy before the meal. This should help fill you up, so you don't overindulge later. With pizza, it is all about portion control.
Read more: This Low-Carb Cauliflower Pizza Crust Will Blow Your Mind
Image Credit:

debbiehelbing/iStock/Getty Images
7 of 15
6. Ordering at Mexican Restaurants
Simple grilled steak or chicken soft tacos can be a great way to get filling protein. Top them generously with pico de gallo — salsa made with antioxidant-rich tomatoes — which is usually very low in fat and calories. Another topping to love: guacamole. A recent study suggests that those who eat more avocados have healthier diets overall. "A half-cup can add almost 200 calories, so keep portion size in mind," says nutritionist Lainie Cooper. "But the monounsaturated fat in the avocado is heart healthy, which gives bang for the caloric buck." A side of refried beans may include a healthy dose of fiber, but ask before you order, as many restaurants use copious amounts of lard to cook them.
Read more: What's Really Inside Taco Bell's Crunchy Beef Taco?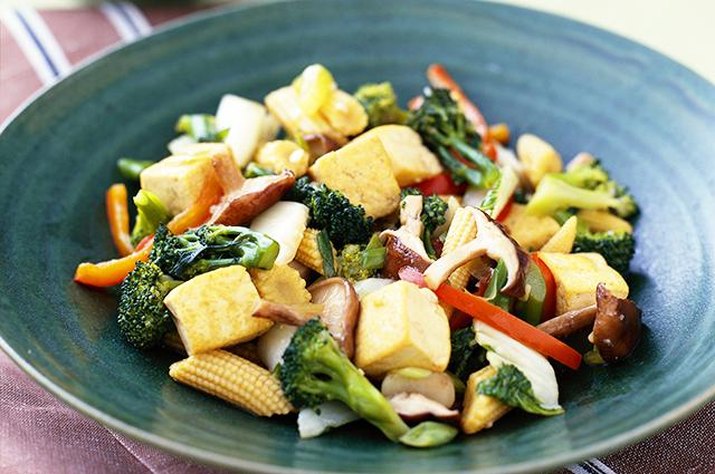 8 of 15
7. Ordering at Chinese Restaurants
Avoid deep fried dishes or heavily sauced ones like General Tso's chicken, sweet and sour pork and orange beef or shrimp. If you're in the mood for seafood, check the menu for a vegetable and shrimp stir-fry. Another 2 dishes to stay away from are Chow Mein and fried rice. Instead, start your meal with a wonton soup, for a filling yet low-calorie appetizer. For the main course, instead of meat entrees, try Buddha's delight, a mix of vegetables in light sauce. "And (unless you are sure you can keep your portion to ¾ cup or less) you might want to skip the white rice," says nutritionist Lainie Cooper. "It adds about 200 calories per cup." Lastly, don't throw out the chopsticks that come with your order; using them will encourage you to eat more slowly, which may help you eat less overall.
Read more: 6 Simple Noodle Soups That Will Make You Toss the Canned Stuff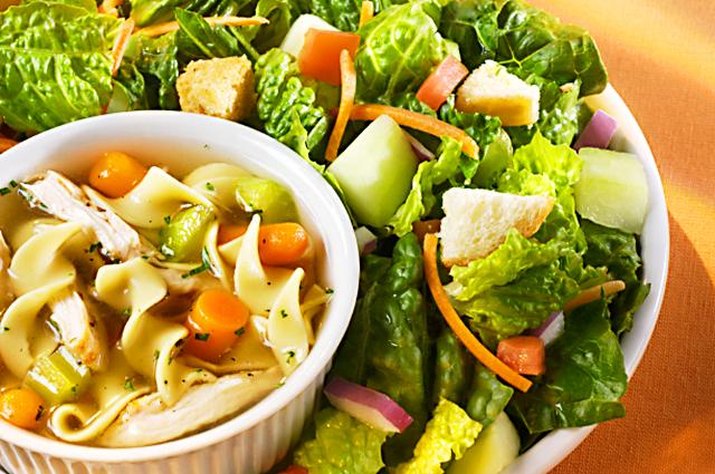 9 of 15
8. Ordering at Soup & Salad Restaurants
Soup and salad can be a healthy choice for an office lunch. Choose broth-based soups like chicken noodle or vegetable. Vegetarian chili is another winner, usually made with a variety of vitamin-rich vegetables with protein and fiber from beans. For your salad, try to add as many veggies as you can, and skip cheeses and processed, high-sodium meats. Look for grilled chicken, grilled fish or even eggs for protein, and add a handful of heart-healthy walnuts or sliced almonds. And swapping creamy dressings for oil and vinegar can shave off several calories, too. However, nutritionist Lainie Cooper says, don't opt for fat-free dressing — your body actually needs a little bit of fat to help absorb all of the nutrients from the veggies, according to a Purdue University study.
Read more: No-Fat, Low-Fat Dressings Don't Get Most Nutrients out of Salads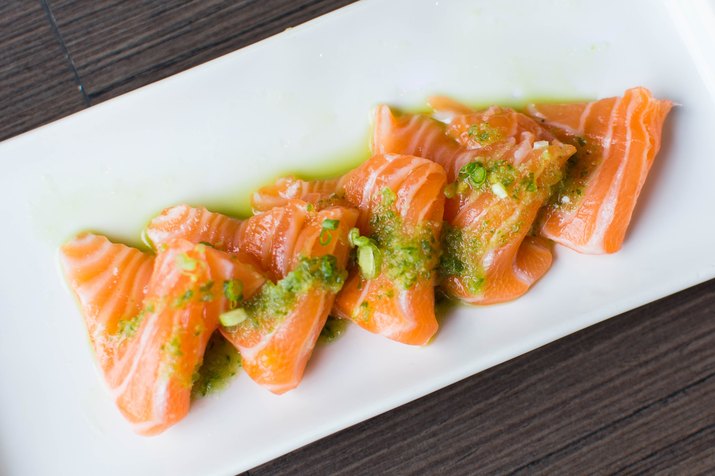 10 of 15
9. Ordering at Japanese Restaurants
Sushi — particularly sashimi (fish slices without rice) or nigiri (sliced fish with a small ball of rice underneath) — can be a low-calorie, nutrient-dense meal. Start with 1/2 cup of steamed edamame – we recommend that you ask if the soy beans are organic and/or GMO-free -- which is full of fiber, potassium, and polyunsaturated fats. Save calories by skipping inside-out rolls and anything with tempura or mayonnaise. When it comes to the fish itself, Alaskan wild salmon is one of the best choices for its omega-3 fatty acids. Not into raw fish? Choose chicken teriyaki with the sauce on the side, along with steamed broccoli or shishito peppers, which are high in fiber and key minerals such as potassium, calcium and vitamin A. If possible ask for the low-sodium soy sauce.
Read more: 13 Types of Fish to AVOID Eating
Image Credit:

eqsk134/Moment/Getty Images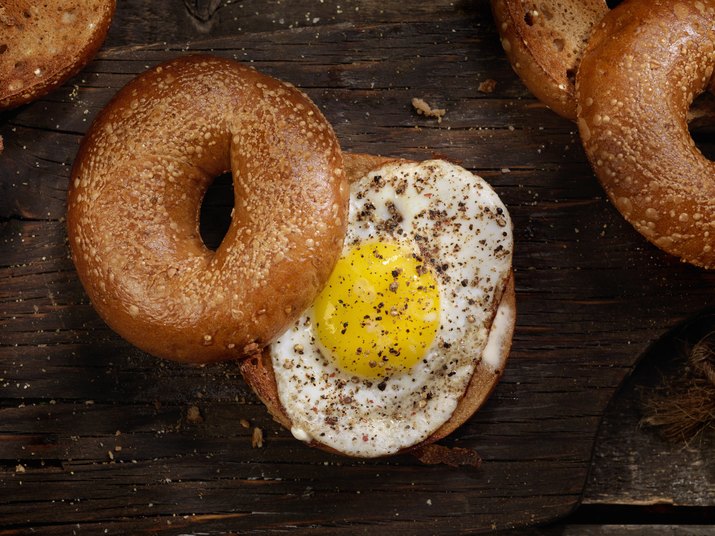 11 of 15
10. Ordering at Bagel Joints
"Bagels can be one of the LEAST healthy breakfast items," according to nutritionist Lainie Cooper. "But if you make smart choices, they aren't totally bad." Go for a whole-wheat bagel, and stick to eating only half of it. Instead of cream cheese, which is high in fat and calories, order a scrambled egg to put on top to create an open-faced bagel and egg sandwich. Eggs are high in minerals, vitamins A and D and even omega-3 fatty acids.
Read more: 14 Protein-Packed Breakfasts to Power You Through the Morning
Image Credit:

Lauri Patterson/E+/Getty Images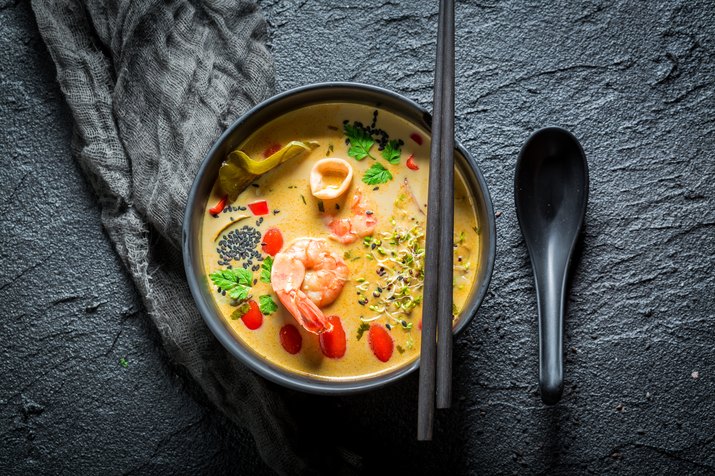 12 of 15
11. Ordering at Thai Restaurants
Thai food can be packed with sugar and saturated fat, so avoid dishes such as curries that are made with coconut milk, and look for sautéed chicken with basil or steamed fish (pla neung ma nao) instead. Smart starters include green papaya salad, which is full of healthy fiber, vitamins A and C and calcium; and tangy broth-based tom yum soup, which offers a huge flavor punch with a relatively low calorie count. Added bonus: the chili peppers in Thai food will get your endorphins going.
Read more: 8 Foods to Fire Up Your Love Life
Image Credit:

Shaiith/iStock/Getty Images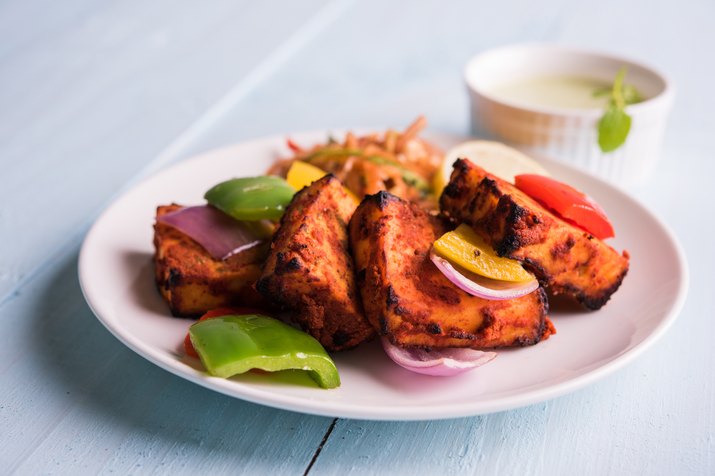 13 of 15
12. Ordering at Indian Restaurants
You'll be better off if you forgo the cream-based dishes and opt for chicken tikka kebabs. The chicken is marinated in yogurt and spices and then cooked in the super-hot tandoori oven for great flavor without the calories and fat contained in the creamy sauces. Pair the chicken tikka with dal, a lentil dish scented with spices such as turmeric which may help fight off cancer cells and even inflammation. The lentils also provide a hefty dose of fiber which helps you feel full longer. If you miss that familiar creamy texture of sauce, order a side of raita, which is made from yogurt, cucumbers and spices. You can add a dollop of raita onto the chicken for a creamy effect.
Image Credit:

subodhsathe/iStock/Getty Images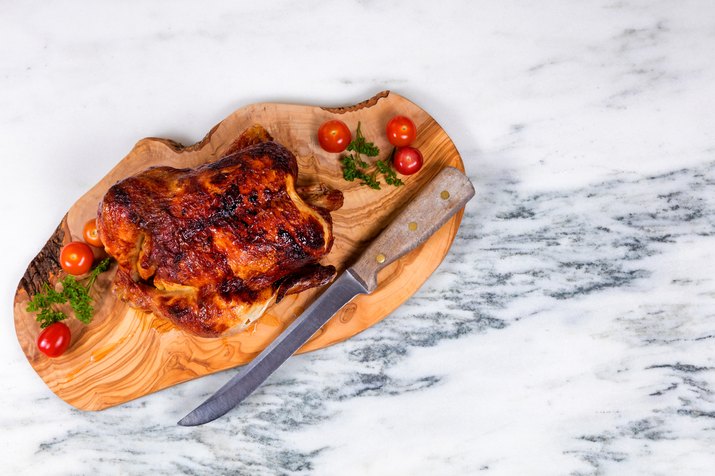 14 of 15
13. Ordering at Caribbean Restaurants
This can be a tricky cuisine to navigate because many of the dishes are fried or use fatty cuts of meat, but you can have a healthful Caribbean meal without feeling too deprived. Look for rotisserie chicken — choose white meat, and rem ove the skin — alongside a portion of black beans and rice, which deliver substantial amounts of calcium, potassium and fiber.
Read more: 12 Tips to Keep Chicken Tender and Tasty
Image Credit:

tab1962/iStock/Getty Images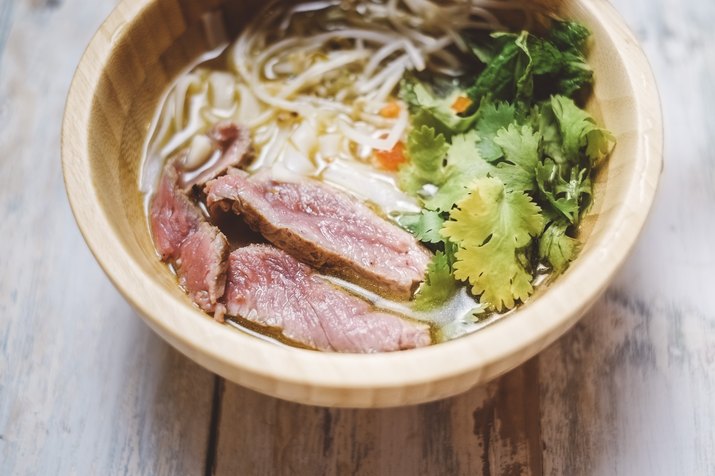 15 of 15
14. Ordering at Vietnamese Restaurants
Pho, Vietnamese noodle soup, is full of antioxidant-rich spices and fortified with chicken or beef. Many places now make a veggie broth version, which it just as delicious. Choose white-meat chicken or lean eye round beef. Eat the noodles in moderation to keep calories low. Or consider asking if they can leave the noodles out altogether or swap them for veggies if you rather avoid the temptation. For an appetizer, start with spring rolls made with rice paper and filled with lettuce and steamed shrimp or pork. Go easy on the dipping sauce or just make your own from fish sauce and Sriracha sauce. Bun noodle salad is another flavorful, low-calorie option.
Read more: The 13 WORST Diet Wreckers
Image Credit:

Galembeck/iStock/Getty Images
---