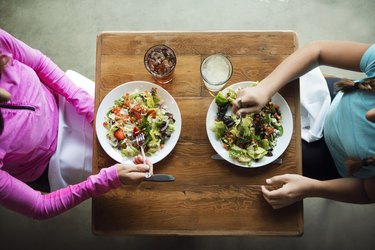 News flash: Life happens. And you can't always be at home to make amazing, healthy, delicious meals in your own kitchen. Sometimes you go out to dinner with friends. Sometimes you need to have lunch with a client. Or sometimes you're just out running errands and can't make it home.
That doesn't mean that your portion-control plan has to go out the window! (PS: Have you joined our 4-Week Portion Control Challenge yet?) Here's Danika Brysha, founder and CEO of Model Meals, a healthy meal delivery service, with some helpful advice on how to watch your portion sizes when you're not at home.
Tips to Make Restaurant Meals Healthier
If you know what kind of meal you'll be presented with when you're away from home, you can use these tips to help make it a healthier experience:
Burgers
Skip the cheese and bun, wrap in lettuce, substitute mustard in place of any sauces and load it up with veggies.
Burritos
Skip the tortilla and make it a bowl or salad, go for lots of veggies, opt for brown rice and black beans, forgo the dairy (i.e., sour cream and cheese), portion out a sensible serving for yourself now and save the rest for later.
Pizza
Start with a small slice of veggie pizza, order a small salad and add lean protein (like shrimp) if you want.
Indian Food
Skip the appetizer, look for dishes with turmeric, choose tandoori items, stick with lentils and chickpeas, pass on the paneer and ghee, forgo the rice and naan.
Mexican Restaurant
Skip the chips and salsa, fill up on veggies rather than meat, choose pico de gallo and guacamole over sour cream and cheese.
Japanese Restaurant
Limit the rice, start with edamame and green tea, use chopsticks to help you eat mindfully, skip mayo-based sauces
And if you don't know what kind of food offerings you'll be faced with, keep these tips in mind:
Start with a broth-based soup or salad with balsamic vinegar and oil. This can help you not feel like you're starving and must eat everything in sight when the main meal comes.

Skip whatever sort of free starter they bring out first, whether that's chips and salsa, a bread basket, naan, etc. Usually it's just empty carbs and calories.
Don't drink your calories. Instead of soda or booze, opt for water or unsweetened tea instead.
If you can, offer to split an entree with your partner, friend, colleague, etc. That way you'll automatically have half of a portion.
Load up on veggies. Choose a meal that's primarily comprised of vegetables so you'll feel fuller and get more nutrients.
Ask for things like dressings and sauces on the side.
If you're not sure how something is prepared or what's in a certain dish, ask the waiter.
Steer clear of fried and sauteed dishes. Opt for grilled, steamed or broiled dishes instead.
Take your time. Eat slowly to give your stomach enough time to tell your brain you're full.
Use an app like LIVESTRONG.COM's MyPlate to help you determine how many calories are in a dish so you can stay on track.
How to Join the Portion Control Challenge
1. Bookmark this easy-to-use guide to estimating portion sizes that was created by nutrition coach John Berardi, Ph.D. In it he describes how to measure your portions using just your hand. Here is the gist of it:
Your palm determines your protein portions.

Your fist determines your vegetable portions.

Your cupped hand determines your carbohydrate portions.

Your thumb determines your fat portions.

2. Print out the graphic below and hang it on your fridge as a mealtime reminder. Each time you're preparing to eat, make sure your plate features:
2 palms of protein-dense foods (1 for women)

2 fists of vegetables (1 for women)

Optional: 2 cupped hands of carb-dense foods (1 for women)

Optional: 2 thumb-size portions of fat-dense foods (1 for women)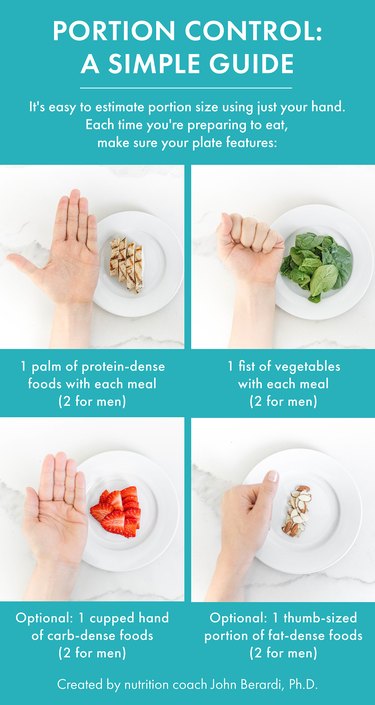 3. Download LIVESTRONG. COM's free calorie-tracking app MyPlate for iOS or Android. Measuring your portions is only one part of a successful weight-loss or weight-maintenance strategy. Once you've portioned out your breakfast, lunch, dinner or snack, enter it into the app to make sure you're staying on target for the day's calories, carbs, protein and fat.
4. Join the LIVESTRONG.COM Challenge Facebook group. We'll be posting lots of helpful info and recipes, answering all your questions and connecting you to other members of the community who are joining you for the challenge.
5. Post photos of your meals each day to the Facebook group and on Instagram and Twitter with the hashtag #LivestrongLiveWell so that you have an effective and accurate record of what you're eating as well as to get support and inspiration from other members of the community to help you stay on track.
What Do YOU Think?
Will you be joining us for the 4-Week Portion Control Challenge? Have you joined the Facebook group yet? Have you ever tried to lose weight before? Do you currently measure out your macronutrient portions or count calories? Have you tried any other weight-loss strategies? What worked for you? What didn't? Share your thoughts and questions in the comments below!