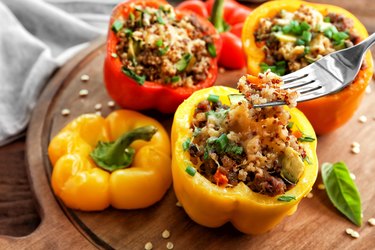 If you're looking for healthier meal options, look no further than mighty quinoa. Adding quinoa to your plate will make any dish infinitely more robust, and there are plenty of tasty ways to enjoy it at any time of day.
Technically a seed, quinoa boasts the same good-for-you benefits as whole grains, which provide a ton of dietary fiber, vitamins and minerals. And, like whole grains, quinoa is a complex carb. That means your body digests it slowly, so it doesn't spike your blood sugar and keeps your belly fuller for longer, says Leslie Langevin, RD, author of ‌The Anti-Inflammatory Kitchen Cookbook‌.
And that's not all. Quinoa is also packed with protein — one cup of the cooked stuff clocks in at 8 grams, according to the USDA. In fact, quinoa is one of the few plant-based foods that's a complete protein, i.e., it contains all of your essential amino acids. Plus, this super seed is abundant in the antioxidant quercetin, which can help decrease inflammation, Langevin says.
Ready to get your pots boiling and make your next batch of quinoa? From breakfast to dessert, sneak more of this protein- and fiber-rich food into your daily menu with these seven dietitian-approved quinoa recipes.
1. Yummy Turkey Quinoa Chili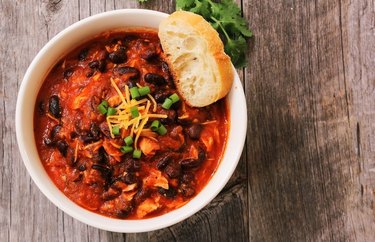 ‌Protein:‌ 24 grams
‌Fiber:‌ 4 grams
The Great Northern Beans and quinoa in this dish provide complex carbs for a steady source of energy and B vitamins for a healthy nervous system while spicy ingredients like red pepper flakes, chili powder and tabasco sauce give your metabolism a little boost. To reduce the fat content, consider choosing lean ground turkey breast. Not a meat lover? Langevin says you could also make this a vegetarian meal by swapping in two cups of cooked quinoa for the turkey and replacing chicken broth with the veggie version.
2. Creamy Berry Quinoa Parfait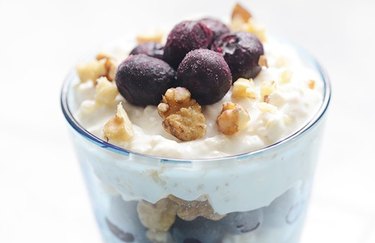 ‌Protein:‌ 25 grams
‌Fiber:‌ 4 grams
Have leftover quinoa from last night's dinner? Stir it up with some protein-packed, low-fat Greek yogurt to create a hearty breakfast. Loaded in antioxidants from blueberries and cinnamon, this healthy quinoa parfait is the perfect way to start your day. What's more, this recipe offers a well-balanced macro breakdown — 30 percent carbs, 30 percent protein and 40 percent good fats — which will keep you full and satisfied for hours, says Langevin.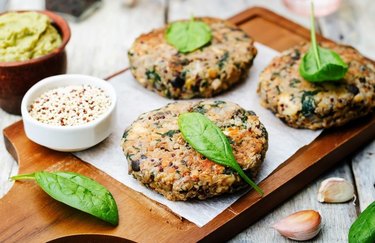 ‌Protein:‌ 9 grams
‌Fiber:‌ 2 grams
With protein from quinoa, eggs and parmesan cheese, this savory, flavorful flan would be a great option for vegetarians, says Langevin. Plus, depending on which mixed vegetables you choose, you can adjust the taste to suit your palate. For an even bigger boost of fiber, incorporate fiber-filled veggies like acorn squash, green peas, collard greens, artichokes, parsnips and broccoli.
4. Quinoa Crunch Chocolate Hearts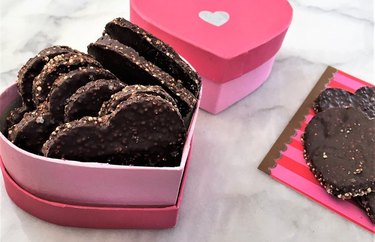 ‌Protein:‌ 4 grams
‌Fiber:‌ 1 gram
Perfect for an afternoon snack or an after-dinner dessert, just two of these low-sugar chocolate quinoa bites boast 4 grams of protein. "Rich in flavanols, dark chocolate can help reduce your risk of heart disease and decrease inflammation, plus it's a good source of iron, magnesium, fiber, copper and manganese," says Langevin.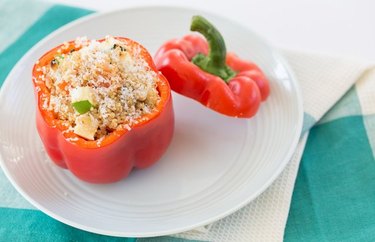 ‌Protein:‌ 10 grams
‌Fiber:‌ 6 grams
Brimming with Mediterranean diet staples like fresh zucchini, pine nuts and olive oil, this quinoa stuffed pepper recipe is the perfect plant-based meal for those following the heart-healthy eating plan. Plus, it's carb-controlled thanks to a hearty dose of fiber (6 grams), which lowers the net carbs down to 26 grams per serving, says Langevin.
6. Grilled Veggie Quinoa Salad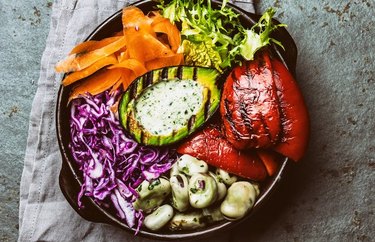 ‌Protein:‌ 7 grams
‌Fiber:‌ 3 grams
Thanks to grilled vegetables like zucchini, yellow summer squash, eggplant and red pepper, this colorful quinoa-based salad has a wealth of fiber and disease-fighting antioxidants. This plant-based meal can help protect you against cancer, prevent heart disease and aid your gut health too, says Langevin.
The bonus? It's super easy to prep, requiring just 10 minutes of hands-on time.
7. Chipotle Black Bean and Quinoa Stew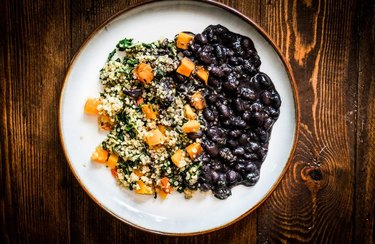 ‌Protein:‌ 17 grams
‌Fiber:‌ 26 grams
Think you can't get enough protein without meat on your plate? This filling plant-based dish — a quinoa twist on the traditional rice and beans — logs 17 grams of protein. And, with a whopping 26 grams of fiber, which is just about what you need daily, according to the FDA, this recipe can help you maintain a healthy weight and reduce your risk of chronic diseases such as diabetes, heart disease and some types of cancer, says Langevin.