A rib eye steak is a flavorful cut of beef that you can find at any butcher shop or grocery store. You can choose rib eye steaks that either have a bone in the center or have had the bone removed. Throw a rib eye on the grill or sear it in a hot pan to give the outside of the meat a tasty, browned crust. Finish a rib eye in the oven to cook the inside of the meat to the perfect temperature based on your preference. You can season your steak with little more than salt and pepper, or you can amp up the flavor of the meat with a homemade healthy BBQ sauce.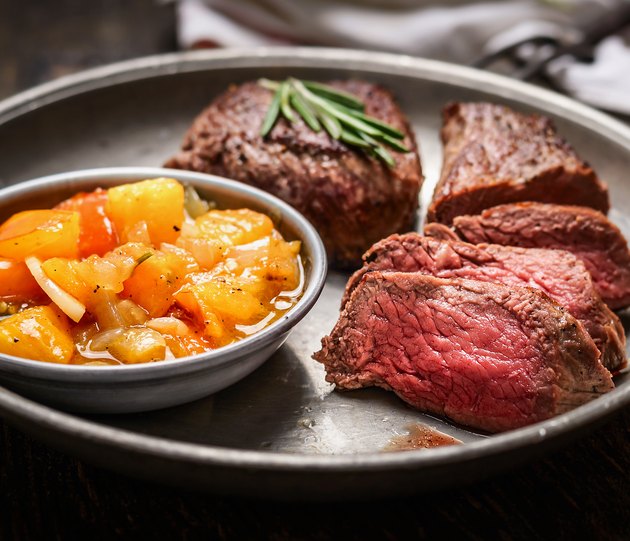 Grill
Preheat a gas or charcoal grill to high heat until the temperature inside the grill box reaches 600 degrees Fahrenheit.
Rub the rib eye with your favorite combination of spices, or just plain salt and pepper.
Place the rib eye on the hot grill and cook, without moving it, for four to six minutes per side, or until each side is browned to your liking. Flip the steak with long-handled tongs.
Continue cooking the steak on the grill until it has reached your preferred level of doneness, or move it inside to the oven to finish the cooking in the oven.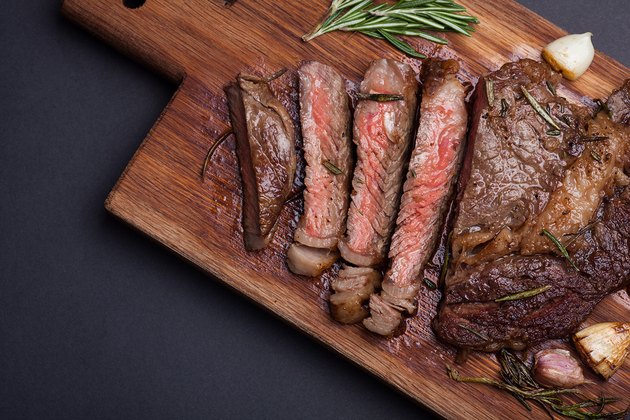 Sear
Set the rib eye out at room temperature to rest while you heat the pan.
Place the rib eye in the heated pan and cook the meat for 30 seconds without moving the steak. Flip the rib eye and cook for another 30 seconds. Finish the steak in the oven.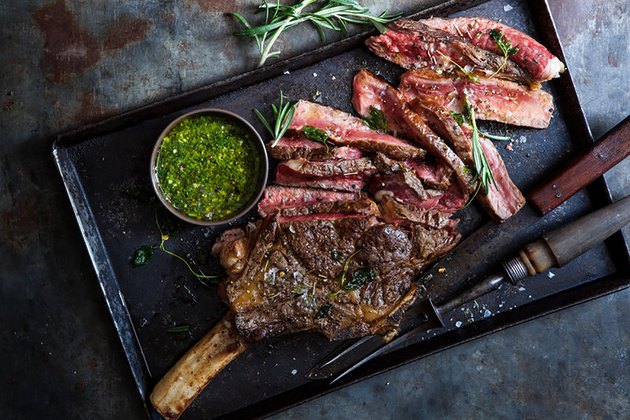 Oven Finish
Preheat the oven to 500 degrees for at least 20 minutes.
Place the grilled or seared steaks in a cast-iron skillet or grill pan and slide whichever you use into the hot oven.
Cook the steaks for two to four minutes, then remove the pan and flip the steaks over. Return them to the oven and cook for another two to four minutes.
Check the steaks for doneness with an internal meat thermometer. Remove the steaks from the oven when they reach your desired level of doneness — for example, 135 degrees for medium-rare and 145 degrees for medium.
Things You'll Need
Spice rub, or salt and pepper

Tongs

Cast-iron skillet or grill pan

Olive oil (optional)

Meat thermometer
Tip
Choose organic beef when possible to keep pesticides and hormones out of your diet.
Remove all visible fat from the rib eye before cooking to cut down on the amount of fat in your meal.